Europe's six major hubs see recovery rates vary in February from 75% for Frankfurt to 106% for Istanbul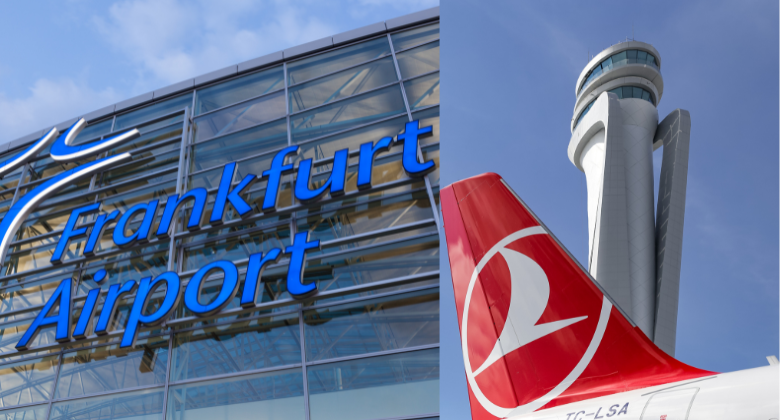 Airport data collected for 2022 reveals that Europe's six busiest airports all handled at least 48 million passengers last year. Istanbul IST led the way with 64.3 million followed by London LHR (61.6m), Paris CDG (57.5m), Amsterdam (52.5m), Madrid (50.6m) and Frankfurt (48.9m). Seventh placed Barcelona was some way behind with 41.6m passengers while eighth placed London LGW welcomed almost nine million fewer passengers with 32.8m.
While the recovery rate (compared with 2019) improved rapidly for all of these airports in the early part of 2022, the rate of recovery slowed considerably from May 2022 onwards. In fact, in the case of Amsterdam and Frankfurt the recovery basically stalled. The strong showing for Istanbul between May and August can partly be explained by the comparison period of May to August 2019 corresponding to the first few months of the new airport, when some capacity may have been held back while operations at the airport settled down.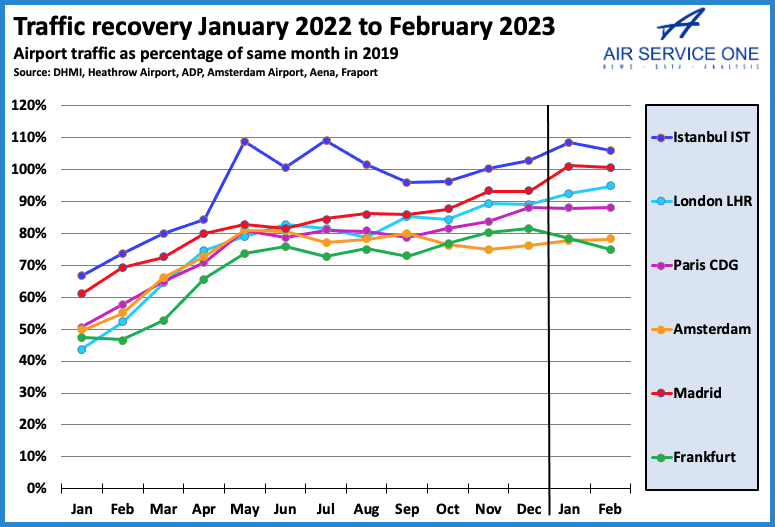 The latest traffic data for February 2023 shows that the recovery rate (versus February 2019) for the six leading hub airports varies between 106% for Istanbul IST and just 75% for Frankfurt. Amsterdam's recovery rate is also below 80%. The Dutch airport is currently facing a government planned reduction (for environmental reasons) in the number of flights it is allowed to operate. This is being legally challenged by both KLM and IATA.
Despite having the lowest recovery rate in January 2022, Heathrow has gone from seeing traffic down almost 60% at the beginning of last year to being just 5% below 2019 levels in February. The airport had resourcing issues last year that resulted in airlines agreeing to a movement and passenger limit during the peak summer period.
Market share of national carriers
Being hub airports, these six airports all have their local flag-carrier accounting for at least 40% of capacity in the second quarter of 2023. Only one carrier, Turkish Airlines at Istanbul IST, accounts for more than 60% of capacity at its hub. The Star Alliance member controls over 80% of capacity at the relatively new Turkish hub. No other carrier has more than 1.5% of capacity at the airport.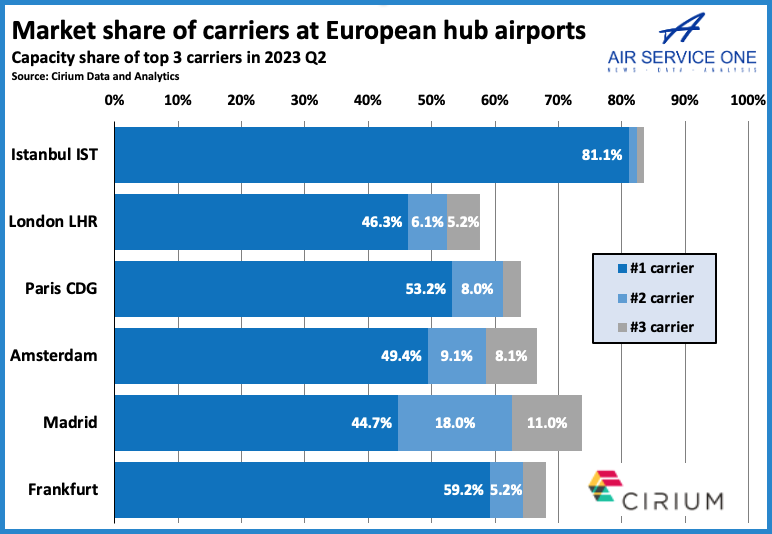 The second and third biggest carriers at each of these airports are:
Istanbul IST: Aeroflot (#2) and Saudia (#3)
London LHR: Virgin Atlantic (#2) and American Airlines (#3)
Paris CDG: easyJet (#2) and Delta Air Lines (#3)
Amsterdam: easyJet (#2) and Transavia (#3)
Madrid: Air Europa (#2) and Ryanair (#3)
Frankfurt: Condor (#2) and Eurowings Discover (#3)
Heathrow is the only one of these airports where the top three airlines do not account for at least 60% of all seat capacity.
Heathrow has biggest aircraft and longest routes
Two other metrics which can be used to compare the leading hub airports are average sector lengths and seats per flight. Here London LHR leads the way on both counts. With an average sector length of over 4,100 kilometres, Heathrow is well ahead of Paris CDG at just under 3,300 kilometres. In terms of average seats per flight, four of the six airports have an average of between 189 and 197 seats. The outliers are Amsterdam with just 174 seats per flight and Heathrow with 218 seats per departure. As a result, in terms of ASKs (Available Seat Kilometres) at each airport in Q2, Heathrow is more than 50% bigger than its nearest European rival, Paris CDG. However, it still lags Dubai DXB by a few percentage points.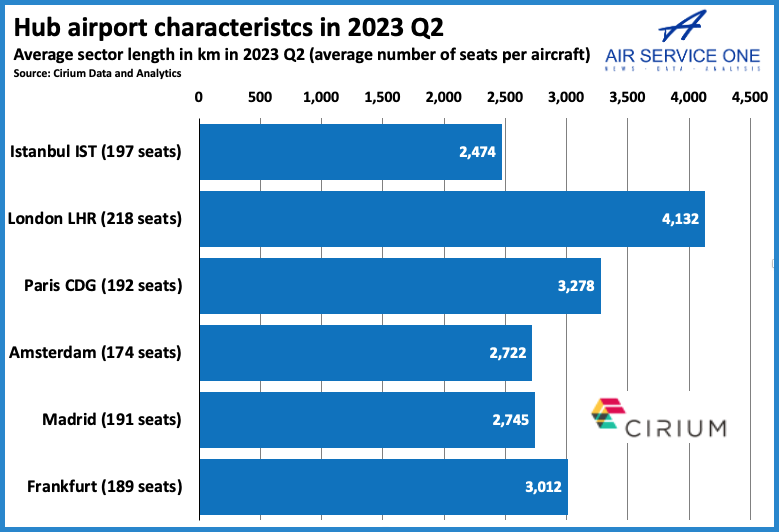 While Heathrow has limited scope for significant expansion and is still a long, long way from achieving its aim of getting a third parallel runway, Istanbul's new megahub (which opened in April 2019) has been built with future expansion in mind.