Europe's slowest recovering airports in Q2 revealed; 13 of bottom 20 are in Germany, Sweden and UK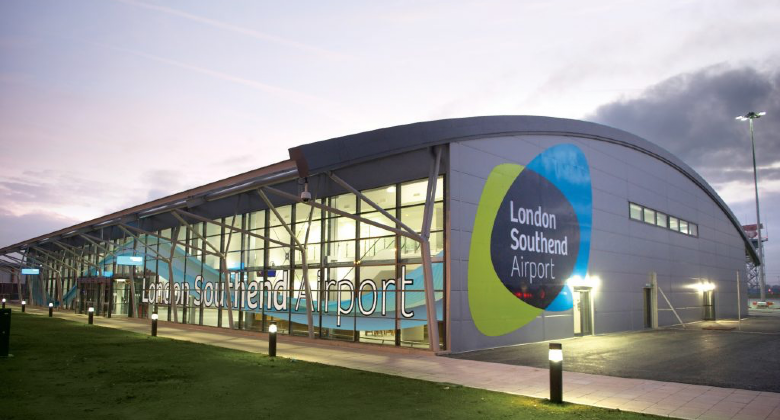 Analysis of air passenger traffic data across Europe this winter suggests that recovery rates have pretty much flattened out in many countries and at many airports. With the start of the Northern Hemisphere Summer 2023 season (S23) just a week away, Air Service One has decided to take a look at which of Europe's airports have struggled most to recover airline seat capacity.
The criteria was to look at the top 200 airports across Europe, based on scheduled capacity in 2019 Q2 (according to Cirium data) and compare with scheduled seats in 2023 Q2. Among those 200 airports are some that have now closed (Berlin SXF, Berlin TXL and Doncaster Sheffield) and some in Ukraine that have no scheduled traffic because of Russia's invasion of the country. We have also chosen to ignore airports in Belarus and Russia, whose airports have seen dramatic changes in capacity which have nothing to do with pure aviation matters.
Airports in Germany, UK and Sweden struggling
The 20 European airports with the lowest recovery rates for 2023 Q2 include 13 airports in just three countries; six in Germany, four in the UK (including three of the bottom four) and three in Sweden. The remaining seven airports are spread across seven different countries; Bulgaria, Czech Republic, Finland, France, Italy, Slovenia and Spain.
London SEN was developed as the UK capital's sixth airport (after Heathrow, Gatwick, Stansted, Luton and City) and had seen significant low-cost growth prior to the pandemic as other London airports struggled to increase capacity. However, post-pandemic, the likes of easyJet and Ryanair have chosen to focus on consolidation at their other London airports; Gatwick and Luton in the case of easyJet and Stansted for Ryanair. However, easyJet will be offering flights in Q2 to Faro, Malaga and Palma de Mallorca, and is resuming service to Amsterdam from 24 May.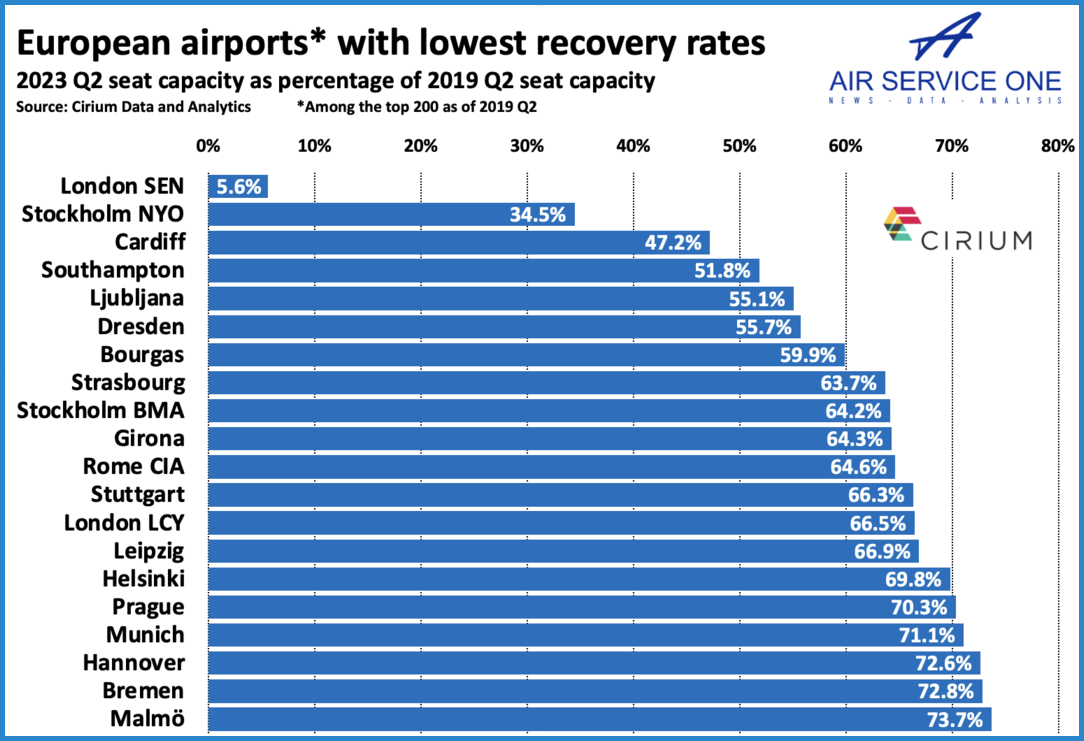 Apart from Southend, two other airports have recovery rates of below 50%. Stockholm NYO has suffered because Ryanair transferred their entire Stockholm network from Skavsta to the main airport at Arlanda, leaving Wizz Air as the dominant operator at the airport. Cardiff in Wales has suffered the collapse of both the original Flybe and Thomas Cook Airlines, the loss of Qatar Airways and the decline of Vueling services. Because of the time periods analysed, the arrival and rapid departure of Wizz Air at the airport is not included in these figures.
The largest airports in this list are Munich, Helsinki, Prague and Stuttgart. The fact that two of these cities are strongly connected with the automobile industry (BMW in Munich and Mercedes-Benz/Porsche in Stuttgart), which has been heavily impacted post-pandemic (especially in the lucrative Chinese market) may not be a coincidence.
Tirana leads the way for growth
On a positive note, which airports are expected to see the biggest increase in seat capacity in 2023 Q2 versus the same period in 2019? Just under half of the 200 airports analysed are reporting capacity growth. Again, we have chosen to exclude from our graph any Russian airports with impressive capacity growth.
Leading the way by some distance is the Albanian capital of Tirana. Thanks to Wizz Air, the airport has seen a more than doubling of capacity since 2019. The only other airport where capacity is up more than 50% is Memmingen in southern Germany. The airport lies around 100 kilometres west of Munich and a similar distance south-east of Stuttgart. It is another reason as to why those two larger airports have underperformed. Here, Ryanair (+41%) and Wizz Air (+93%) have both increased capacity considerably.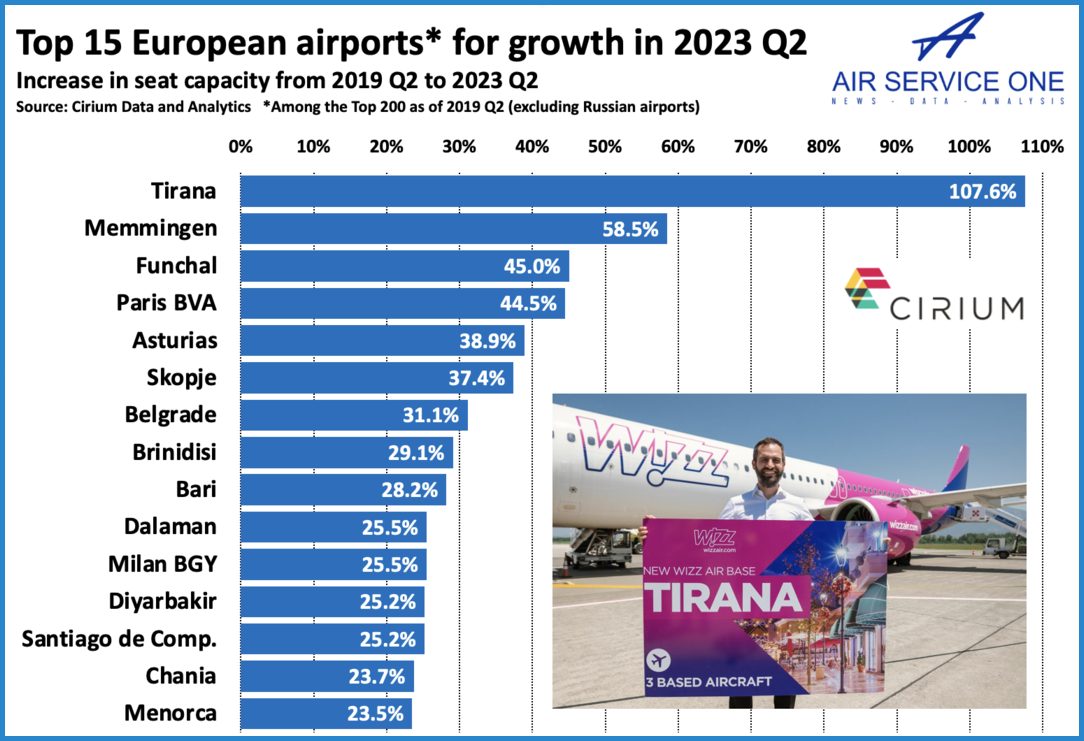 While Ryanair and/or Wizz Air are the drivers of growth at many of these top 15 airports, there are notable exceptions. Diyarbakir in Turkey has seen growth from local Turkish carriers, while Belgrade's increase in capacity has primarily come from Air Serbia (with a little help from Wizz Air). Another Turkish airport, Dalaman, has seen two UK carriers, easyJet and Jet2.com, more than double their capacity. At Asturias in northern Spain, Volotea has been the principal provider of increased capacity.