Europe's top 15 domestic air travel markets analysed; capacity still down over 30% in Germany and Finland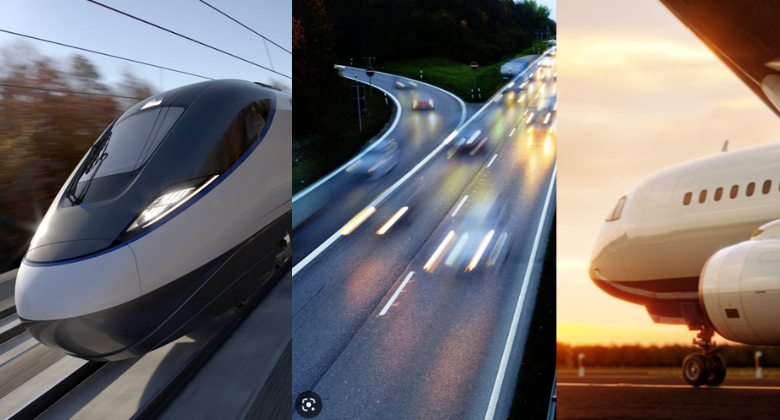 The last week has sadly seen the collapse of two European airlines, Flybe version 2 and Flyr. Both carriers were launched since the start of the pandemic and focussed, at least initially, on their respective domestic markets of the UK and Norway. While the revived Flybe remained focussed on the domestic market for all of its brief existence, Flyr rapidly pivoted towards more international flying last summer.
Looking at Cirium data for the second quarter of 2023 reveals that planned capacity in domestic markets across Europe (excluding Russia) is down just 4% versus the same period in 2019. Of the top 15 European domestic markets, capacity is up in six of them and down in nine. The five growth markets with over two million seats in Q2 are all in southern Europe; Greece, Italy, Portugal, Spain and Turkey. Poland (+13%) is the only other top 15 country reporting domestic capacity growth, thanks to Ryanair increasing its capacity by over 200% and now accounting for 20% of the market.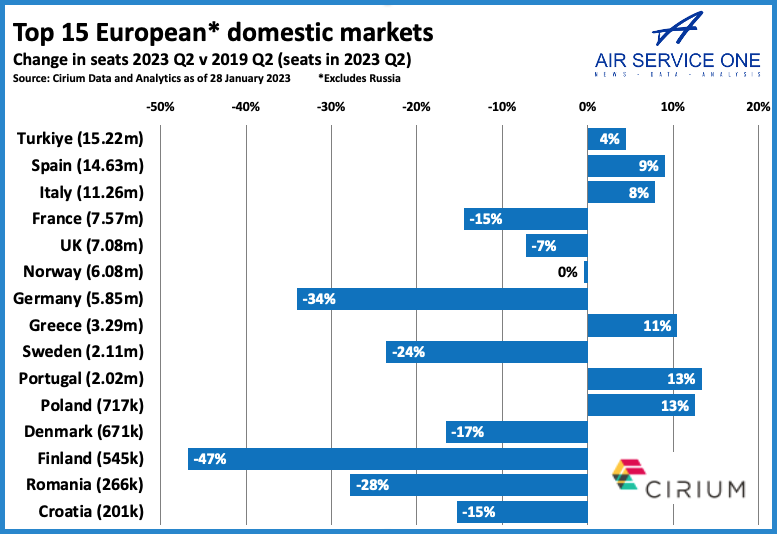 Among the top 10 domestic markets, three are showing capacity reductions of more than 10%. German domestic capacity is still down 34% in the second quarter of 2023 (versus 2019 Q2), Sweden is down 24% and France down 15%. In France, the introduction of restrictions on domestic air travel routes where high-speed rail offers a viable alternative, has clearly had an impact on the overall market.
Among the lower volume domestic markets, the collapse of Blue Air has resulted in Romania's domestic market being almost 30% smaller than it was. Even more dramatic is Finland, where domestic seat capacity is down almost 50% versus four years ago. The market is dominated by Finnair, whose capacity is down 41%. Norwegian, who had around 14% of the market in 2019 Q2, has cut capacity in the Finnish domestic market by 90%, leaving it with just one route between Helsinki and Rovaniemi.
Germany and Turkiye dominated by flag-carrier
Looking at the leading carriers in each of the top 10 domestic markets reveals significant variations. The market share of flag-carriers varies considerably, with British Airways only accounting for 25% of UK domestic capacity. However, Star Alliance members Lufthansa and Turkish Airlines both have more than 70% of their respective domestic markets in Germany and Turkiye. In Greece, Aegean/Olympic account for almost 60% of domestic seat capacity.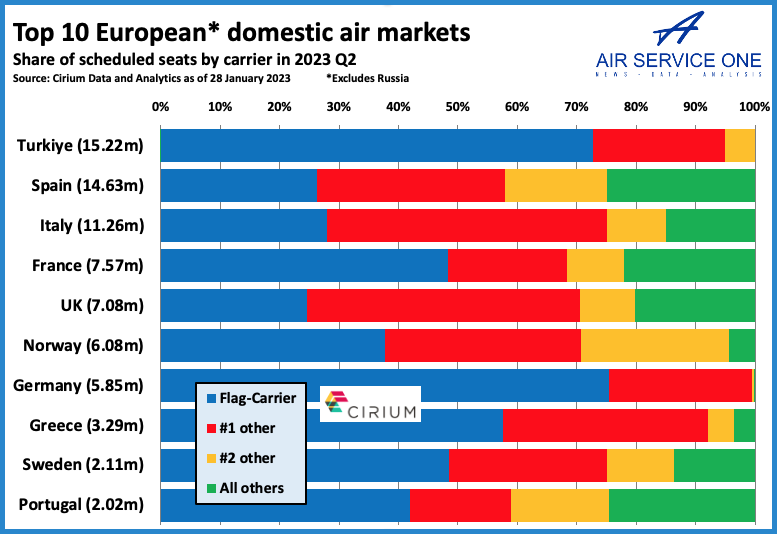 There are three countries in which the national carrier is not the leading domestic carrier by seat capacity. In Spain, Vueling (32%) has more capacity than Iberia & Iberia Express combined (26%); in Italy, Ryanair (47%) is way bigger than ITA Airways (28%) and in the UK, easyJet (46%) offers almost twice as many seats as British Airways (25%).
(U)LCCs are biggest threat in eight of top 10 markets
In eight of the top 10 markets, the leading non-flag-carrier is a (U)LCC; easyJet in France and the UK, Ryanair in Italy and Portugal, Pegasus Airlines in Turkey, Norwegian in Norway, Vueling in Spain and Eurowings in Germany. In Greece, the leading rivals to Aegean/Olympic are Sky Express and Volotea, while in Sweden SAS's closest competitors are BRA Braathens Regional and Norwegian. Apart from Sweden, the only other countries where genuine local, regional carriers rank in the top three are Norway (where Widerøe ranks third with 25% of seats –  and 51% of flights) and the UK (where Loganair ranks third with 9% of seats – and 21% of flights).
Lufthansa Group has monopoly in German market
One market that stands out is the German domestic market where Lufthansa (75.3%) and its lower-cost subsidiary Eurowings (24.2%) share well over 99% of the market. Even pre-pandemic the Lufthansa Group accounted for 90% of the domestic market. However, the last significant competitor, easyJet (which had over 9% of the market in 2019), no longer offers any domestic flights in Germany. For comparison, back in 2010 and 2011, airberlin had as much as 30% of the German domestic market. It would be interesting to know how average domestic air fares in Germany currently compare with other countries when adjusted for average sector length.