Eurowings at 30; domestic flights down 48% v 2019 Q2; 11 countries added and four dropped since 2019
Lufthansa's lower-cost subsidiary Eurowings can trace its origins back to 1993 and has just celebrated its 30thanniversary. A brief history of the airline's evolution from regional carrier to its current incarnation can be found on the Eurowings corporate website. The basic Eurowings brand (IATA code EW) has been joined in recent times by the long-haul Eurowings Discover brand (IATA code 4Y). The latter has established itself at Lufthansa's main hub in Frankfurt, offering the Lufthansa Group the opportunity to serve low-yield, leisure destinations with a lower cost operation.
Analysis of Cirium capacity data for 2023 Q2 reveals that the two Eurowings airlines combined are offering around 9% fewer flights and seats than they were in 2019 Q2. However, because of the growth in long-haul operations, ASKs (Available Seat Kilometres) are up a significant 18%.
According to planespotters.net the airline's fleet currently comprises well over 100 aircraft, of which all but two are Airbus:
Eurowings (EW) – 79 aircraft: 2 A321s, 44 A320s, 31 A319s, 2 737-800s (Note: the two 737-800s are operated by TUI fly Deutschland but are painted in Eurowings colours)
Eurowings (4Y) – 22 aircraft: 12 A330s (9 -300s, 3-200s), 10 A320s
Eurowings Europe (E2) – 7 aircraft: 3 A320, 4 A319 (all currently parked)
Eurowings Europe Malta (E6) – 13 aircraft: 11 A320, 2 A319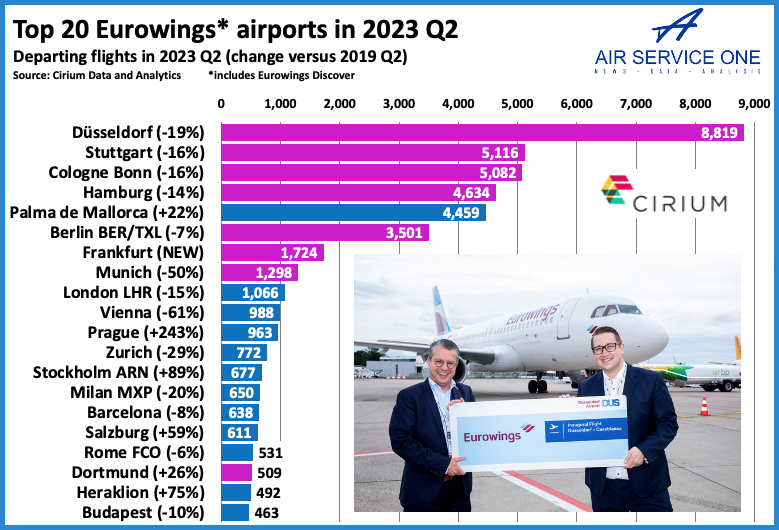 Eurowings has a significant presence at seven German airports (shown in purple), though Düsseldorf is by some way its busiest airport. After Lufthansa decided to only offer flights to and from its Frankfurt and Munich hubs, Eurowings was used to offer international flights from all other German airports, as well as domestic routes that did not involve either of its hubs.
The airline's busiest airport outside of Germany, and by some distance, is Palma de Mallorca. The Spanish airport has four times as many flights as London LHR, Vienna and Prague. Vienna has seen a massive reduction in flights as Ryanair has established itself as the dominant (U)LCC at the Austrian airport.
Bases outside of Germany
For many years Eurowings only offered flights to and from airports in Germany, with very minor exceptions. However, a Vienna base was opened in November 2015, and international flights from Salzburg commenced in January 2017. Palma de Mallorca, a popular destination for German tourists, and previously a major base for airberlin, became a Eurowings base in the summer of 2017. More adventurously, the carrier opened bases in Prague (October 2021) and Stockholm ARN (at the end of March 2022).
Domestic capacity down almost 50% but international growth
Back in 2019 Q2 German domestic operations accounted for three in every 10 Eurowings flights. Four years later it has fallen to just 17% as domestic flights have been reduced by 48%. Conversely, international flights now make up 83% of the airline's operations and have increased by 9% during the same period.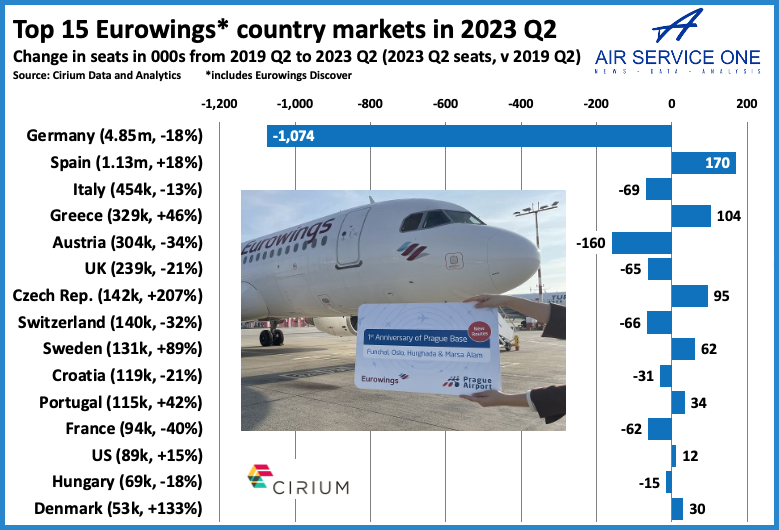 While Germany remains the airline's biggest country market, capacity is still down 18% versus 2019. The popular holiday markets of Greece and Spain have seen double-digit percentage increases in flights, while the Prague and Stockholm bases have, not surprisingly, resulted in big increases in flights in the Czech Republic and Sweden.
One country noticeably absent from the top 15 is Turkey, a popular leisure destinations and a big VFR market. However, Lufthansa Group appears to be content to let SunExpress, its joint venture with fellow Star Alliance member Turkish Airlines, be its main representative in this market.
Comparing 2023 and 2019 schedule data reveals that Eurowings no longer operates flights in four countries; Belgium, Cuba, Jamaica and Thailand. However, it does now operate flights in 11 countries that it did not serve in 2019. These are Armenia, Canada, Egypt, Finland, Georgia, Iraq, Kenya, Lebanon, Maldives, Panama and Zimbabwe.