Eurowings celebrates first anniversary at Prague; adds four new routes for winter season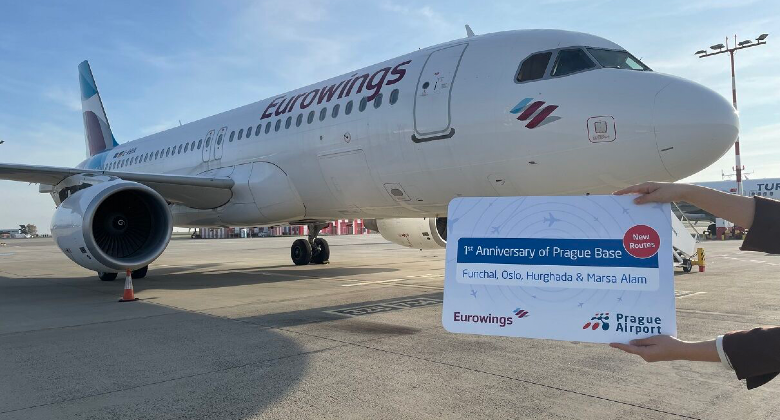 Lufthansa's in-house LCC, Eurowings, recently celebrated the first anniversary of its Prague base. Launched on 31 October 2021, the carrier has offered flights to 24 destinations during the last year from the Czech capital according to Cirium schedule data. However, closer analysis of the data shows that only two routes, Düsseldorf and Copenhagen, will have been served continuously with at least 2-weekly flights between November 2021 and March 2023.
Four new routes for winter
During the summer period (April to October), Eurowings was Prague's fourth biggest carrier with 6.2% of total seat capacity. Ryanair (17.1%), SmartWings (16.8%) and easyJet (7.1%) were all bigger. Looking ahead to this winter (November 2022 to March 2023), based on currently filed schedules, Eurowings's share of the Prague market is set to fall to 4.7%. As a result, it now ranks just sixth in Prague behind Ryanair (16.8%), easyJet (7.7%), Lufthansa (7.3%), SmartWings (7.1%) and Wizz Air (6.8%).
Despite this, Eurowings recently launched new routes from Prague to Oslo (3-weekly) and Funchal (weekly). At the end of November, a weekly Marsa Alam service will be added, while the beginning of December will see a weekly service to another destination in Egypt, Hurghada.
12 countries served by Eurowings from Prague
Eurowings's 24 routes from Prague are spread across 11 countries (total scheduled departing flights between November 2021 and March 2023 in brackets):
Cyprus: Larnaca (63)
Denmark: Copenhagen (387)
Egypt: Marsa Alam (19), Hurghada (18)
Germany: Düsseldorf (785), Cologne Bonn (76), Hamburg (27)
Greece: Athens (90), Heraklion (64), Mykonos (4)
Italy: Rome FCO (205), Milan MXP (79)
Norway: Oslo (49)
Portugal: Faro (40), Funchal (16)
Spain: Barcelona (244), Malaga (155), Palma de Mallorca (104), Alicante (55), Tenerife TFS (43), Fuerteventura (39),
Sweden: Stockholm ARN (187)
UK: Birmingham (139), Bristol (68)
It will be interesting to see what Eurowings does with the base next summer. Its declining market share this winter suggests the airline may be looking elsewhere for growth opportunities. According to the airport, Eurowings currently has three aircraft based at the airport; two A320s and one A319.