Eurowings increases market share at Stuttgart to 44% as Ryanair and easyJet drop all routes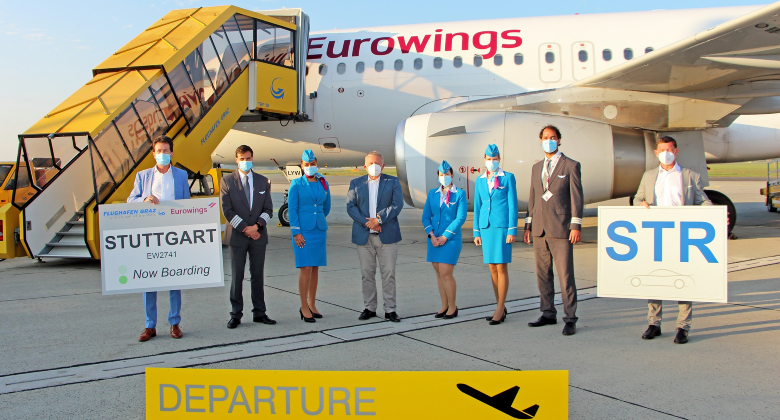 Stuttgart is home to not one, but two legendary car manufacturers, Mercedes-Benz and Porsche. The airport serving the city handled 12.72 million passengers in 2019, making it Germany's sixth busiest airport after Frankfurt, Munich, Düsseldorf, Berlin TXL and Hamburg. So far in 2022, it ranks seventh, having now also slipped behind Cologne Bonn.
Analysis of Cirium schedule data reveals that Stuttgart currently ranks as Eurowings's fifth busiest airport for weekly flights, behind Düsseldorf, Palma de Mallorca, Cologne Bonn and Hamburg. Across all airports, Eurowings's weekly flights in July 2022 are down 32% compared with pre-pandemic July 2019. Among its top 15 airports, five have seen an increase in flights; the new bases in Prague and Stockholm ARN, Palma de Mallorca and two Greek airports (Heraklion and Thessaloniki).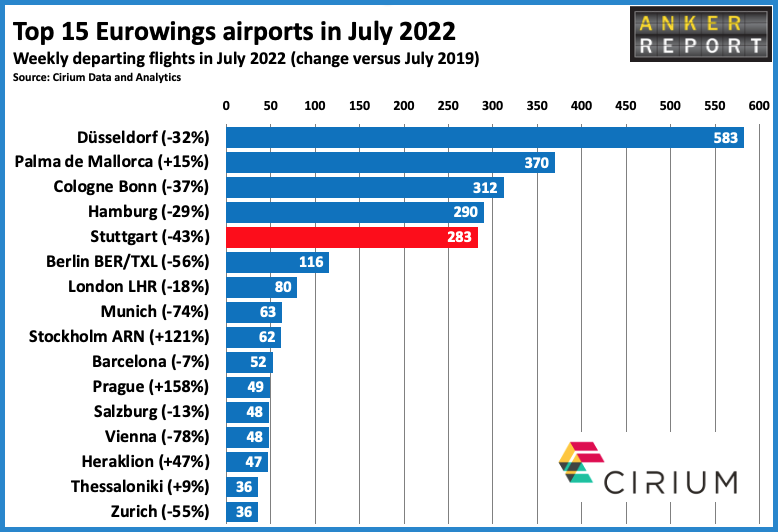 #1 airline in Stuttgart
Eurowings currently accounts for 44% of seat capacity at Stuttgart, up from 39% in July 2019. Despite cutting capacity by 35% (and flights by 43%), it has gained market share as the airport has seen total capacity fall by 42% (and flights by 46%). Back in the summer of 2019, Ryanair had a significant presence at the airport through its Laudamotion subsidiary. However, by the end of October 2020, neither Ryanair nor Laudamotion were operating from Stuttgart. Ryanair has a base at Karlsruhe/Baden-Baden, which is 85 kilometres from Stuttgart and is treated by the ULCC as a secondary airport for Stuttgart.
Back in S19, easyJet was also present at Stuttgart. It was offering 60 weekly flights across seven routes, including 38 weekly flights to Berlin. All of these routes have since been suspended, with Cirium showing the last services being in January 2021 to Porto.
No other carrier currently has more than 10% of seat capacity at Stuttgart. After Eurowings, the next busiest carriers are Turkish Airlines, SunExpress, TUIfly, Condor, Pegasus Airlines and Corendon. Apart from losing easyJet and Ryanair, Stuttgart has also lost service from Aeroflot, Delta, Finnair, Flybe, SAS and TAP Portugal, all of whom served the airport back in July 2019.
13 new summer routes for Eurowings
This summer, Eurowings is operating flights to 13 destinations from Stuttgart that it did not serve three years ago. These are spread across 10 countries:
Bulgaria: Bourgas
Egypt: Hurghada
Georgia: Tbilisi
Greece: Kalamata, Kos, Mykonos, Preveza
Montenegro: Tivat (previously served in S18)
Portugal: Porto
Romania: Bucharest
Serbia: Belgrade (previously served in S18)
Tunisia: Tunis
Turkey: Adana
Apart from these new summer routes, Eurowings also launched some seasonal services last winter. These included Fuerteventura, Funchal, Graz, Kiruna and Lulea.
Routes served in August 2019 but not served from Stuttgart in August 2022 include several domestic markets (Bremen, Dresden, Düsseldorf, Hannover and Leipzig) as well as international destinations such as Brussels BRU, Krakow, Mostar, Newquay, Ohrid, Osijek, Pisa and Timisoara.
Spain #1 country market; domestic seats down 70%
The pandemic has had a dramatic impact on where Eurowings flies from Stuttgart. Comparing weekly capacity in August 2019 with August 2022 shows that domestic capacity is down a massive 71%. Back in 2019, the German market was almost three times bigger than the next busiest country market, Spain. Now it ranks third, behind both Spain and Italy.
Capacity on Spanish routes is up 29%, while Italy is up 8%. However, the biggest increases have been seen to Bulgaria (+321%), Turkey (+103%), Greece (+67%) and Portugal (+51%), which gives a pretty good indication of where this summer's holiday hotspots are for German tourists.