Fast growing Faro to exceed 2019 passengers this year; first US route is coming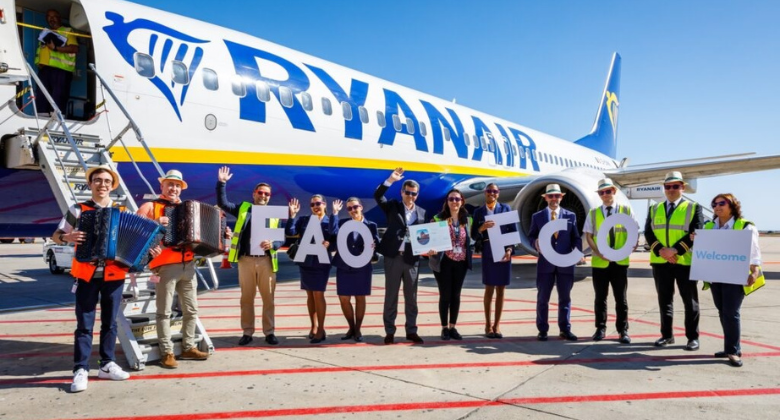 Situated in the Algarve region of Portugal, the ever-popular airport of Faro welcomed 7.82 million passengers between January and September 2023. The country's third-busiest airport, Faro's traffic exceeded its pre-pandemic level – in those nine months – by a respectable 6.5%. It is expected that full-year 2023 should be its best year to date.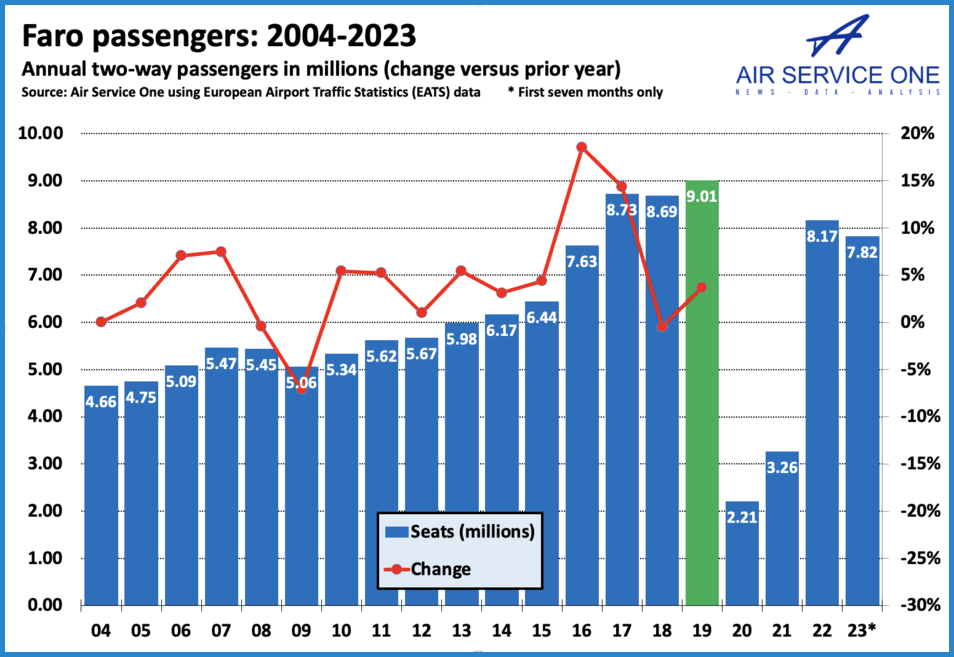 Faro gains its first US route
United Airlines will inaugurate Newark-Faro on 25 May 2024, with the 4-weekly service using the 176-seat Boeing 757-200ER. The last service to the summer-seasonal destination will leave from Portugal on 24 September. Faro will be United's fourth destination in the country, joining Lisbon, Porto and Ponta Delgada.
Since the pandemic, the Star Alliance member has been creative in its European network decisions, adding the likes of Dubrovnik, Malaga, Palma, Ponta Delgada, Tenerife TFS – and now Faro. It will provide considerable onward connectivity over its Newark hub.
Newark will be Faro's second long-haul route – and second outside Europe – joining Air Transat from Toronto, which launched in 2011. Leisure carrier Air Transat serves Faro year-round, with frequencies varying from weekly to 2-weekly using the A321LR and A330-200.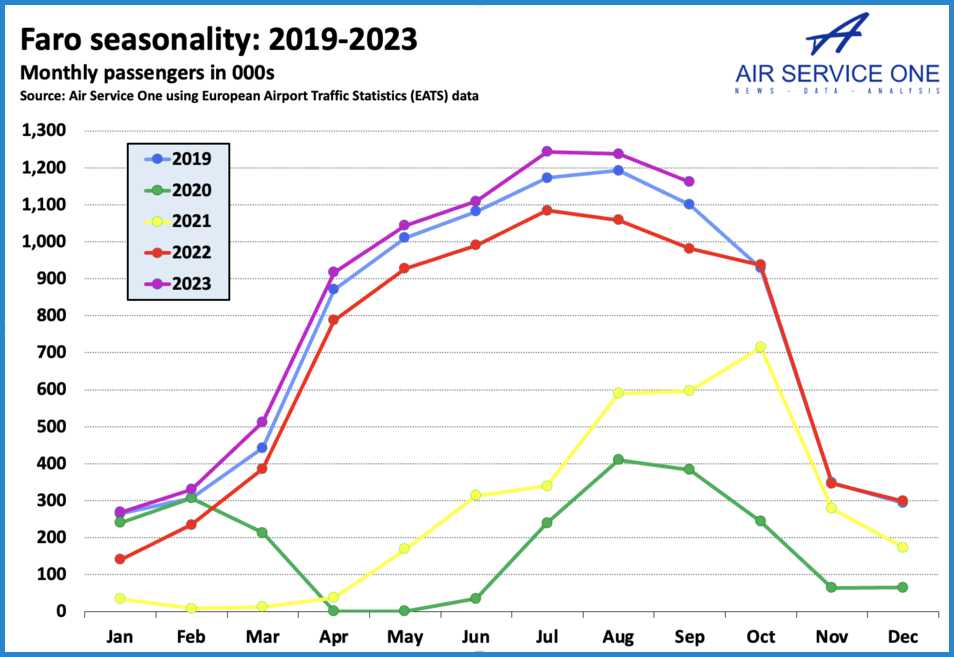 Ryanair has over a third of 2H seats
Using Cirium schedules information to examine the 2H of 2023 (July-December) reveals that Ryanair is overwhelmingly Faro's primary operator. The ULCC, which opened a Faro base in 2010, has more than a third of capacity (35.2%). Despite its year-round base, its dominance only rises by three percentage points in the less popular Q4 (October-December).
Ryanair's available seats have grown by almost 30.0% versus 2H 2019, with its network now comprising 47 destinations. Dublin (12-weekly in mid-November), London STN (14) and the domestic link to Porto (5) are its three most-served routes. New routes in 2023 include:
26 March: Toulouse (2-weekly)
27 March: Aarhus (2-weekly)
27 March: Barcelona (2-weekly)
27 March: Copenhagen (2-weekly)
27 March: Rome FCO (2-weekly)
4 June: Exeter (2-weekly)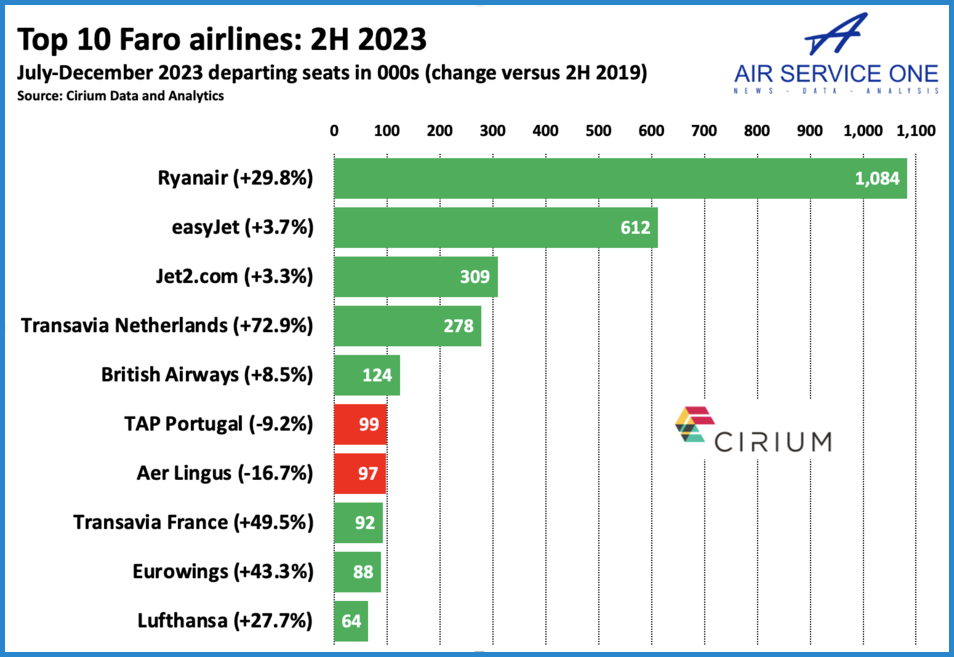 80+ scheduled destinations in 19 countries
Across all scheduled airlines, Faro's 2H 2023 network involves over 80 destinations. They include Bilbao, launched by Volotea on 28 May (2-weekly), and Strasbourg, which joined the LCC's network on 1 June (weekly). Bilbao was also added by Vueling on 2 July (2-weekly). Neither city had been served before.
Fewer than 7.0% of seats are domestic, with TAP Portugal linking its Lisbon hub (21-weekly in mid-November) and the above-mentioned Ryanair to Porto.  They will be joined by Ponta Delgada on 2 June 2024, with the 3-weekly service to be launched by Azores Airlines – an airline that has not served Faro since 2016.
With nearly one in two seats, the UK remains by far the leading country. It is so significant that it is over four times the size of second-placed Germany, despite Condor beginning Düsseldorf on 13 May (3-weekly) and Leipzig on 20 May (weekly).
London LGW leads
One of seven UK airports in the top 10, London LGW remains number one, just as it has been for many years. There were 72-weekly flights in the peak month of August: easyJet (42), BA EuroFlyer (17), Wizz Air UK (11) and TUI (2). It reduces to 26-weekly in November: easyJet (13) and BA EuroFlyer (13).