Find your True South, ATH365

Strong Traffic performance
During the very challenging second year of the pandemic, 2021, Athens International Airport handled over 12 million passengers exceeding the respective 2020 levels by 52.8%, but lagging behind by 51.7% compared to 2019.
Traffic remained at low levels in the 1st half of the year, due to ongoing travel restrictions and COVID-19 waves peaking unsynchronized in different markets.
Greece eased entry requirements in June 2021, with traffic returning in significant numbers from major International markets. Traffic recovery in November 2021 reached 73%, with almost 3 in every 4 passengers Athens had in November 2019, returning.
Unfortunately, the Omicron variant emerged around that time and especially in Europe, Athens core market, with traffic falling in December and early 2022 months. From a very low 55% to 2019 traffic recovery in January 2022, Q1-2022 ended with traffic returning at 64% of 2019 level, while recovery rate improved further in April and May reaching 84% and 90% respectively. .
Domestic traffic returned faster than International, reaching 60% in 2021 compared to 2019 and 72% for Q1-2022, however for April & May, domestic traffic improved even more, reaching 95% & 96% to 2019 levels. Similarly, for April & May 2022, the International traffic performed even stronger at 80% & 87% of 2019 respective period.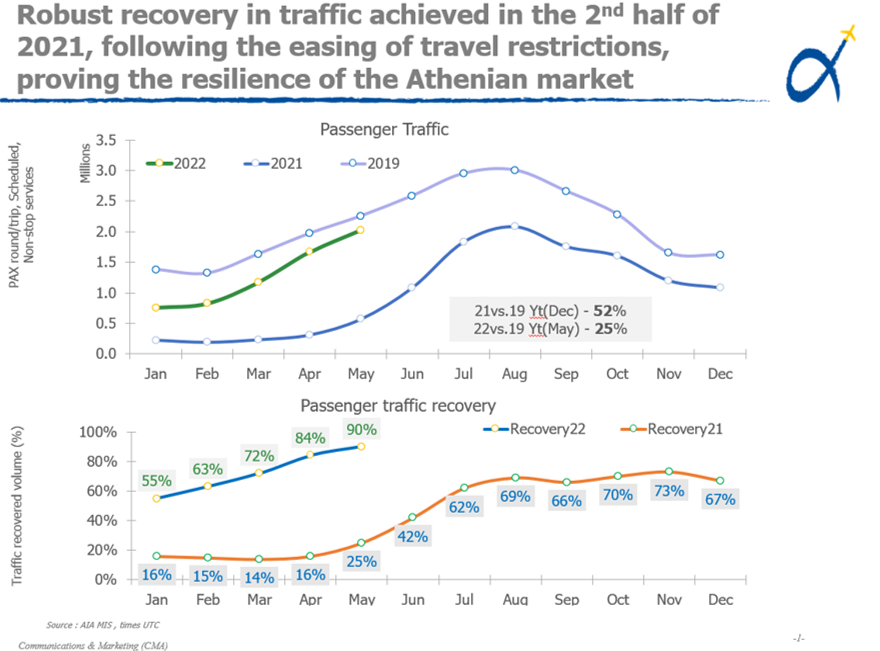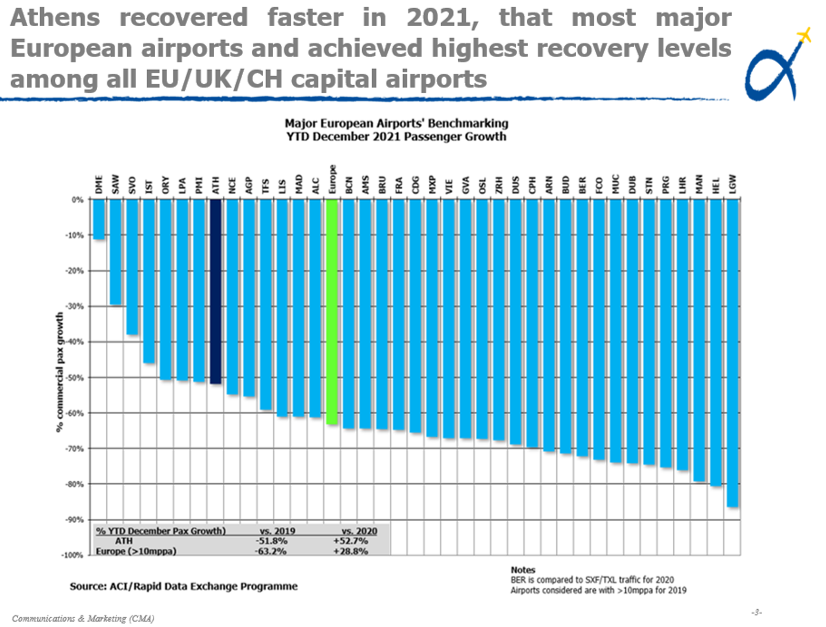 Rebuilding the Network and beyond
For 2021, Athens was connected to 144 airport destinations, 132 cities, 49 countries (including GR), with services operated by 62 airlines. Network rebuild at 84% of 2019 and 94% of airlines operated returned. Despite the challenging times, Athens secured 33 NEW routes, including 5 NEW destinations with 2 Long Haul, Atlanta & Washington (and American adding new service on the existing JFK-ATH route), plus Bacau, Dortmund & Montpellier in Europe. Compared to 2019, 2 NEW airlines offered scheduled PAX services to Athens, LOT Polish Airlines and WizzAir Abu Dhabi.
Summer 2022 looks even more promising with 39 NEW routes, some of them having already started and others just starting, including6 NEW destinations and 6 new airlines, all in all paving the way for a strong Summer Season ahead. New destinations include Bilbao with services offered by Volotea and Aegean, Birmingham with Jet2.com, Boston with Delta, Florence with Aegean, , Nis with Air Serbia and Turin with Aegean. Air Albania, Condor, BA Euroflyer, Flyr, Jet2.com and TUS Airways will offer services to Athens for the first time.
Moreover, Ethiopian Airlines is planning to resume operations between Athens and Addis Ababa from the end of June onwards, offering 3 weekly frequencies, following a short 4 month break. In addition to above new developments, a large number of existing services will benefit by increased frequencies and larger aircraft types, boosting available capacity in the Athens market closer to pre-pandemic levels.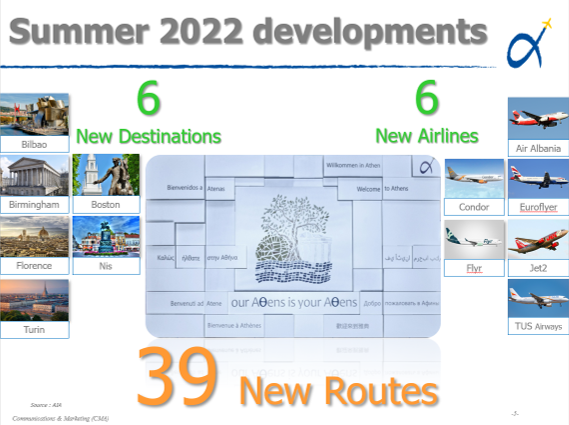 Supporting our airline partners
At the same time, Athens International Airport remained committed to substantially support all airlines operating to/from Athens at the extent possible, especially during such difficult times, aiming at creating a favourable environment within which airlines will be able to maintain and further increase their operations to/from Athens. To this effect, Athens International Airport extended throughout 2021, the very successful and widely acknowledged "Restart Incentive", introduced in Summer 2020, offering significant discounts in Landing and Parking charges to all airlines operating International, scheduled passenger services to/from Athens. The scheme was further extended up to March 2022, to offer the same support during the Winter season.
In addition to the Restart Incentive's  scheme, the well-known developmental incentives, that Athens is traditionally offering, remained available, while enhanced Marketing Support was provided, benefiting not only airlines establishing new services but all operating airlines at the extent possible.
Understanding the challenging environment our airline partners are operating, Athens extended the Restart Incentive's  scheme also for Summer 2022 (April to October), offering substantial discounts to airlines operating a certain number of flights to 2019 levels.
We wish our partners a wonderful "Athenian" season ahead and we remain totally committed to support our operating carriers with their developmental plans to/ from Athens.