Flair Airlines set to serve 19 Canadian airports this summer, of which nine are new; plans to launch almost 40 new routes by September
Canadian ULCC Flair Airlines (IATA code F8) can trace its origins back to 2005, but the airline as it is known today, with its acid green and black branding, came into being in 2019. Its current fleet of just three 189-seat 737-800s are set to be joined in the coming months by 13 737 MAX 8s. Within five years the airline is hoping to have a fleet of 50 aircraft.
By the end of 2020 the carrier had operated some 18,000 flights and carried around 2.3 million passengers. The airline is headquartered in Edmonton.
New management team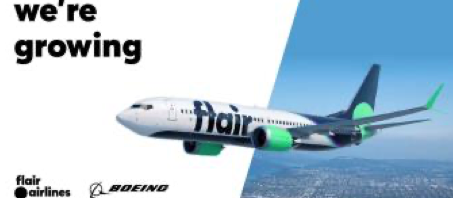 Promoting itself as Canada's only independent ultra low- cost carrier (ULCC), the airline is set to expand significantly this summer, launching flights to nine new airports. As a result, the carrier will be operating to 19 airports right across the country, from five airports in British Columbia to Halifax in Nova Scotia.
Helping the airline to establish itself as a significant player in Canada will be its new President and CEO, Stephen Jones, and new CCO, Garth Lund. Both have previously held senior positions at Wizz Air in Europe.
Nine new airports and almost 40 new routes
This summer, the airline will almost be doubling the number of destinations served by adding service to nine new airports; Abbotsford, Charlottetown, Halifax, Kitchener-Waterloo, Montreal, Ottawa, Saint John, Thunder Bay and Victoria. As a result, Flair will then be operating from all eight of Canada's busiest airports.
The number of routes is set to grow significantly this summer. So far, the airline has revealed launch dates and planned weekly frequencies for almost 40 new routes across the country. All will be served at least 2- weekly and no more than daily. Halifax to Ottawa and Calgary to Abbotsford are the only new routes to launch initially with daily service.
The first new routes are set to start on 1 May with others not starting until early August. Further new routes may still be announced in the coming weeks. However, as elsewhere in the world, these launch dates are not guaranteed.