Flights across Europe still around 64% down compared with two years ago
Well here we are in mid-May and the summer season is well and truly under way. Except it isn't, at least not as far as Europe's airlines and airports are concerned. The latest Eurocontrol data, which monitors flights through European airspace, shows that flights (and that includes those of cargo airlines like DHL) are still around 64% down compared with the same period in 2019. Give or take a couple of percentage points that's the same level we've been at since the third week of January. Surely things have to improve soon?
Turkey's decision to initiate its version of a lockdown has taken a toll on the services offered by both Turkish Airlines and, in particular, Pegasus Airlines. Both carriers have seen a significant drop off in flights since mid-April, resulting in Spain's Iberia now inching ahead of Turkish Airlines with regard to the highest recovery rate (of just over 40%) among Europe's biggest airlines. Neither easyJet (at 10% of 2019 flights) nor Ryanair (15%) have seen any significant improvement in their recovery rate in recent weeks.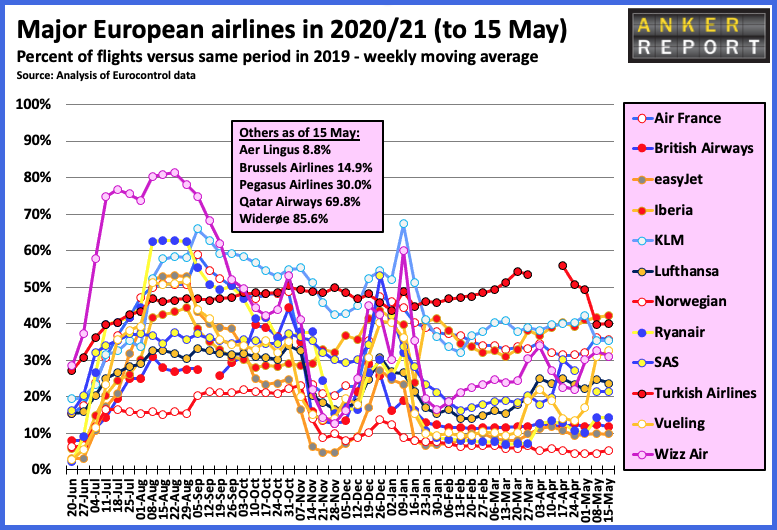 UK revealed 'green' list for mid-May travel
The UK government revealed its so-called 'green' list of 12 countries, from where passengers after 17 May would not have to quarantine on their return, although various COVID tests would still need to be taken. The rules made no allowance for whether UK residents had already had one or both of their vaccination jabs. The 12 countries contained some without any direct air services to the UK (South Georgia and South Sandwich Islands, St Helena and The Falkland Islands) and several countries (such as Australia, New Zealand and Singapore) that are basically not letting any foreigners in anyway. That left Gibraltar, Iceland, Israel and Portugal as viable destinations.
Given the current situation there, Tel Aviv is now no longer looking like quite such an attractive destination, while Iceland is even less likely to be warm at this time of the year than the UK. Which basically just left Portugal as a mass volume holiday market. Almost immediately, airlines in the UK such as British Airways, easyJet, Jet2.com and Ryanair announced additional flights to Portugal as bookings surged. The UK government will re-evaluate its list of 'green', 'amber' and 'red' countries every three weeks, but while it says it wants to open up air travel for summer holidays, its actions suggest that it would much prefer if everyone stayed within the UK this summer.
Albania and Russia lead the way
Analysis of schedule data more than a couple of weeks in advance is prone to significant margins of error, given how airlines continue to remove capacity that they were hoping to fly in the months ahead. However, given that we are half way through May, The ANKER Report has analysed schedule data for Europe for all of May and compared it with May 2019, to evaluate how well Europe's 40-plus countries compare with regard to capacity recovery.
Leading the way is Albania, where capacity this month is actually 6% above the level of 2019. Air Albania and Wizz Air are leading the way here after the demise of Ernest Airlines. European Russia is up at 92% of capacity versus two years ago, thanks to its huge domestic market and the significant growth during the pandemic of Aeroflot's in-house LCC, Pobeda.
Among Europe's six biggest aviation travel markets, Turkey, despite its recent restrictions, leads the way with 44.4%, followed by Spain with 31.6%. France is not far behind on 30.5% followed by Italy (24.0%) and Germany (20.6%). Languishing well behind, on just 15%, is Europe's most vaccinated country, the UK. However, seven countries perform even worse; Malta, Finland, Czech Republic, Slovenia, Hungary, Ireland, and, right at the bottom, Slovakia, at only just over 5%.
Remember, this is capacity rather than passengers. Given well below average load factors, the percentage figures for passengers will be considerably worse. This is confirmed by looking at data for Finnish airports in April, when demand was down 93% compared with April 2019, and for Ireland, where Dublin traffic was down 95% in April versus 2019.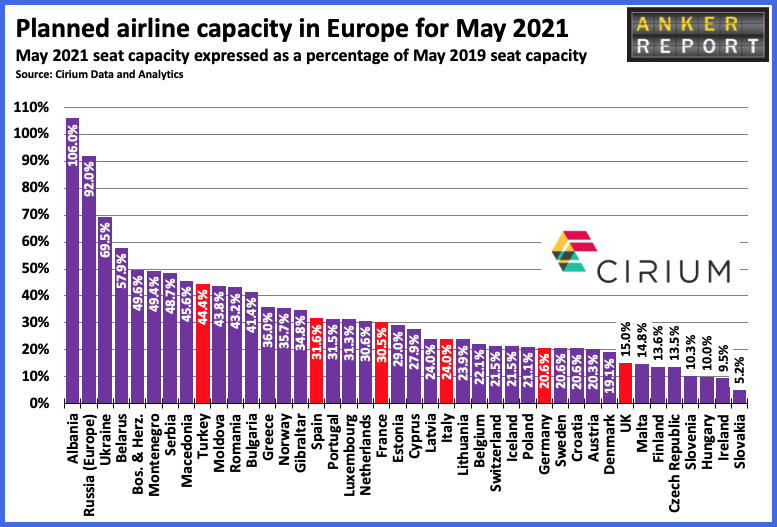 Istanbul and Moscow still battling it out among airports
Analysing May schedule data for Europe's airports reveals that the top five by seats are Istanbul IST, Moscow SVO, Moscow DME, Amsterdam and Frankfurt. Then comes Paris CDG and Madrid, while Istanbul SAW is down to eighth just ahead of London LHR in ninth and Moscow VKO in 10th. Whether these rankings will be the same when passenger figures for May are published in June and early July remains to be seen.
For airlines, Turkish Airlines is set to remain number one, ahead of Aeroflot and Ryanair, with Lufthansa and Air France rounding out the top 5. Five of the top 12 airlines are based in either Russia or Turkey. British Airways ranks 19th, just behind Utair and Ural Airlines, two more Russian carriers. Across all airports scheduled passenger flights are set to be down around 68% in May. The equivalent figure for April, based purely on schedule data, was 71%, suggesting a small improvement this month.