Flights between UK and Turkey up 40% this summer versus S19 with Antalya now #1 destination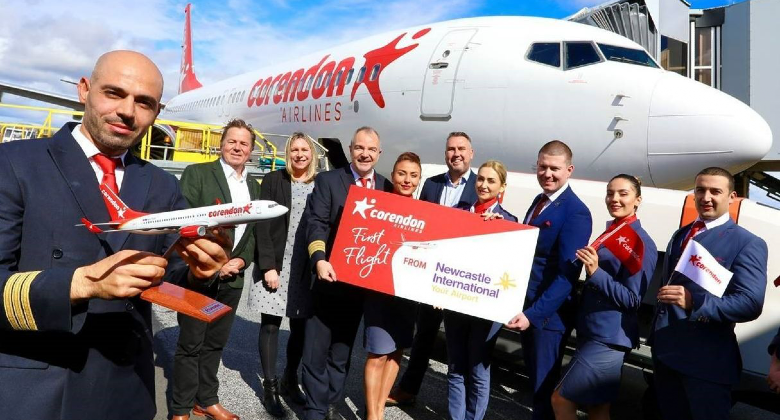 Back in the summer of 2019 the leading carrier between the UK and Turkey was Thomas Cook Airlines. When the airline ceased operating in September of that year, there would have been concerns about the future of the market. And then came the pandemic. So it may come as a surprise, that this summer the seat capacity between the two countries is up 31% compared with 2019, while flights are up 40%.
Analysis of the leading airlines in the market this summer reveals that nearly all of the airlines operating in 2019 have increased their capacity by at least 50%, with the notable exception being TUI Airways. In addition, Corendon Airlines is a significant newcomer in the market, having launched flights recently from five UK airports; Birmingham, Glasgow, London LGW, Manchester and Newcastle. SunExpress, the joint venture between Lufthansa and Turkish Airlines, has seen huge growth, admittedly from a very low base. It too now serves five UK airports; Birmingham, Edinburgh, London LGW, London LTN and Manchester.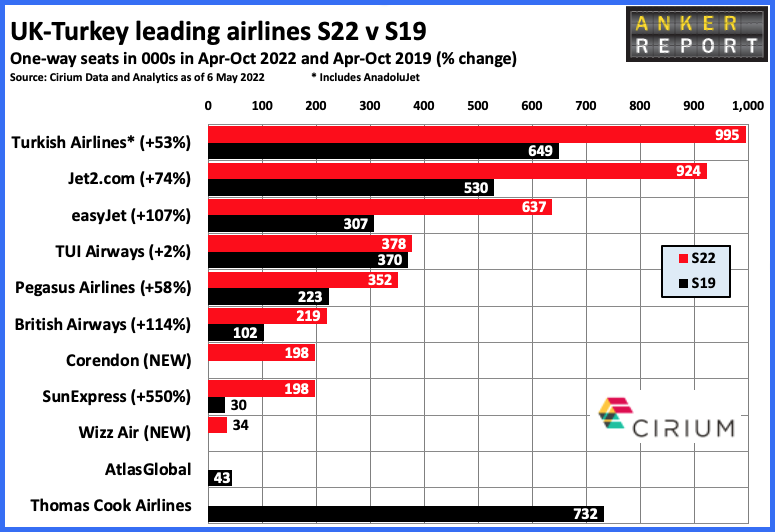 It is worth noting that although Turkish Airlines leads the way, this includes its regional subsidiary AnadoluJet, which also operates using the same 'TK' code, and is responsible for many flights away from Istanbul's main airport. British Airways has more than doubled its capacity to Turkey since S19. It has increased capacity on its pre-existing Heathrow-Istanbul IST and Gatwick-Dalaman routes, as well as adding new routes from Heathrow to Dalaman and Bodrum, and launching Gatwick-Antalya service on 2 April this year.
Manchester #1 UK airport for Turkish flights
This summer, 20 UK airports are offering non-stop flights to Turkey. Manchester has the most seats available followed by the three London airports of Gatwick, Stansted and Heathrow. Of the top 15 airports only two, East Midlands and Glasgow, have not seen an increase in Turkish capacity compared with 2019. Conversely, Luton (+91%) and Bristol (+79%) have seen well above average capacity growth.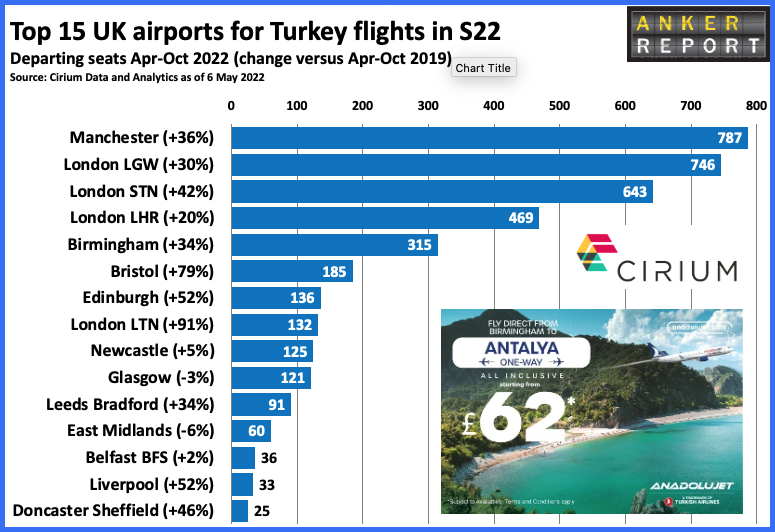 Antalya replaces Dalaman as #1 for UK flights
In 2019, Dalaman was the leading Turkish airport for UK capacity in summer. Despite 24% growth this summer, it has been overtaken by Antalya, where seats offered has increased by 64%. In total only eight Turkish airports are served non-stop from the UK and one of those, Gaziantep, is only expecting 14 flights from Luton, all operated by SunExpress.
Many other European holiday destinations not growing
The UK-Turkey market this summer is set to see almost four million seats, up 32% compared with S19. For comparison, the UK-Greece market is currently anticipating 4.8 million seats (up 19%), while UK-Portugal capacity is up just 1% to 3.7 million seats. The much smaller markets to Croatia and Cyprus are both showing small reductions in seat capacity with Malta capacity down a rather more dramatic 35%. Even the massive UK-Spain market of 16.2 million seats is actually down 9% compared with S19. Italy is also down 9% to 5.7 million seats.
Pros and cons of Turkish holidays
Right now, Turkey is suffering from significant price inflation and its currency is struggling as its leader chooses to adopt a non-traditional approach to dealing with the matter. As a result, for western European tourists, a Turkish holiday is likely to be relatively cheap compared with other destinations this summer. However, Turkey has also remained open to Russian tourists, and is actively encouraging them, as they remain a key market for the country's tourism industry.
Turkish Airlines continues to serve Moscow and St. Petersburg with multiple daily flights from Istanbul and several other airlines continue to offer flights between the two countries. Turkey had been expecting to welcome between six and seven million tourists from Russia this year, but this is now expected to fall to around two million, though that figure is far from certain. Antalya has traditionally been the leading tourist destination in Turkey for Russians, so UK holidaymakers could find themselves staying in the same hotels, something they might not have anticipated when they made their bookings.