Flybe 2.0 began commercial service on 13 April; two routes so far, five more starting later this week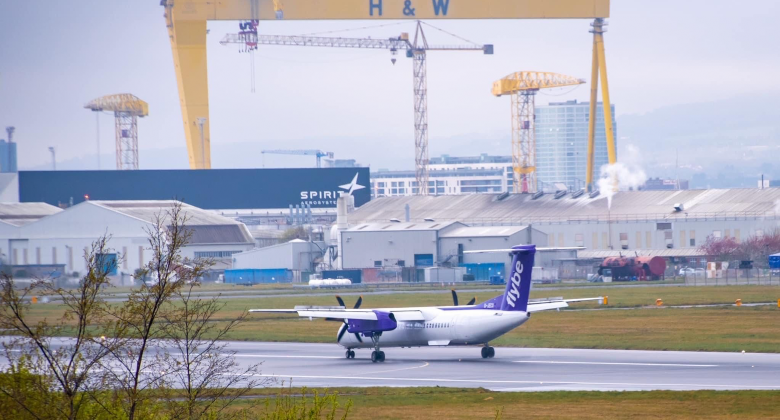 Wednesday 13 April 2022 saw the return of the Flybe brand to UK skies with the launch of service between Birmingham and Belfast BHD, the airport's two bases. A 78-seat Q400, registration G-JECX operated the first flight between Birmingham and Belfast, which was given the flight number BE 404. Given all the numbers that could have been chosen for the first flight, to use one associated with computer malfunctions seemed a curious choice to say the least. The following day saw the start of the airline's second route between Belfast BHD and Glasgow.
A second Q400, registration G-JECY, is also active but has mostly been used so far for crew training flights. During the last two weeks, these flights have touched down at Belfast BFS, Cardiff, Exeter, Leeds Bradford, London SEN, Newcastle and Southampton, as well as Birmingham and Belfast BHD according to flightradar24.com. A third Q400, registration G-ECOE, has been parked at Malta Airport since 15 April where it is undergoing maintenance. It is expected to return to the UK shortly.
Five new routes starting on Thursday
Starting on Thursday 28 April, Flybe will start operating five more routes:
Belfast BHD – Leeds Bradford: 6-weekly versus Aer Lingus Regional (6-weekly)
Belfast BHD – London LHR: 2-daily versus British Airways (34-weekly), Aer Lingus (21-weekly)
Birmingham – Amsterdam: daily versus KLM (28-weekly), easyJet (14-weekly), Jet2.com (2-weekly)
East Midlands – Amsterdam: daily, no competition (last served by original Flybe until March 2020)
Leeds Bradford – London LHR: 12-weekly, no competition (last served by BA until start of pandemic)
In addition, the existing Birmingham-Belfast service will increase from 12-weekly to 17-weekly, with three daily flights on Mondays, Thursdays and Fridays. To operate these routes one aircraft (and crew) will overnight in Leeds Bradford to enable it operate the early morning service to Heathrow which departs the Yorkshire airport at 06:45. There will also be a number of "W" operations and three aircraft will be kept busy for most of the day. A fourth aircraft would appear to be required for one Birmingham-Belfast rotation. Cirium data shows that Flybe will be operating 140 sectors in the first week of May. There will be 22 flights on Mondays, Thursdays and Fridays, 20 on Tuesdays and Wednesdays, and 17 on Saturday and Sunday.
Heathrow – Belfast top for ASKs
Within airlines capacity is measured in ASKs (Available Seat Kilometres) which takes into account frequency, aircraft size and sector length. Fixed (as opposed to variable) airline costs are then allocated pro-rata by ASKs which enables airlines to work out individual route profitability. Routes with the highest share of ASKs will be expected to generate the most revenue. Looking at Flybe's network for next week, each of the seven routes has the following share of total ASKs:
27.6%: Belfast BHD – London LHR
24.2%: Belfast BHD – Birmingham
13.2%: London LHR – Leeds Bradford
12.2%: Birmingham – Amsterdam
11.4%: East Midlands – Amsterdam
6.8%: Belfast BHD – Leeds Bradford
4.6%: Belfast BHD – Glasgow
Just two of the seven routes account for over 51% of the airline's ASKs next week. On the key Belfast BHD to Heathrow route, Flybe faces competition from British Airways and Aer Lingus, both of which offer higher daily frequency and use Airbus jets. It would be interesting to compare fares on this route for the three competing airlines.