Flybe returns to Newquay with Heathrow and Manchester flights; 19 UK airports no longer served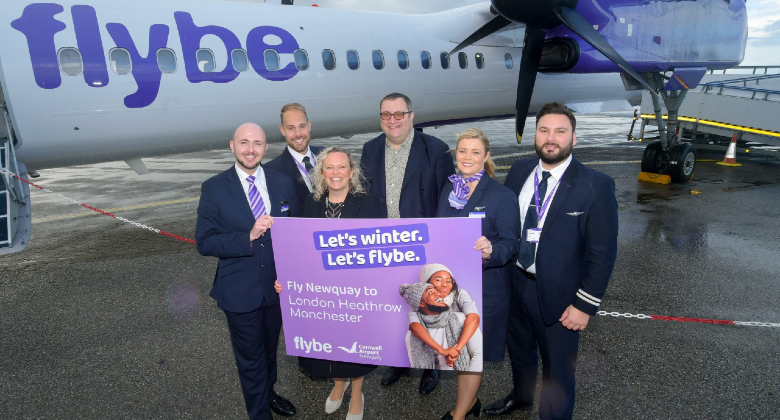 Situated in the tourist county of Cornwall in Southwest England, Newquay welcomed 171,000 passengers between April and September, according to the UK Civil Aviation Authority. Of these, 118,000 (69%) were domestic. Depending on the month, it ranked 26th to 29th among the UK's busiest airports. Newquay's domestic passenger volume was 74% of what it had in the same period in 2019.
Multiple airlines have arrived since 2020
Historically, Newquay revolved around Flybe, whose exit had a catastrophic impact on the airport. Multiple carriers have replaced some of Flybe's domestic routes. British Airways and Eastern Airways arrived in 2020, joined last year by BA Cityflyer, Loganair and the return of easyJet. They were also attracted to Newquay because of international travel restrictions at the time and the increased popularity of 'staycations'.
Welcome back, Flybe
On 30 October 2022, the second iteration of Flybe arrived in Newquay, 31 months after the first left. With one based Q400, it launched two routes served by its predecessor – London LHR (now 12-weekly) and Manchester (daily) – becoming the only year-round operator in both markets. As it appears that BA will not return to Newquay next summer, Heathrow will remain exclusively in Flybe's hands.
It's different for Manchester, which was Newquay's most popular route this summer. Flybe is expected to compete directly with Loganair (8-weekly) and easyJet (3-weekly) next summer, the first time the route has had three airlines. Pre-pandemic, the original Flybe was the only carrier.
Routes coming next year
These routes are expected to begin next year. Cirium schedules information data signifies that East Midlands returns after more than a decade, while Ryanair returns from London STN after ending the route in 2009:
10 February: Eastern Airways to East Midlands (daily)
26 March: Ryanair from London STN (3-weekly)
3 April: Aer Lingus Regional from Belfast BHD (4-weekly)
Looking at the routes served during the summer, the Gatwick route is noteworthy as one of only two Gatwick services operated by turboprop aircraft (Eastern Airways with ATR 72s), the other being Aurigny from Guernsey (also with ATR 72s).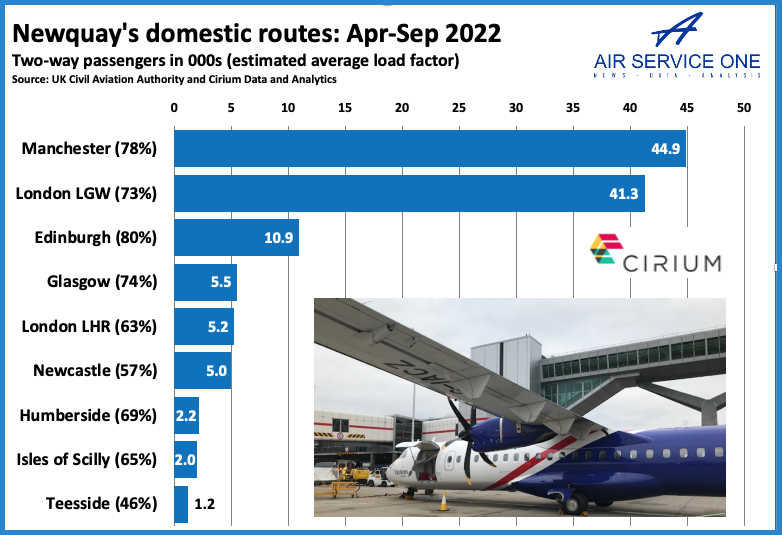 Newquay flights lost from 19 UK airports
Analysis of schedule data shows that Newquay has lost flights to 19 UK airports in the past two decades. No more is it connected to Aberdeen, Birmingham, Blackpool (no airline flights now), Bristol, Cardiff, Doncaster (shut), Inverness, Isle of Man, Jersey, Leeds Bradford, Liverpool, London LCY (served via Plymouth), Luton, Norwich, Plymouth (shut), Southampton, Southend or Teesside.
Some were operated on a one-stop basis. For example, Air Southwest flew Newquay-Plymouth-London LCY and Newquay-Bristol-Leeds Bradford, while the same regional carrier also flew Plymouth-Newquay-London LGW. Birmingham, Jersey and Leeds Bradford had Newquay flights as recently as S21/W21. Will they return?