Flybe suspends operations; faced head-to-head competition on 13 of 17 routes from major carriers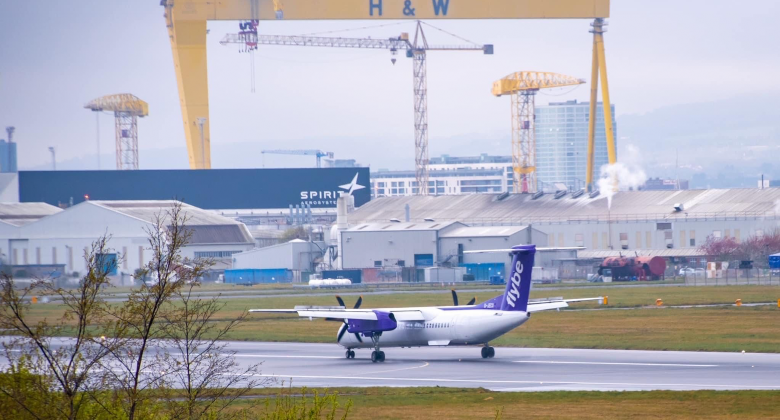 Flybe has been grounded. Again. The airline, which returned to the air last April, after having collapsed in early 2020, operated its last flights on Friday 27 January. According to our analysis of Cirium schedule data, the carrier was operating 17 routes involving 12 airports (10 in the UK plus Amsterdam and Geneva) at the time of its collapse. Flybe faced head-to-head competition on 13 of these routes from industry heavyweights such as Aer Lingus, British Airways, easyJet and KLM. Details of weekly frequencies by Flybe and its competitors are shown in the table below: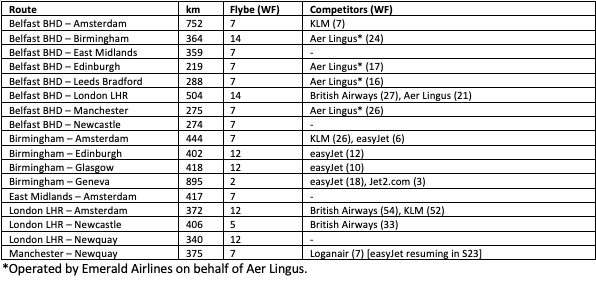 Another route, between Belfast BHD and Southampton, was set to resume on 23 February having been suspended since 21 November. That would have made 18 routes and 13 airports. It would have faced competition from Aer Lingus on the route. In addition, three French regional airports (Avignon, Bergerac and Brest) were set to be served during the upcoming summer season, while Aberdeen was also set to be added to the airline's network from June with 12-weekly service to Birmingham.
Almost 300 flights per week
Cirium data shows that Flybe's schedule had it operating 44 daily flights on weekdays (Monday through Friday), 34 on Saturday and 38 on Sundays. That makes a total of 292 weekly flights. Looking purely at data for January, the following graph shows what percentage of flights (not seats) Flybe was responsible for at each of the airports it operated from.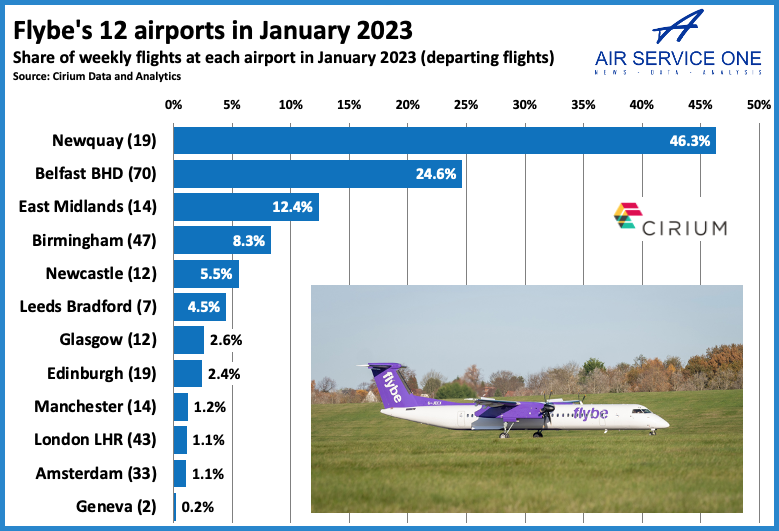 At three airports, Flybe accounted for more than 10% of flights. At Newquay it was almost 50%, thanks to its 12-weekly flights to London LHR and daily service to Manchester. However, looking ahead to August, Flybe's 19-weekly flights would only have represented 19% of flights (and 15% of seats) as other airlines will have started operating their summer seasonal services to the airport.
Monthly load factors typically just over 50%
Statistics provided by the UK CAA reveal how the airline's monthly load factor has only once exceeded 60%, and that was in its first month, when the airline's re-launch received plenty of (free) publicity. Since then, the airline has struggled to get above 55%. In 2019, the year before the original airline failed, it was achieving load factors well above 70%.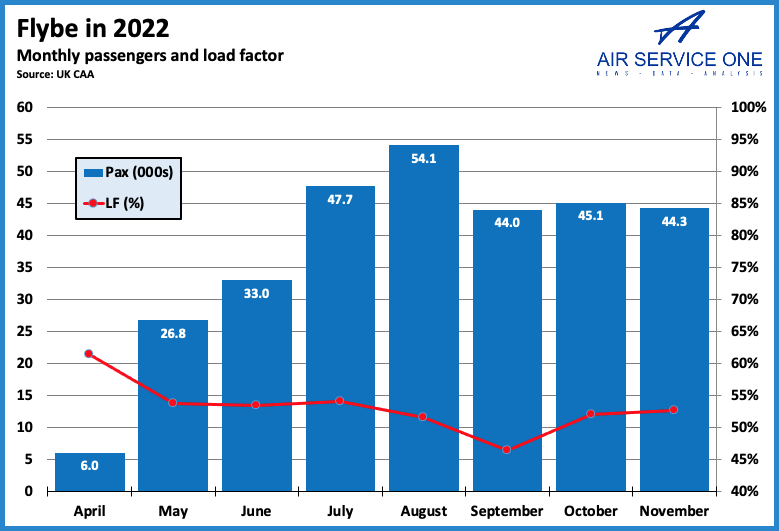 Fleet of nine Q400s – only five flew on last day
According to planespotters.net, Flybe had a fleet of nine aircraft (all 78-seat Q400s) although its most recent addition, an ex-airBaltic aircraft delivered in January, had not yet started flying. According to flightradar24.com, only five of Flybe's aircraft actually performed revenue generating flights on Friday 27 January, the airline's last day of operation.
G-JECX: last flew 19 January, positioning flight from Birmingham to Exeter.
G-JECY: last flight 27 January, Glasgow to Birmingham.
G-ECOE: last flight 26 January, Amsterdam to London LHR. All flights on 27 January cancelled.
G-ECOR: last flight 27 January, Newcastle to Belfast BHD.
G-FLBA: last flight 23 January, positioning flight from Birmingham to Malta.
G-EXTB: last flight 27 January, Birmingham to Belfast BHD.
G-EXTA: last flight 27 January, Belfast BHD to Birmingham.
G-FLBB: last flight 27 January, London LHR to Birmingham.
G-SOUA: had not yet started flying (ex-airBaltic aircraft, delivered Jan 2023).
One unanswered question is the status of the slots held by Flybe at Heathrow. How did it acquire them and who do they belong to? Can they be sold (and how will this be regulated) or will they just be handed back to the slot co-ordinator, ACL?