Flyr carried 1.6m passengers in 2022; many routes not resuming in S23 though Gatwick and Corfu added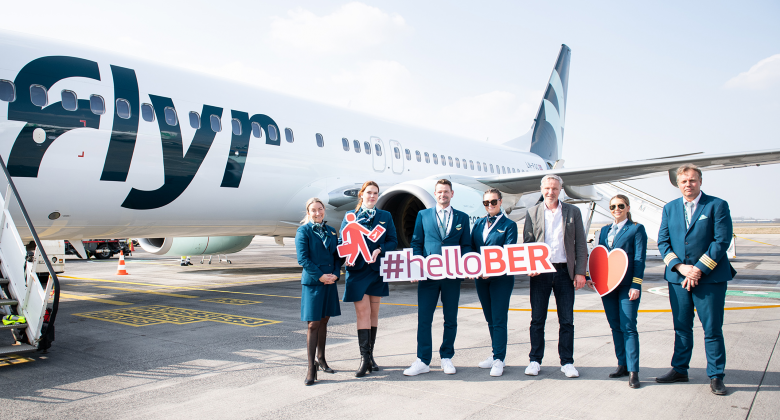 Norwegian carrier Flyr began commercial operations from Oslo on 30 June 2021, focussing on domestic services. That remained the case during winter 2021/22, although by then the airline was offering several international routes from the Norwegian capital. However, last summer saw Flyr launch almost 30 international routes, not only from Oslo, but also from Bergen and Stavanger.
Operational statistics published monthly by the airline reveals a rapid ramp up in demand during the summer months. July was by far the airline's busiest month with over 260,000 passengers being carried at a load factor of over 92%. The airline was operating an average of 10 aircraft that month. The latest figures show that in December Flyr welcomed just 52,000 passengers, only one-fifth of what it achieved in July. It was operating between four and five aircraft during the month.
Overall, across all of 2022, Flyr carried 1.6 million passengers in its first full calendar year of operation. The average load factor was 74.3%. The average sector length was 1,235 kilometres.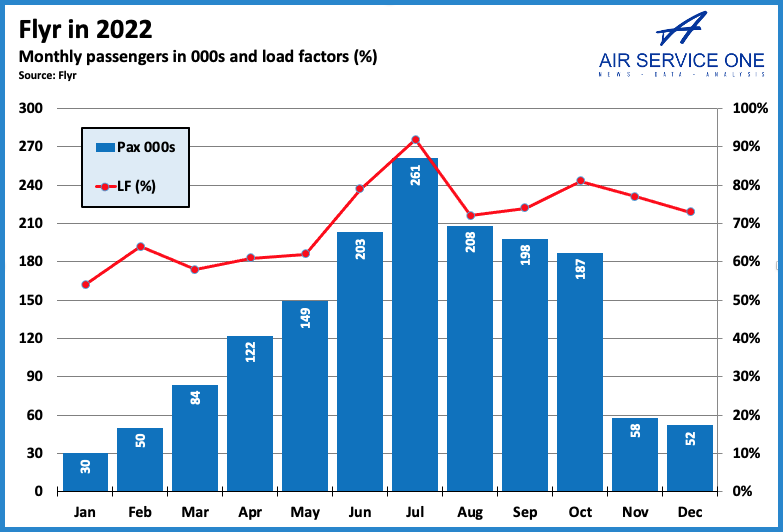 While a reduction on international leisure routes is to be expected between October and November, what is maybe more surprising is the airline's reduction in domestic flying from Oslo. Trondheim, which was served 19-weekly in October, was cut to just 5-weekly in November. Bergen was cut from 18-weekly to 4-weekly. All other domestic routes were suspended completely over the winter period. While Harstad/Narvik and Tromsø are set to resume in the summer, the routes to Bodø and Stavanger appear to have been permanently suspended.
Many international routes dropped this summer
Despite these cuts for winter, across the year as a whole, the airline's top four routes for flights in 2022 were all domestic. Alicante, Copenhagen and Malaga were the leading international routes for flights.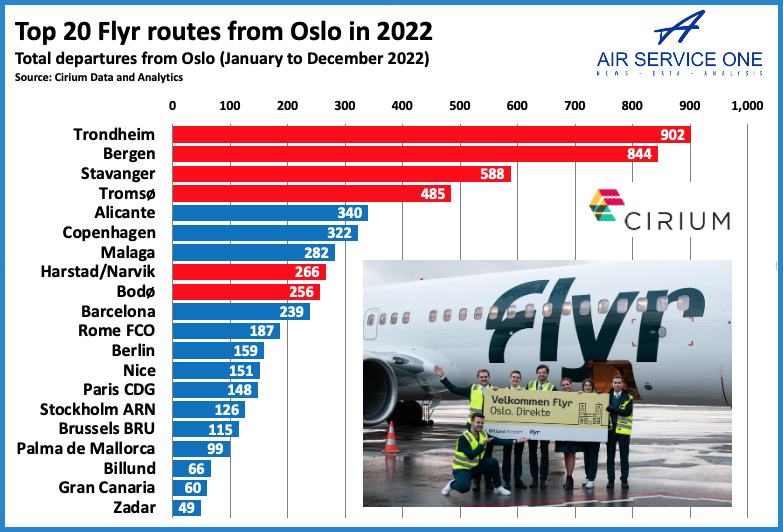 Analysis of Cirium schedule data and checking on the airline's website, indicates that the following international routes from Oslo are not currently bookable for this summer; Billund, Copenhagen, Edinburgh, Faro, Ibiza, Naples, Stockholm ARN, Valencia and Venice VCE. However, two new destinations have been added for this summer. London LGW will be served 6-weekly from 26 March while Corfu in Greece will get 2-weekly flights from 20 June.
Note: Just a few days after this story was written Flyr ceased all operations and filed for bankruptcy on Wednesday 1 February 2023.