Four million passengers flew between UK and US in 2020 despite travel restrictions; JetBlue enters market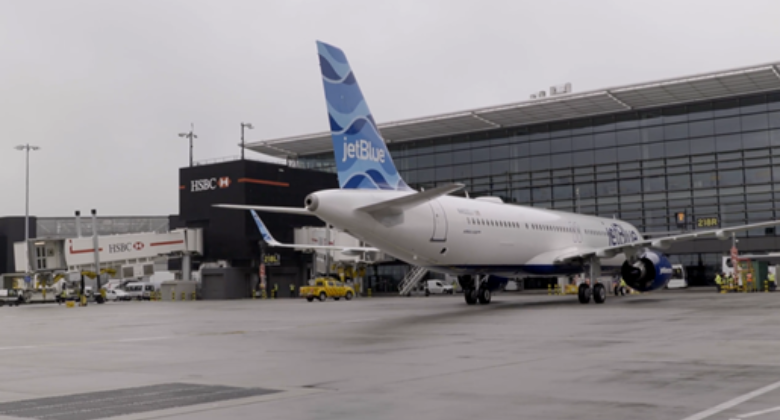 Last week JetBlue became the latest airline to venture into what was, pre-pandemic, the apparently highly lucrative air travel market between the UK and the US. Travel restrictions were recently eased for US citizens wanting to visit the UK. Sadly, there remain major restrictions for UK citizens wishing to travel to the US. Despite this, UK CAA data for 2020 reveals that almost four million passengers did travel between the two countries last year, making it the UK's second biggest country market after Spain (with over 8.2 million passengers). Of course, almost 3.5 million of those passengers travelled in the first quarter of 2020 before the pandemic impacted demand. However, that still leaves around 500,000 passengers across the remainder of the year.
The global recession of 2008/09 resulted in traffic between the UK and US falling, for the first time since 1997, to just under 16 million passengers in 2010. However, demand rose steadily in each of the nine following years to reach a record 22.2 million in 2019, before passenger numbers fell by 82% last year.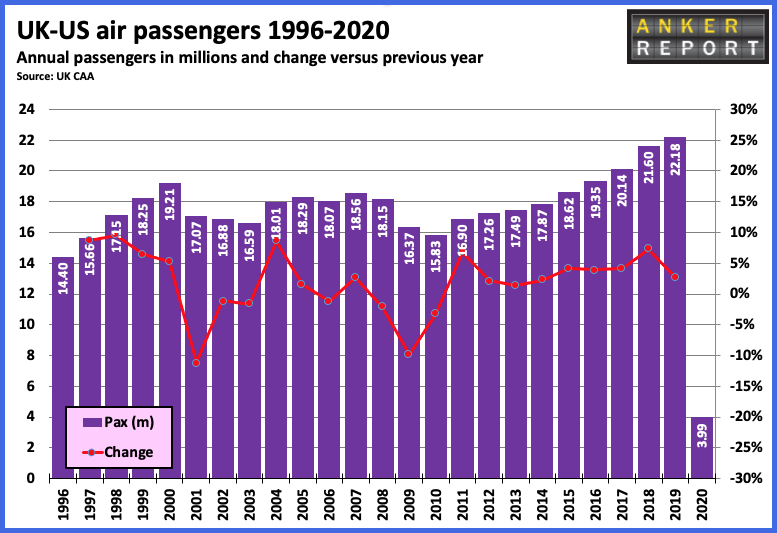 IAG's quarterly traffic statistics only reveal British Airways's total network load factor, but it does provide North American passenger load factor data for all its airlines combined (Aer Lingus, British Airways, Iberia and LEVEL). In Q1 of this year it was just under 20%, rising to 27% in Q2. While this is extremely low, it is worth remembering that many transatlantic flights being operated by passenger airlines are primarily focussing on transporting freight.
However, the latest CAA passenger statistics for June 2021 show that the US still ranked as the third busiest country market to/from the UK with 129,000 passengers, behind only Portugal (182k) and Spain (217k), and ahead of Italy (99k) and Greece (88k).
JetBlue and Aer Lingus new in 2021
In 2019 there were six airlines offering over 500,000 one-way seats between the UK and the US: UK carriers British Airways and Virgin Atlantic; US carriers American, Delta and United; and Norwegian. Seventh ranked Thomas Cook Airlines ceased operations in September 2009, while Norwegian abandoned all long-haul flying as part of its post-pandemic survival plan.
JetBlue entered the market recently when it launched New York JFK to London LHR service using its A321neoLRs and is planning to add service to London LGW before the end of September. Aer Lingus is also planning to launch flights from Manchester to New York JFK and Orlando from the end of September. Both airlines will be hoping to avoid the fate of Norwegian and a host of other carriers that have tried their luck in this market in the last 20 years, including Eos, Flyglobespan, MAXjet, Primera Air and SilverJet.
Over 40 US airports served non-stop since 2004
In terms of UK airports, 75% of all US flights since 2004 have originated from Heathrow with a further 11% from Gatwick. Then comes Manchester with just under 8% and the two main Scottish airports of Edinburgh and Glasgow with a combined 3%. The remaining 3% are split across a further 11 UK airports with Birmingham, Belfast BFS and London STN leading the way.
Since 2004, over 40 US airports have welcomed at least 50 scheduled flights from the UK. Of these, almost 30 either already have, or hope to welcome UK services in 2021, according to Cirium Data and Analytics schedule information. Since the start of 2014 several US airports  have welcomed their first non-stop services to the UK, including:
Austin: launched by British Airways from London LHR in March 2014
Charleston: launched by British Airways from London LHR in April 2019
Hartford: launched by Norwegian from Edinburgh in June 2017
Nashville: launched by British Airways from London LHR in May 2018
New Orleans: launched by British Airways from London LHR in March 2017
New York SWF: launched by Norwegian from Edinburgh in June 2017
Oakland: launched by Norwegian from London LGW in May 2016
Portland PDX: launched by Delta from London LHR in May 2017
Providence: launched by Norwegian from Edinburgh in June 2017
Salt Lake City: launched by Delta from London LHR in April 2016
San Jose SJC: launched by British Airways from London LHR in May 2016