Frankfurt vs. Munich: how the networks of the two long-haul hubs compare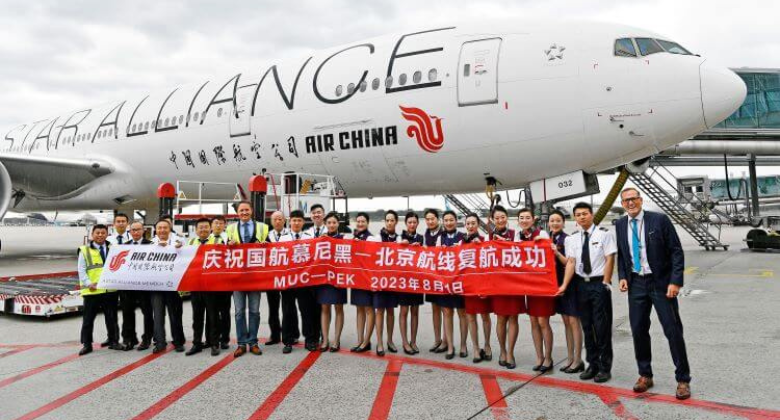 Thanks to Lufthansa and Star Alliance, Frankfurt and Munich are important long-haul airports, where 'long-haul' is defined as any destination located 4,500+ kilometres away. Frankfurt has 3.34 million departing long-haul seats this July-September (Q3), according to Cirium schedules data. It is Europe's third-busiest long-haul airport and the sixth globally. Munich has 1.10 million and is Europe's eighth-busiest airport and the 29th worldwide. Two-thirds of such seats from Frankfurt are by Star Alliance carriers, which rises to more than 81% at Munich.
Frankfurt has 92 destinations, Munich 34
This Q3 and based on the 4,500-kilometre cut-off point, Frankfurt's long-haul scheduled passenger network comprises flights to 92 destinations in Africa, Asia, the Caribbean, Central America, the Middle East, North America and South America. Munich's network totals 34 destinations in the same places except the Caribbean and Central America.
In terms of new brand-new routes, Frankfurt saw the arrival of Air Premia from Seoul Incheon on 23 June 2023 (4-weekly), along with Condor to Edmonton on 26 May 2023 (2-weekly). At Munich, Air China resumed Beijing PEK-Munich on 2 August 2023 (daily), having last served it in early 2020. They build on multiple long-haul routes that launched from both hubs in 2022.
Three-quarters of Frankfurt's Q3 seats are to North America and Asia, with 60 destinations served. Due to Munich's smaller overall network as befits a smaller hub and gateway generally, they account for nearly 87% of its long-haul capacity, with 28 destinations. It gains its first Bengaluru route in later this year (Lufthansa, starts 3 November, 3-weekly).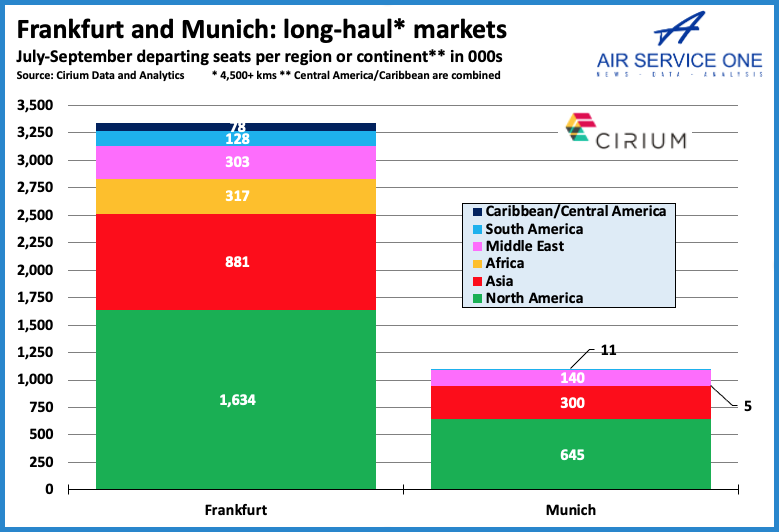 The US, UAE, Canada are the top countries from both airports
Munich's 34 destinations are in 15 countries, while Frankfurt's 92 are in 38. Yet the US is the leading nation from both German hubs. Frankfurt has flights to 29 US airports served by (in order of capacity) Lufthansa, United Airlines, Condor, Eurowings Discover, Delta Air Lines, American Airlines and Singapore Airlines. They include St Louis, which Lufthansa commenced on 1 June 2022 (3-weekly).
Munich has flights to 13 destinations – two more than from London LGW – by Lufthansa, United, Delta and American. On 30 March 2022, Lufthansa started San Diego (3-weekly), replacing the carrier to Frankfurt, which ended in March 2020.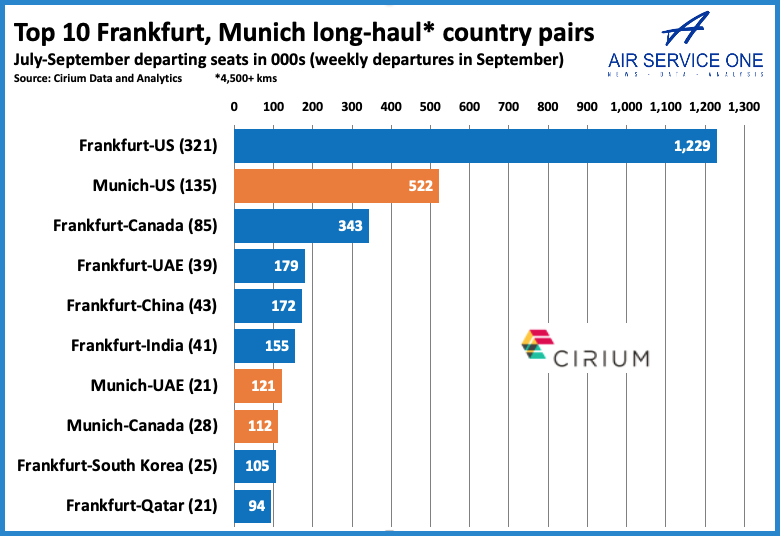 Munich has one country not served from Frankfurt
Analysis of Cirium information shows that all except one of the countries served from Munich are also served from Frankfurt. The exception is Tajikistan, in Central Asia, with Munich-Dushanbe just about long enough to meet the distance criterion. It is served 2-weekly by Somon Air, a route that launched on 6 June 2022 and uses the 737-800. Due to headwinds, it refuels in Trabzon outbound, while inbound is non-stop.
Dubai is the leading long-haul destination from both airports
Despite Frankfurt and Munich's breadth of destinations, Dubai has more available seats than anywhere else. This is, of course, simply capacity rather than traffic, so it does not reflect where passengers go given the enormity of the Lufthansa and Emirates hubs. However, Germans are Dubai's second-largest source of European tourists after the British. In mid-September, Frankfurt-Dubai has Emirates (24-weekly) and Lufthansa (8), while Emirates is exclusively from Munich (16-weekly).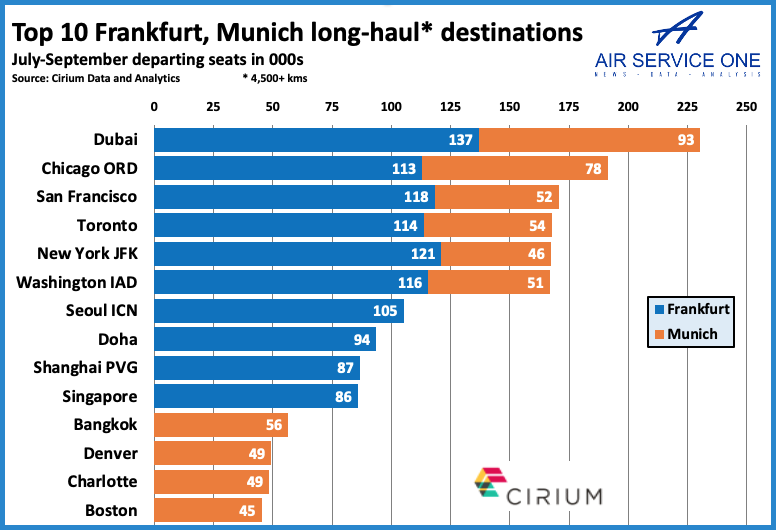 Munich has four long-haul routes not served from Frankfurt
While the destination list from both airports overlaps enormously, Munich has four places this Q3 that are not served from the larger hub: Dushanbe and San Diego (both mentioned above), along with Osaka KIX (Lufthansa; 3-weekly) and Rio de Janeiro (Lufthansa; 4-weekly). They switched from Frankfurt.