French market continues to be stimulated by (U)LCC growth; easyJet still twice as big as Ryanair and others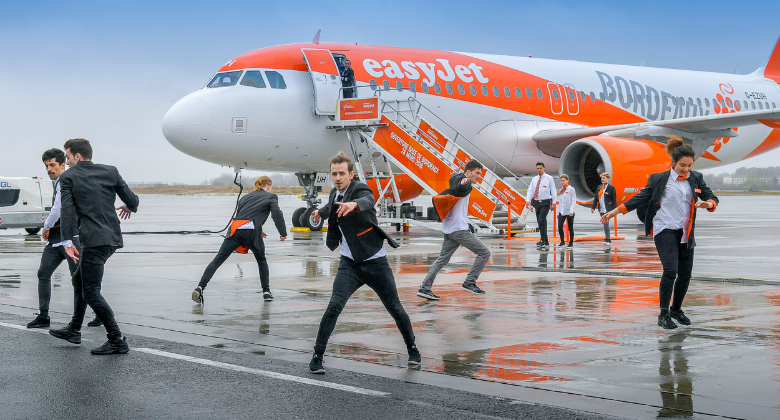 For many years France was seen as a challenging market for Europe's low-cost carriers. A combination of high airport charges, high social costs for staff employed there and a perceived belief that the French were not keen on low-cost airlines, helped keep Air France in a dominant position.
Originally, it was only easyJet (with its fleet of French-built Airbus aircraft) and Ryanair that were significant low-cost carriers in the market. However, they have since been joined by Air France's in-house lower-cost subsidiary Transavia France, Vueling and more recently Volotea. Between 2004 and 2019 these five carriers combined have seen their French departing seat capacity increase from just under six million seats to just over 32 million, a more than fivefold increase. Pre-pandemic, these five carriers combined were consistently growing their capacity by around 10% per annum.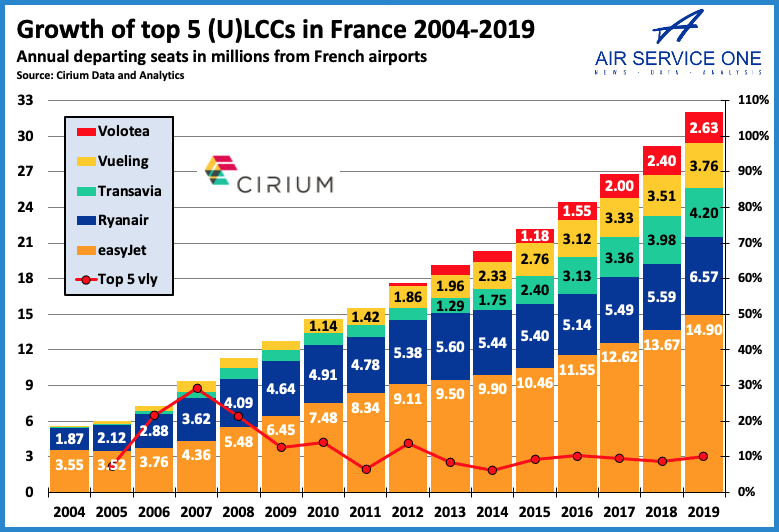 easyJet has maintained its leading position in the market and has operating bases at both main Paris airports (CDG and Orly) as well as in Lyon (since April 2008), Nice and Toulouse (both since 2012) and Bordeaux (2018). Its French capacity has consistently been twice as high as that of Ryanair.
Transavia has grown rapidly in recent years, originally just from Paris ORY. However, it now also has bases at Lyon, Montpellier and Nantes. It has even overtaken Air France to be the leading carrier at Orly. Vueling had a base at Paris CDG but has now focussed its attention on Paris ORY, where, as a result of being awarded some former Air France slots, it has now grown its network to over 40 routes. Volotea has followed its usual approach of focussing on smaller airports. This summer it will have bases at eight French airports; Bordeaux, Lille, Lyon, Marseille, Nantes, Strasbourg, Tarbes/Lourdes and Toulouse.
(U)LCCs play leading role on international routes
Using Cirium data, analysis of France's top 10 airports (excluding Paris CDG) for international capacity in the second quarter of 2023, allows us to see how important these carriers are for providing international services. At eight of the airports, the five (U)LCCs analysed account for more than 50% of international seat capacity. At three of the 10 airports (Bordeaux, Nantes and Paris BVA) it is over 70%. easyJet is present at all 10 of these airports, Ryanair and Volotea at seven, Vueling at six and Transavia at four. In total, Ryanair is serving 25 French airports this summer, while Volotea aircraft will be seen at 22 different French airports between April and June of this year.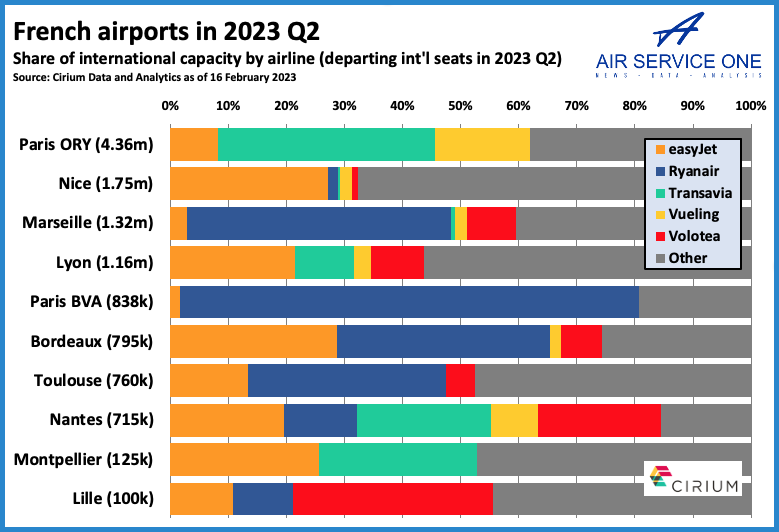 While Wizz Air is not one of the five leading (U)LCCs in the French market it is still serving six French airports, as are Eurowings and Norwegian. Another LCC with a decent presence in the French market is Air Arabia Maroc which this summer is operating non-stop flights between various airports in Morocco and seven airports in France.