Frontier adds 7 Puerto Rico routes; 18 US states now have Puerto Rico flights with JetBlue the #1 airline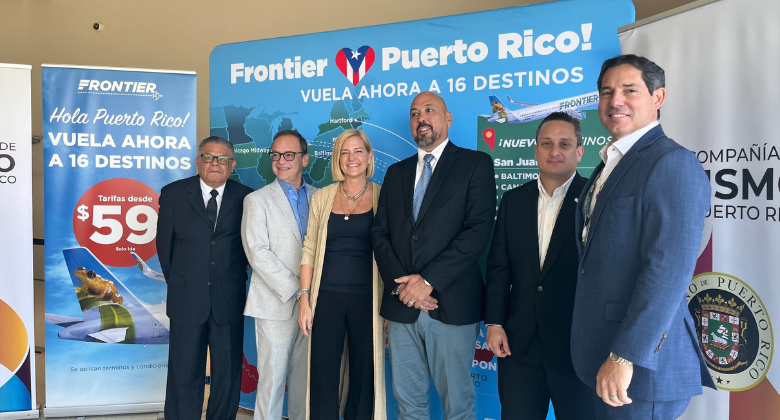 Puerto Rico is a US territory and is therefore considered as part of that country. Between April and June, an average of almost 100 flights a day exist between the lower 48 and Puerto Rico, according to Cirium schedules information data. They are to three airports: Aguadilla, Ponce and San Juan. In Q2, 18 states will have Puerto Rico flights, up from the previously expected 17. For the first time since 2017, Ohio will be served, with Cleveland-San Juan one of seven new routes announced by Frontier. Not for 16 years has Puerto Rico had flights to 18 or more of the contiguous states.
Frontier adds seven Puerto Rico routes
The addition of the seven, detailed below, brings to 16 Frontier's Puerto Rico routes from the lower 48 in Q2. It now has more routes than any of the other seven airlines with non-stop flights, surpassing JetBlue and Spirit, both with 11. The seven mean that Frontier's flights have increased by about a quarter, boosting its share of the non-stop market to 15%. However, it remains in third place by flights.
4 May: Baltimore-San Juan (daily)
4 May: Chicago MDW-San Juan (6-weekly)
4 May: Cleveland-San Juan (4-weekly)
4 May: Dallas DFW-San Juan (daily)
4 May: Orlando MCO-Ponce (3-weekly)
4 May: Tampa-Aguadilla (3-weekly)
5 May: Detroit-San Juan (4-weekly)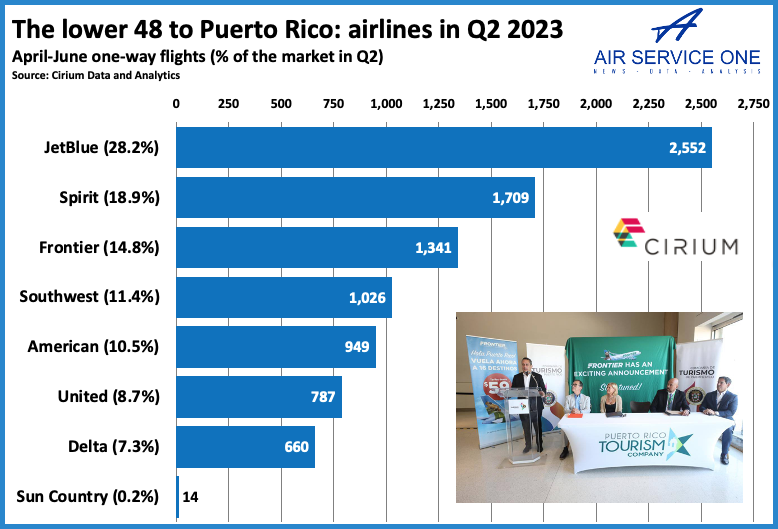 71% of Frontier's new routes have competition
Five of Frontier's seven coming routes have direct competition with one and sometimes two other airlines. However, on Chicago MDW, incumbent Southwest's capacity has dropped markedly. This must have appealed to Frontier, especially as the ULCC operated Chicago ORD-San Juan until June last year. Only Cleveland-San Juan and Tampa-Aguadilla are unserved. While the former had United until 2017, Cirium indicates that the latter has not been served previously; it is a brand new market.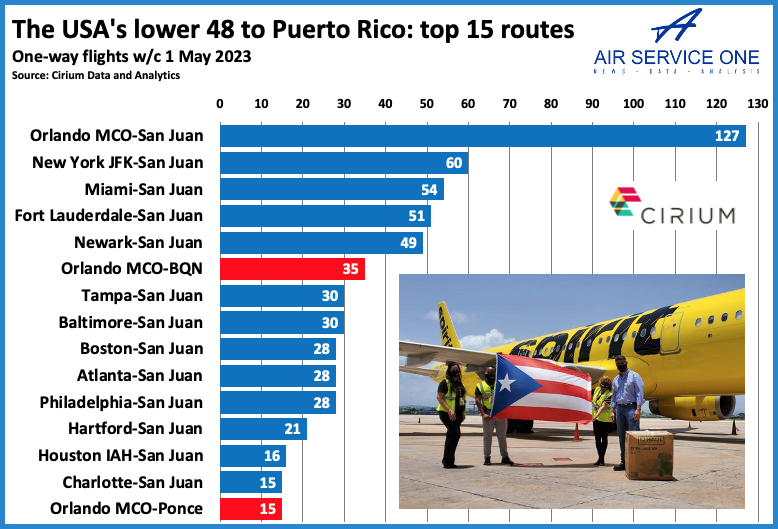 26 airports in 18 states have Puerto Rico flights
Obviously, Florida is the foundation of Puerto Rico-lower 48 service. It has almost half of Q2 flights, with Fort Lauderdale, Jacksonville, Miami, Orlando MCO and Tampa linked. As Greater Orlando has Florida's biggest Puerto Rican population, it should not be surprising that Cirium date reveals that Orlando has over a quarter of all lower US-Puerto Rico flights, twice as many as New York JFK:
Orlando: 25.7% of Puerto Rico-lower 48 Q2 flights
New York JFK: 12.4%
Miami: 8.5%
Fort Lauderdale: 8.5%
Newark: 7.9%
Boston: 4.8%
Tampa: 4.7%
Atlanta: 4.2%
Baltimore: 4.0%
Philadelphia: 3.9%