Frontier and Spirit combined will offer almost 20% of all Florida seats and be second after American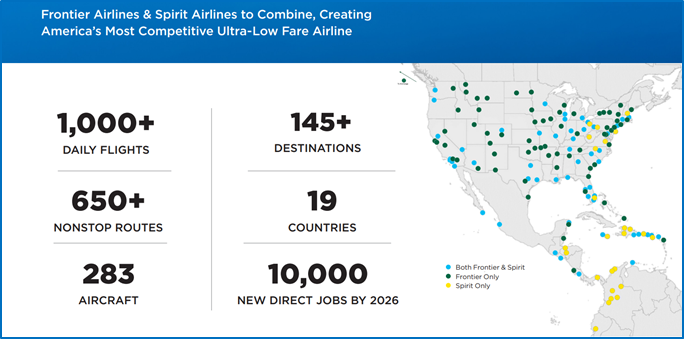 The recent announcement that America's two biggest ULCCs, Frontier and Spirit, plan to merge came as something of a surprise to many in the industry. However, with similar business models and significant fleet commonality it makes a lot of sense. The combined entity would become the fifth biggest carrier in the US behind the big three legacy carriers (American, Delta and United) and Southwest. A special website (
www.evenmoreultralowfares.com
) has been created where the airlines present their case for the merger.
Florida is key
Analysis of Cirium data for both carriers for March 2022 shows that Florida is the biggest state for both carriers. Given the state's popularity as a leisure destination and the business models of both airlines this will come as no great surprise. As a result, Florida is by far the combined airlines' biggest state for seat capacity next month, almost four times bigger than nearest rival, Nevada. However, in terms of share of seat capacity, the combined carrier is bigger in Nevada (with 21% of seats) than it is in Florida (with 18% of seats). Other states where the two carriers have more than 10% of seats are Maryland (11%), Michigan (11%), Pennsylvania (15%) and Ohio (19%). However, the region where the carriers have the biggest market share is Puerto Rico, where they currently account for 26% of seats. Overall, across the whole of the US, Spirit has 4.4% of seats and Frontier 3.0%. With 7.4% of seats combined, the combined carrier would be half the size of United which has 14.9% of seats in March, behind American (21.6%), Delta (19.0%) and Southwest (18.4%).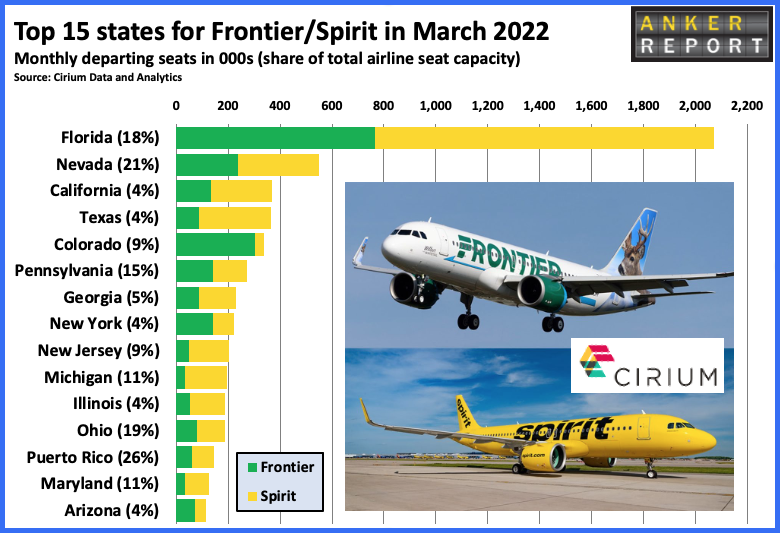 Will become #2 carrier in Florida
At present, Spirit ranks fourth and Frontier seventh among carriers in Florida as measured by seat capacity. The combined entity would move up to second in the rankings beaten only by American. Compared with March 2019 the total seat capacity in Florida this March is expected to have increased by 2%. During that period Spirit has increased capacity by 24% and Frontier by a massive 62%.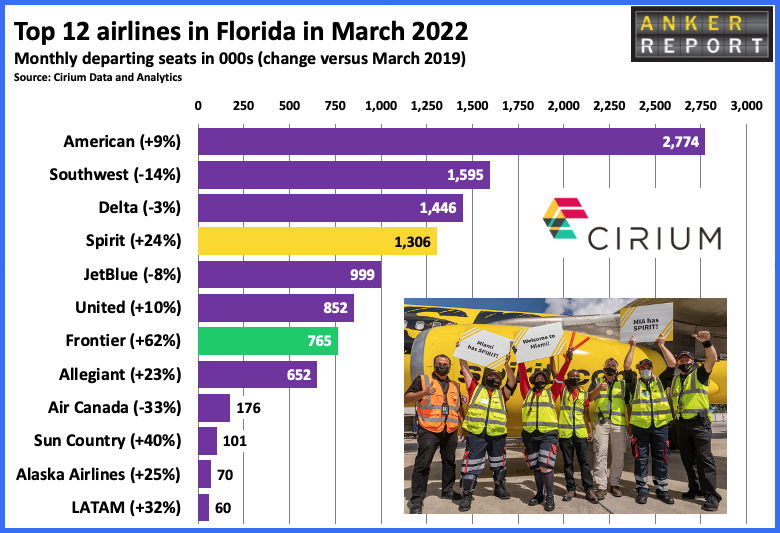 It remains to be seen whether the relevant US authorities approve this proposed merger. However, there seems little evidence that combining these two carriers would create an entity that was dominant in any major market.