Funchal already operating at pre-pandemic levels; Ryanair announces 10 route base for S22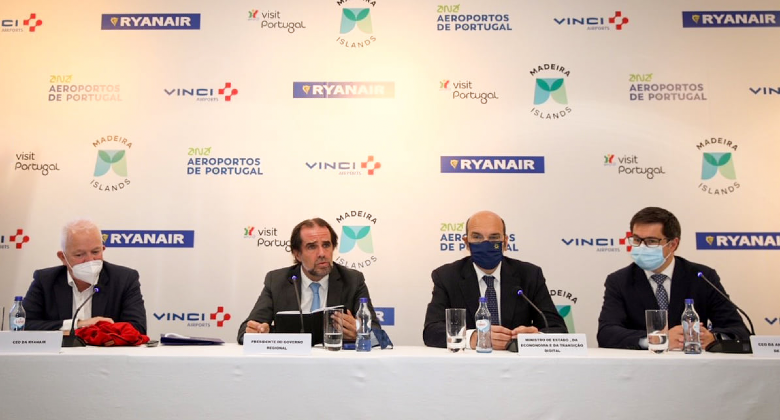 Ryanair has revealed that Funchal will become the airline's newest base, with two aircraft based at the Portuguese airport from the end of March 2022. The airport, which is located on the island of Madeira, is often referred to as Madeira Airport. Madeira is located around 400 kilometres north of the Canary Islands and 500 kilometres west of Morocco. The airport was renamed in 2016 in honour of footballing legend Cristiano Ronaldo, although the airport's official website no longer appears to make any reference to this.
Annual passenger numbers at the airport were between 2.2 and 2.5 million from 2007 to 2014. There was then a period of growth which saw demand reach 3.2 million in 2017. The following two years saw very similar passenger numbers. The growth between 2014 and 2017 was driven by increased service from a range of mostly leisure carriers, including easyJet, Jet2.com, Transavia and TUIfly.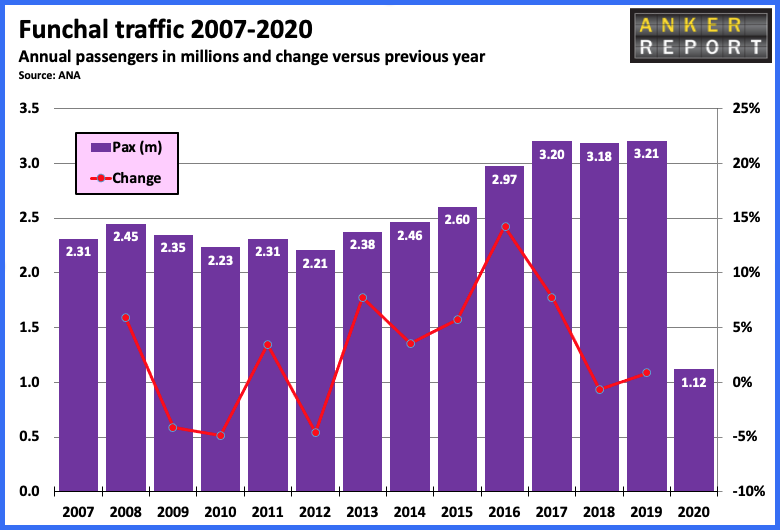 Although popular as a holiday destination, the island's location means that there are year-round leisure flights to the island as well as year-round domestic services to the Portuguese mainland. The airport's traffic recovery has been impressive in 2021, with August and September demand only just below 2019 levels, and October data showing a 1% increase compared with two years ago. Evidently this recovery has helped persuade Ryanair to base two of its new 737 MAX 8-200s at the airport next summer and launch 10 routes. Ryanair has never previously operated scheduled flights to Madeira.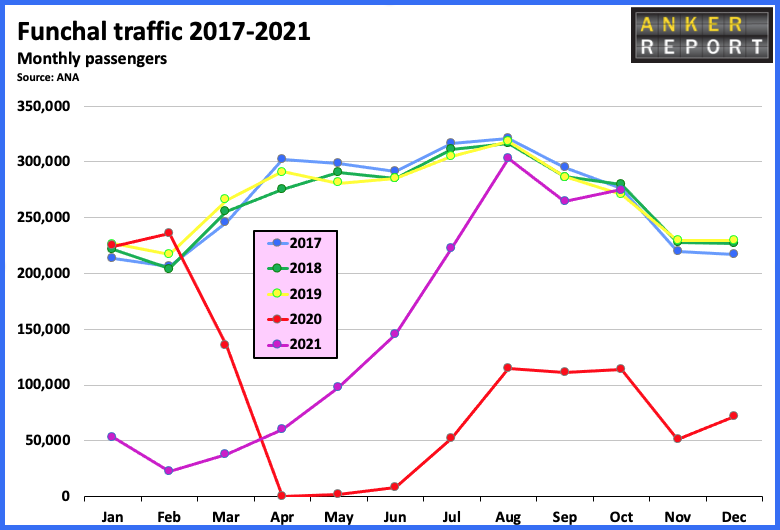 10 routes including some new destinations for the airport
The 10 routes announced will generate a total of 42 weekly departures. The Lisbon route will be flown using aircraft based in Lisbon, leaving 28 weekly frequencies to be operated by Funchal-based aircraft. That works out neatly at two rotations per day, every day of the week for both aircraft. Normally, (U)LCCs would try and get three rotations per day out of an aircraft, but the airport's remoteness and the sector lengths involved make this impossible.
The 10 routes announced, their weekly frequency and which carriers were operating to the same cities this summer are summarised below:
Brussels CRL: 2-weekly (TUI fly Belgium 2-weekly to BRU)
Dublin: 2-weekly
Lisbon: 14-weekly (TAP Portugal 35-weekly, easyJet 29-weekly)
London STN: 6-weekly (Jet2.com 2-weekly to STN, British Airways 8-weekly to LHR, easyJet 8-weekly to LGW, TUI Airways 2-weekly to LGW and Wizz Air 2-weekly to LTN)
Manchester: 3-weekly (Jet2.com 3-weekly, easyJet 2-weekly and TUI Airways 2-weekly). Since Ronaldo currently plays for Manchester United, this means he will have a choice of four airlines next summer to visit the place of his birth.
Marseille: 2-weekly
Milan BGY: 2-weekly
Nuremberg: 2-weekly
Paris BVA: 2-weekly (Transavia 4-weekly to Paris ORY)
Porto: 7-weekly (easyJet, TAP Portugal and Transavia all 14-weekly)
Dublin was served briefly by Aer Lingus in W07/08, with SATA operating the route from S09 to S13. Nuremberg was served by airberlin for many years until March 2017, with Germania then operating the route from November 2016 until February 2019. On 7 November, Corendon Airlines started a weekly (Sunday) service between Nuremberg and Funchal, with the service expected to continue into S22.
Marseille was served briefly by Volotea for three months in the second quarter of 2018. Italy appears to be something of a non-existent market in recent years for Funchal scheduled services, making Ryanair's Bergamo route of particular note. Therefore, Ryanair's 10 new routes will be offering new service to just three new cities; Dublin, Marseille and Milan.
easyJet and TAP Portugal are leading carriers
Analysing schedule data for August 2021 and August 2019 reveals that easyJet was the leading airline during the peak summer month with 56 weekly flights, ahead of TAP Portugal with 49. Some way behind comes Binter Canarias (18), Transavia (17) and Jet2.com (14). easyJet offered six routes this summer, two to Portugal (Lisbon and Porto), three to the UK (Bristol, London LGW and Manchester), and one to Germany (Berlin). The latter was launched in November 2019 from Tegel. TAP Portugal offers just the two domestic routes to Lisbon and Porto. Neither easyJet nor TAP Portugal are likely to be thrilled by the imminent arrival of direct head-to-head competition with Ryanair.
Until the arrival of Ryanair, Jet2.com held the record for the most destinations served from Funchal. The UK leisure carrier this summer offered flights to nine of its bases; Birmingham, Bristol, East Midlands, Edinburgh, Glasgow, Leeds Bradford, Manchester, Newcastle and London STN. Six of these are just served weekly, with Birmingham and Stansted served 2-weekly and Manchester 3-weekly. In S19 it also operated flights from its Belfast BFS base.
Corendon, SkyUp, SWISS and Wizz Air among new carriers
Since the start of the pandemic, Funchal has managed to attract several new carriers. Wizz Air launched 2-weekly service from Luton on 15 December 2020, while TUIfly Netherlands began 2-weekly Amsterdam service on 5 June this year. Ukraine's SkyUp Airlines started a 2-weekly Kiev KBP service at the end of July, while SWISS began a weekly Geneva link on 4 September this year, although it used aircraft from sister airline Edelweiss Air to operate the route.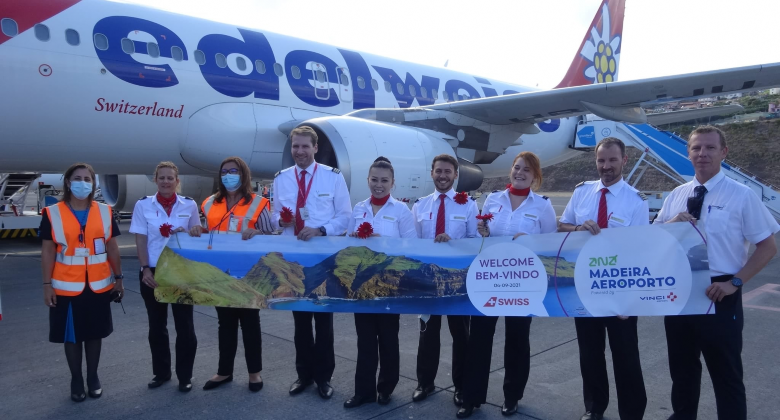 In terms of destinations, apart from the already mentioned new routes to Geneva (SWISS), Kiev KBP (SkyUp Airlines), London LTN (Wizz Air) and Nuremberg (Corendon), Funchal now also has a daily non-stop service from Heathrow with British Airways, as the airline moved its service from Gatwick in July 2020. Another new destination, also operated by Corendon, is to Münster/Osnabrück in Germany, which launched on 7 November. This winter, Corendon is offering flights to Funchal from five German airports, with the other routes being Cologne Bonn (competing with Eurowings), Düsseldorf (competing with Condor and TUIfly) and Hannover (competing with TUIfly).