Funchal sets new annual passenger record by end of October; Ryanair opened 10 route base in March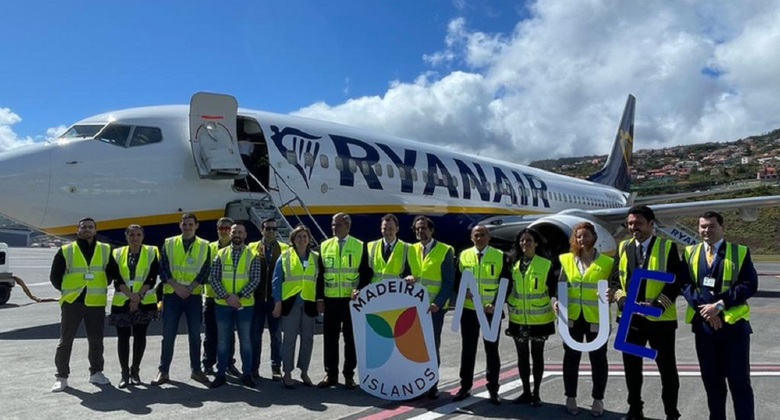 Few airports in western Europe have managed to increase passenger numbers versus 2019 more impressively than Funchal on the Portuguese island of Madeira. Famous for having part of its runway supported on giant stilts, the airport had seen annual passenger numbers stabilise at around 3.2 million in 2017, 2018 and 2019. However, in the first 10 months of 2022 it has already welcomed 3.25 million passengers making 2022 the airport's busiest ever year.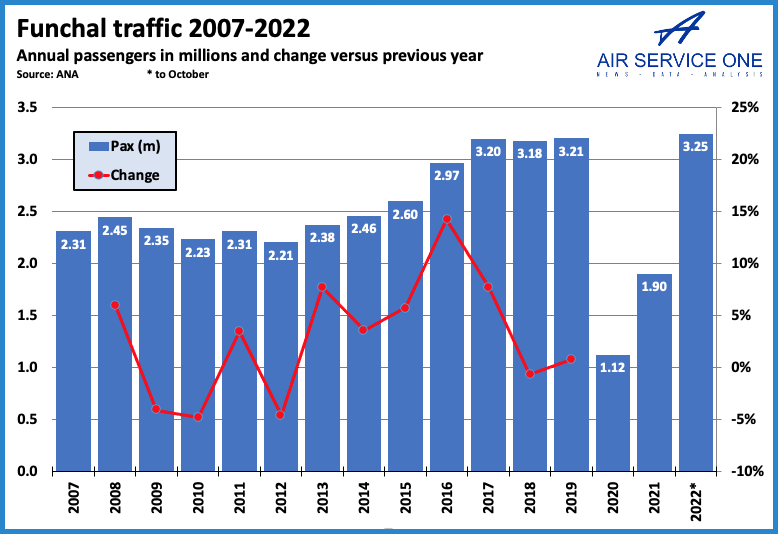 Passenger numbers in 2022 have been at least 25% above 2019 levels since April. In August (+32%), September (+30%) and October (+37%) the growth versus 2019 has even exceeded 30%. August remains the airport's busiest month. This year the airport welcomed over 400,000 passengers that month for the first time ever.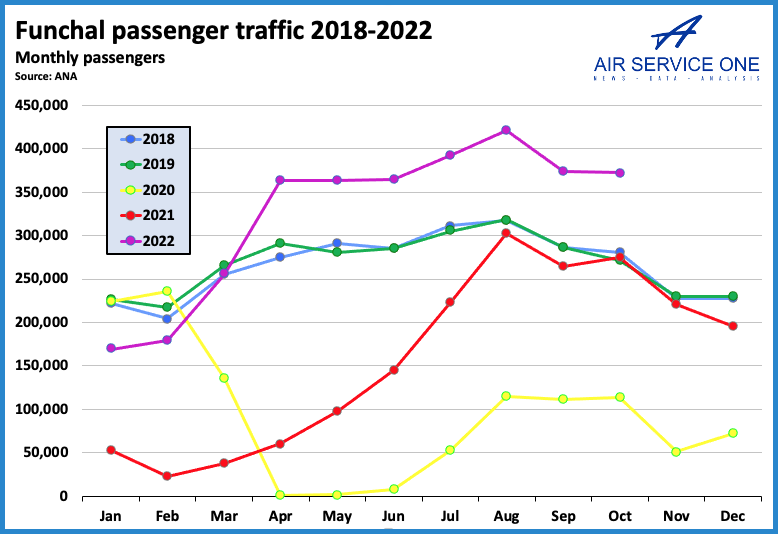 New Ryanair base
So what has been driving this impressive growth? Well, Ryanair opened a two-aircraft year-round base at Funchal on 29 March 2022, the first time the ULCC has served the island. Located in the North Atlantic 970 kilometres from Portugal's capital, Funchal is Ryanair's fifth Portuguese base, alongside Faro, Lisbon, Porto and Ponta Delgada.
Ryanair immediately became Madeira's third-largest operator and necessarily had an instant impact on traffic, which rose from 255,000 in March (-4% versus 2019) to 363,000 in April (+25% versus 2019). It started 10 routes, half without direct competition (shown with an *), and not all with Funchal-based aircraft. Figures in brackets denote weekly flights:
29 March: Lisbon (14)
29 March: London STN (6)
29 March: Marseille* (2)
29 March: Nuremberg (2)
29 March: Porto (7)
30 March: Dublin* (2)
30 March: Manchester (3)
31 March: Brussels CRL* (2)
31 March: Milan BGY* (2)
1 April: Paris BVA* (2)
According to analysis of Cirium data, Ryanair is operating the same 10 routes with the same weekly frequencies this winter. This is possibly unique among Ryanair's bases.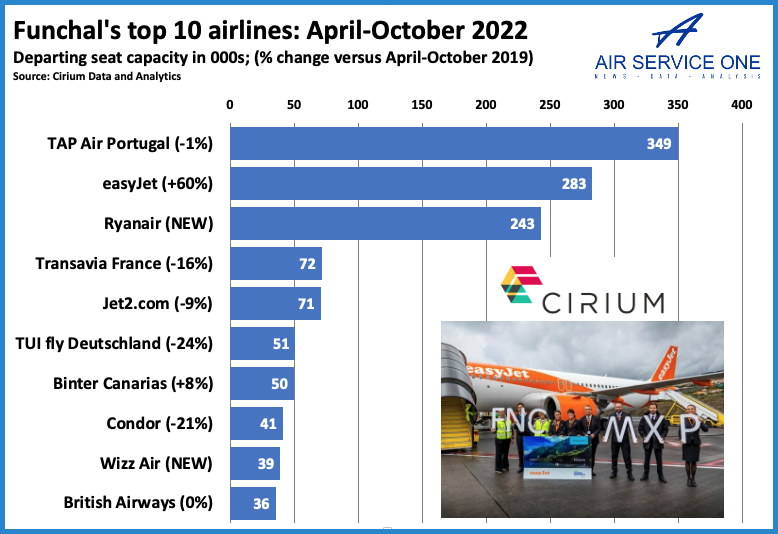 More airlines, more growth
Of course, it's not just Ryanair that accounted for Madeira's robust growth. Wizz Air entered in December 2020 and now has six routes: Budapest, Katowice, London LGW, London LTN, Vienna and Warsaw. The route to the Austrian capital started on 7 December. Eurowings Discover launched in March 2022, initially with Frankfurt, then Munich on 30 October.
According to Cirium schedules data information, many incumbents have added seat capacity, such as Eurowings (+540%), Finnair (+60%), Iberia (+54%), Lufthansa (+45%), and Azores Airlines (+42%), although mostly from a small base. easyJet stands out with strong expansion (+60%), strengthening its position as the second biggest operator.
In addition to Ryanair's new routes, more than 20 others have started since the end of March or will do by the year's end. They include the following, none of which have had Funchal flights in the past two decades at least:
3 July: Binter Canarias, Marrakesh (2)
30 October: Wizz Air, Budapest (2)
15 October: SmartLynx, Riga (1)
4 December: easyJet, Milan MXP (2)
Funchal to New York
Among the myriad network additions recently, the most significant may be New York JFK. It started on 29 November 2021 flown by Azores Airlines and operates weekly year-round by the A321.