Geneva welcomes Flyr and PLAY while Delta returns after 30 years; easyJet has over 45% of airport seats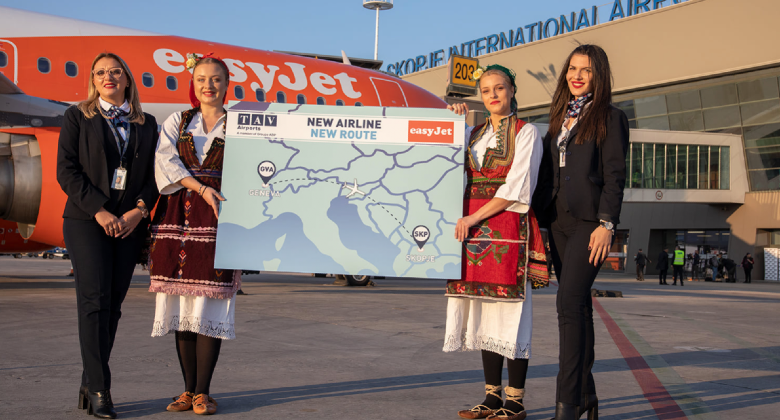 Geneva welcomed 12.8 million passengers in the first 11 months of 2022. That was 143% higher than in 2021 but 22% lower than 2019. If measured in one-way seat capacity, Geneva ranked 33rd busiest in Europe last year, down by one place versus 2019. The city, home to numerous global financial and diplomacy organisations and a renowned gateway for skiing, has welcomed various new airlines and routes in recent times.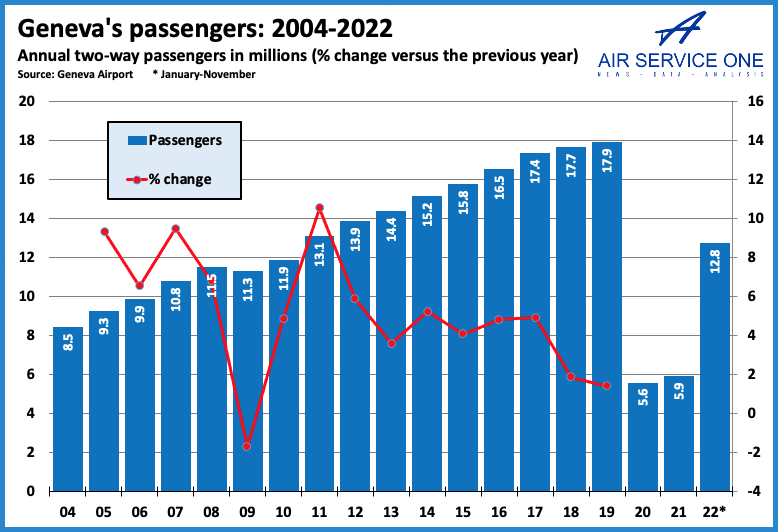 Two new airlines and the return of Delta and Air China
In 2022, Geneva gained Norway's Flyr (from Oslo), with Iceland's PLAY launching winter-seasonal services later this month. Both are new carriers at the Swiss airport. The launch of PLAY from Keflavik means that Geneva has winter flights to Iceland for the first time since 2016 when easyJet operated it, according to Cirium schedules information data. Icelandair retains its summer-only service.
3 February 2022: Flyr, Oslo (2-weekly)
21 January 2023: PLAY, Reykjavik KEF (1)
26 January 2023: Air China, Beijing (1); last served in February 2020
11 April 2023: Delta, New York JFK (7)
Delta will become the second airline between Geneva and JFK, joining SWISS (daily). It will be the third carrier to NYC, when United to Newark (daily) is included. Delta returns after 30 years, when it routed JFK-Zurich-Geneva and used A310-300s.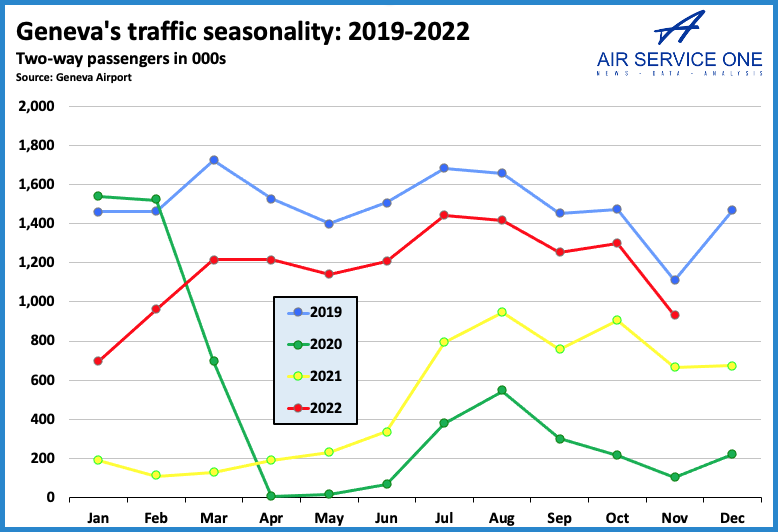 easyJet and SWISS drive route expansion
In addition to the above, Cirium data shows that Geneva has seen many new routes and those returning after many years, including the following. Notice Enfidha, in Tunisia, last served on a scheduled basis by Tunisair in 2014. And Gaziantep, in Turkey, for VFR traffic, a brand-new route from Geneva.
1 November 2021: easyJet, Skopje (max 4-weekly)
19 December 2021: SWISS, Cork (1)
19 December 2021: Jet2.com, Newcastle (1); last served by the airline in 2011
28 December 2021: TUI Airways, Dublin (1)
27 March 2022: SWISS, Brussels BRU (max 7)
29 March 2022: easyJet, Enfidha (max 4)
26 March 2023: SWISS, Hamburg (4)
1 July 2022: easyJet, Chania (1)
26 March 2023: Eurowings, Prague (max 5)
27 March 2023: SWISS, Vienna (18)
28 March 2023: SWISS, Oslo (3); last served by the airline in 2017
21 June 2023: SunExpress, Kayseri (1)
26 June 2023: SunExpress, Gaziantep (1)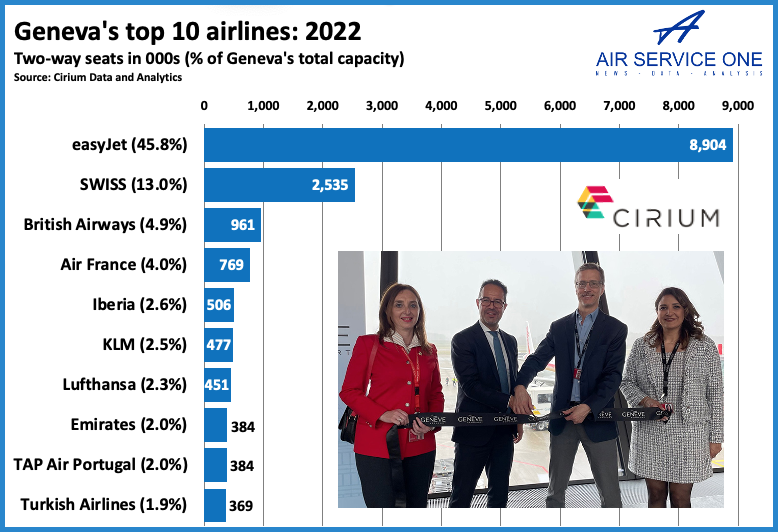 easyJet has almost half of Geneva's capacity, but 23 routes cut
easyJet had 4.5 million one-way Geneva seats in 2022, with the Swiss city the LCC's second largest airport after London LGW. easyJet was responsible for 46% of seat capacity. It served 85 routes across 25 countries. With almost a quarter of easyJet's Geneva capacity, the UK was the most served; it had flights to 12 UK airports.
Analysis of Cirium schedules since 2004 reveals that easyJet no longer serves 23 routes from Geneva. More UK routes have been cut than anywhere else:
Austria: Vienna
Croatia: Pula
France: Marseille
Germany: Dortmund, Hamburg, Munich
Greece: Kos, Rhodes
Iceland: Reykjavik KEF
Italy: Bologna, Pisa, Rome CIA
Poland: Krakow, Warsaw WAW
Portugal: Funchal
Spain: Asturias
Turkey: Izmir
UK: Doncaster, East Midlands, Inverness, Leeds Bradford, London SEN, London STN