German air traffic still 18% below 2019 level in S23; lagging well behind other major European markets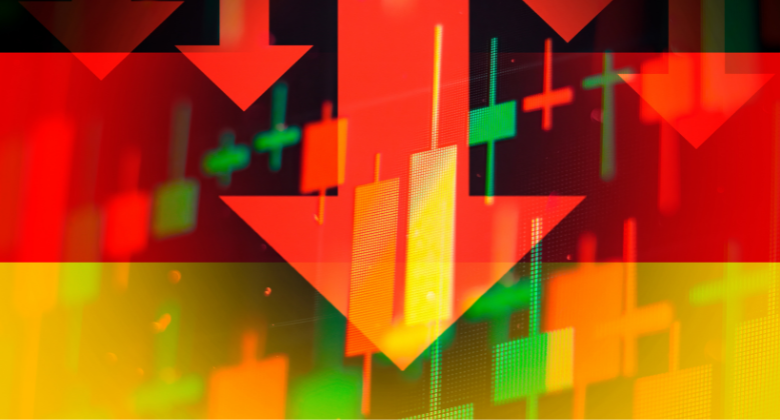 With this summer having been the first 'normal' travel summer since 2019, a look at airport passenger statistics across this period for the major European air travel markets (France, Germany, Italy, Spain, Türkiye and the UK), reveals some interesting results. Comparing passenger demand for April to September in 2023 versus the same period in 2019 allows us to rank the countries for their recovery.
Leading the way is Türkiye, which has seen average monthly growth of just over 5% compared with 2019. Not too far behind is Italy, averaging 3.6% growth. The Spanish air travel market is also up, on average 1.2% each month. These three countries are all fully recovered. Still some way off a full recovery are France (down on average 7.2% per month) and the UK (down on average 8.5% per month). However, Germany is in a whole different league. Here, traffic is still down on average almost 19% across each of the summer months.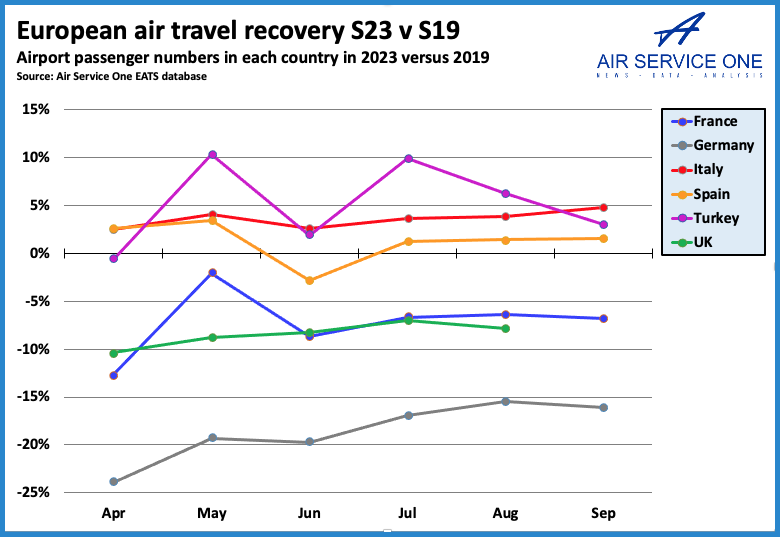 Top eight airports all still well below 2019 levels
Germany's eight busiest airports this summer all saw passenger throughput down between 16% (Frankfurt) and 34% (Berlin) compared with 2019. However, eight of the next 12 busiest airports reported traffic growth versus 2019. These are all airports where (U)LCCs and leisure airlines are the dominant carriers. Memmingen's 71% growth rate is influenced by the fact that the airport was closed for two weeks in September 2019 for runway works. However, even without this, the airport's growth was between 55% and 60% in all other summer months. Ryanair and Wizz Air have both significantly increased capacity at the southern German airport during the last four years.
Dresden has been severely impacted by Lufthansa cutting domestic frequency to Frankfurt and especially Munich, though Air Dolomiti has taken up some of the slack. Lufthansa's lower-cost subsidiary Eurowings has axed its domestic routes to Cologne Bonn and Stuttgart and cut frequency to Düsseldorf.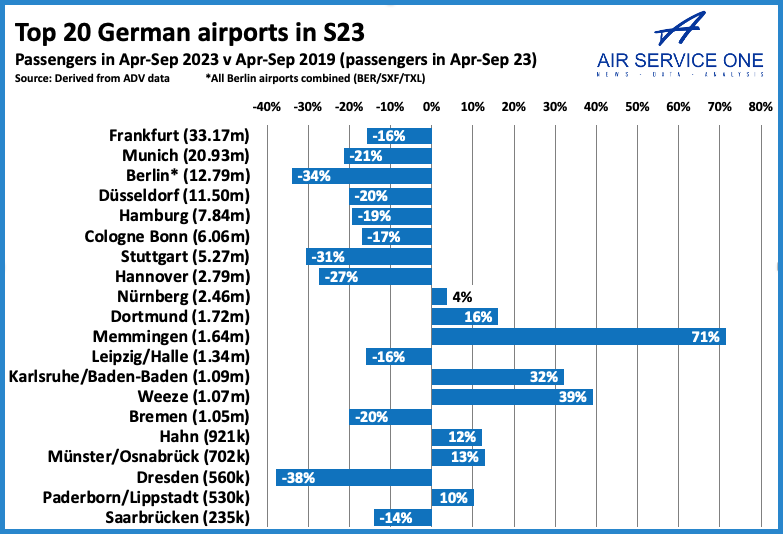 Leading carriers have all cut German capacity
Airline seat capacity across the whole of the summer period (April to October) was down 21% versus 2019 according to analysis of Cirium schedules data. The number of flights was down almost 25%. However, ASKs (Available Seat Kilometres) were down a more modest 14% indicating an increase in average number of seats per flight (from 167 to 175) and an increase in average sector length from 1,879 kilometres to 2,043 kilometres.
All the leading carriers in Germany have yet to fully recover their capacity in the country. While Lufthansa, Eurowings and Ryanair are still down 20% to 30%, easyJet's German capacity is down over 70%. As a result, it has slipped from being the fourth biggest airline in Germany in S19 to ranking just eighth this summer. It has even been overtaken by Wizz Air, which increased German capacity by 16% during the same period.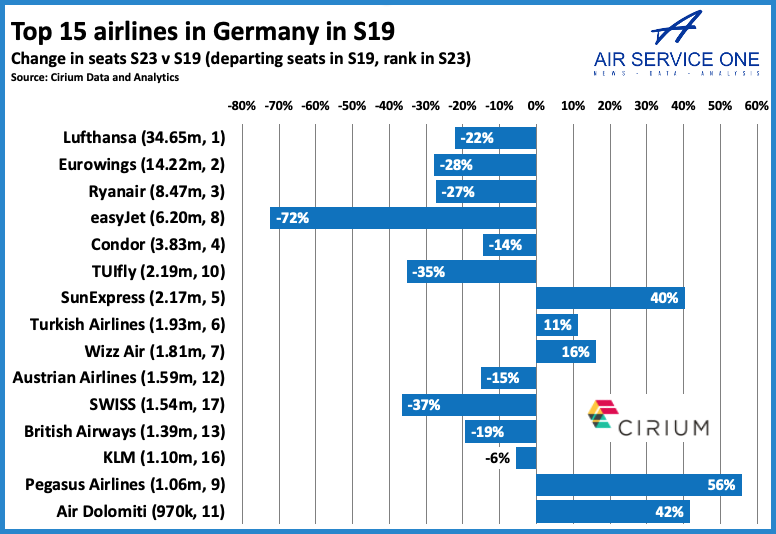 Of the top 15 carriers in 2019, four others have also increased capacity; Pegasus Airlines (+56%), Air Dolomiti (+42%), SunExpress (+40%) and Turkish Airlines (+11%). SWISS and KLM have dropped out of the top 15 airline rankings since 2019, to be replaces by Corendon Airlines (14th) and United Airlines (15th).
Discover Airlines (the new name for Eurowings Discover) is new in 18th and Emirates is 19th. If measured by ASKs, United would rank fourth in Germany this summer, Discover Airlines seventh and Emirates ninth.
Domestic market still almost 50% down; Greece and Türkiye growth
Looking at the country level, reveals that capacity in the domestic air travel market is still down almost 50% versus 2019. This decline is greater than for any other of the leading country markets with the obvious exception of Russia, where capacity is down 100%.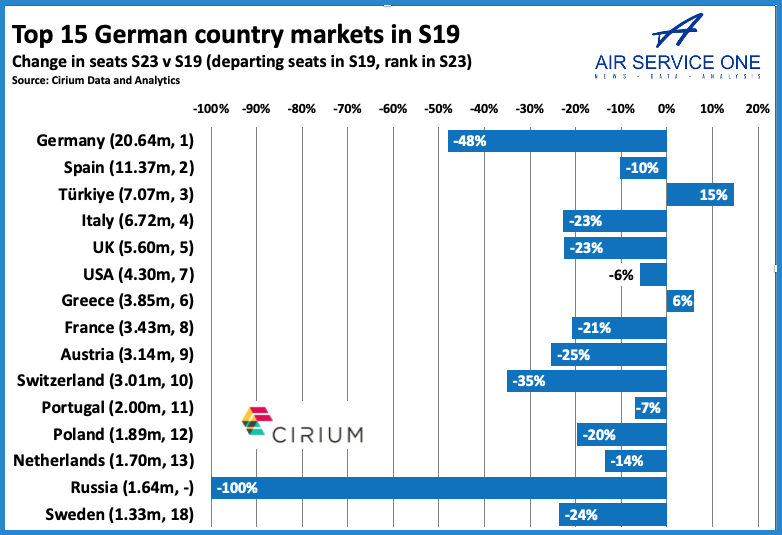 Of the top 15 country markets, only four are not down more than 10%. Portugal is down a modest 7% and the US down only 6%. The only two major country markets to show growth are Türkiye (up 15%) and Greece (up 6%). Among medium-sized country markets there is significant capacity growth to Albania (+269%), North Macedonia (+70%), Cyprus (+55%), Georgia (+45%), Bosnia & Herzegovina (+44%), Lebanon (+30%), Tunisia (+21%), Qatar (+19%) and Egypt (+16%).
Among smaller country markets Mongolia (+236%) and Maldives (+213%) both saw capacity treble, while Armenia was the biggest new country market. This was thanks to Yerevan now having non-stop service with Lufthansa to Frankfurt, Eurowings offering flights from Cologne Bonn and Düsseldorf, Wizz Air serving Dortmund and Condor competing with Lufthansa on the Frankfurt route.