German traffic recovery rate to worsen before it gets better; might not get back to 2019 levels before 2026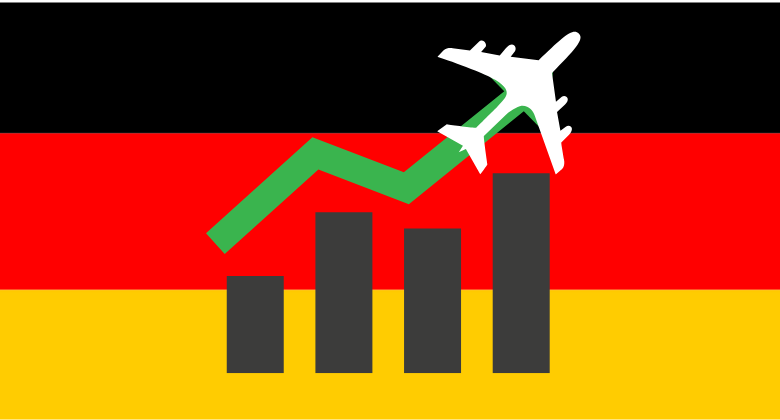 Germany's airports handled just over 12.6 million passengers in November 2022 according to ADV statistics published recently. While this is 42% more than in November 2021, it is 27.8% fewer than in November 2019. The traffic recovery rate of 72.2% does not compare favourably with that of the other major European air travel markets. Spain achieved a 96.0% recovery rate in November, Italy 87.5%, France 86.5% and the UK 83.0%. Germany's recovery rate has been between 70% and 76% since May 2022. Passenger data already published by Germany's busiest airports for December (Frankfurt, Munich and Berlin) suggests that its recovery rate for December will again be in the low 70s.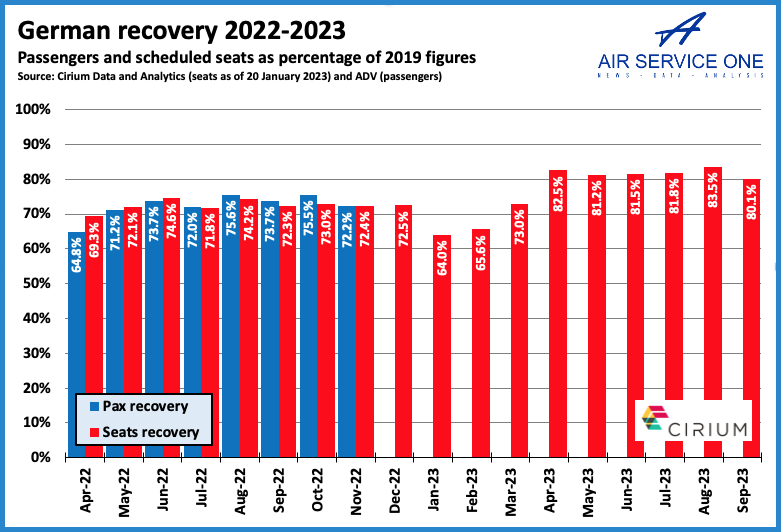 If we compare passenger recovery rate data with Cirium capacity recovery rate data for 2022, the two are (not surprisingly) highly correlated, typically with no more than a percentage point difference. However, looking at current airline plans in the German market for 2023, suggests that things are going to get worse in terms of recovery rate, before they start to get better. In January and February, Cirium data suggests that the recovery rate will fall significantly to around 65%. Once the summer season kicks in at the end of March, the recovery rate is currently forecast to be between 80% and 84%.
This begs the question as to when the German market will recover to the pre-pandemic levels of 2019. At this rate full recovery might not happen until 2026 or 2027, or potentially even later.
easyJet and Lufthansa have cut the most capacity
Analysing German airport capacity data for the second quarter of 2023 (April to June) and comparing it with the second quarter of 2019 shows the recover rate at 81.7%. It is worth noting the difference between domestic recovery (at just 66.2%) and international recovery (85.8%).
If we look at the leading airlines in the German market we can see significant differences in their recovery rate. There are 7.75 million fewer departing seats from German airports during this period. The airlines that have reduced their capacity the most are easyJet (down 1.92 million seats), Lufthansa (down 1.32 million), Ryanair (down 1.17 million) and Eurowings (down 1.06 million).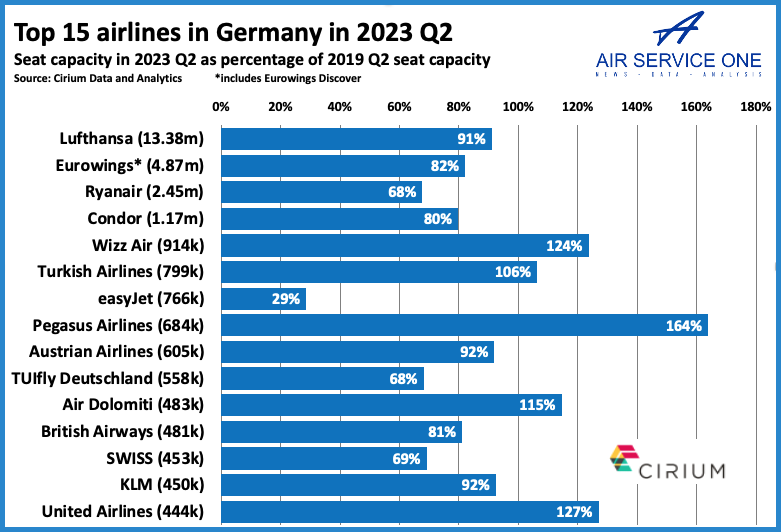 Among the top 15 airlines, five have increased capacity versus 2019 Q2. This includes two airlines from Turkiye (Turkish Airlines and Pegasus Airlines), one ULCC (Wizz Air), one US carrier (United) and one regional carrier (Air Dolomiti). The latter is benefitting from taking over a number of Lufthansa routes.
Some major airports still seeing capacity down by more than 30%
None of Germany's eight busiest airports are set to see a recovery rate of more than 90% in the second quarter of this year. Alarmingly, three airports – Berlin, Hannover and Stuttgart – will still be some way short of achieving a 70% recovery rate.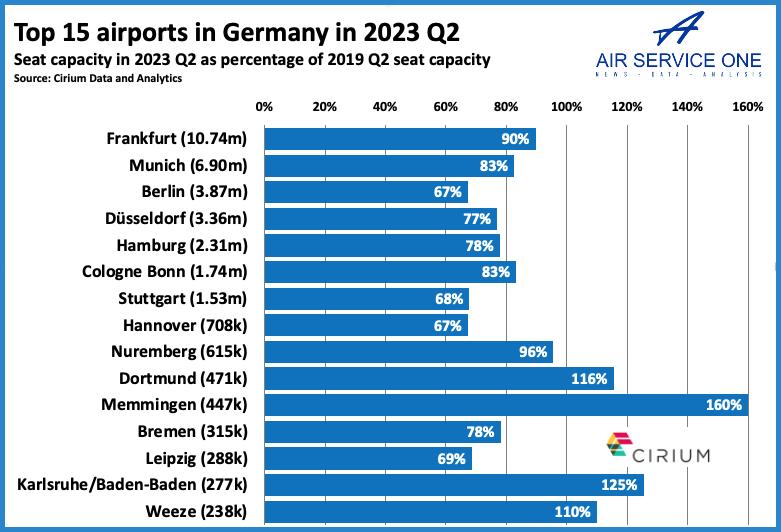 There is better news for some of Germany's smaller airports in the top 15. Memmingen (capacity up 60%), Karlsruhe/Baden-Baden (up 25%), Dortmund (up 16%) and Weeze (up 10%) are all expecting capacity (and hopefully passenger) growth compared with 2019 in the second quarter of 2023. What do these airports have in common? Ryanair and/or Wizz Air are the major operators at these airports.
Strong growth to some south-east European markets
Looking at country markets, none of the top 15 show growth in 2023 Q2 versus 2019 Q2. The domestic market (down 34%) is suffering the most followed by Switzerland (down 26%), Italy and the UK (both down 19%). Greece (down just 2%), Turkiye (down 6%) and the US (down 7%) are the best markets in the top 15. Among smaller country markets (at least 100,000 departing seats in 2023 Q2) there is growth to Albania (+324%), North Macedonia (+79%), Bosnia & Herzegovina (+60%), Cyprus (+55%), Bulgaria (+24%), Egypt (+17%) and Serbia (+15%).