Germany has just 2.4% of easyJet's Q3 2023 seats; now just three airports and 64 routes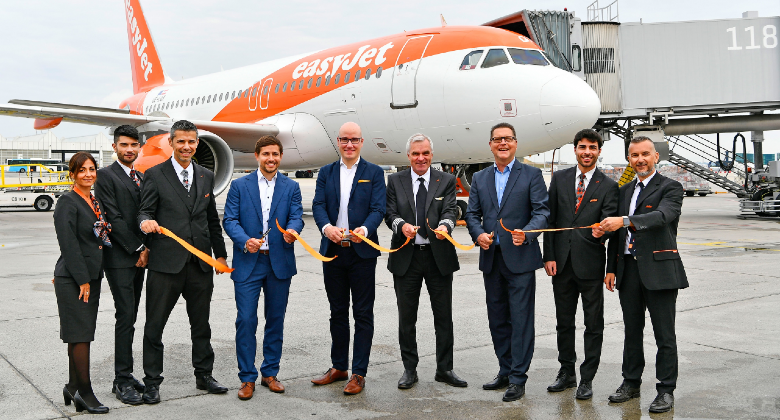 easyJet has 700,000 departing seats from Germany this July-September (Q3), according to Cirium schedules information. It is Germany's sixth-largest foreign carrier and ninth overall. While the LCC's entire operation has 9.2% more seats than in 2022, Germany is down by 16.8%. Not helped by typically high costs, high taxes, low yields, a greatly dominant Lufthansa Group and removing 24 based aircraft from Germany, the country is a diminishing part of easyJet's network.
Germany capacity is down by 73% versus 2019
easyJet had 2.63 million Germany departing seats in Q3 2019, when it was its fifth-largest country market. It was a time when it flew domestically in response to airberlin's cessation. easyJet had six domestic routes in Q3 2019, all from Berlin TXL. A significant but short-lived and loss-making endeavour, it was Germany's third-largest domestic carrier after Lufthansa and Eurowings.
Yet Cirium indicates that the domestic market accounted for 'only' about a third of its easyJet's 2019 Germany capacity. It had 1.80 million international seats, by far its most ever and more than two and a half times what it has in July-September 2023.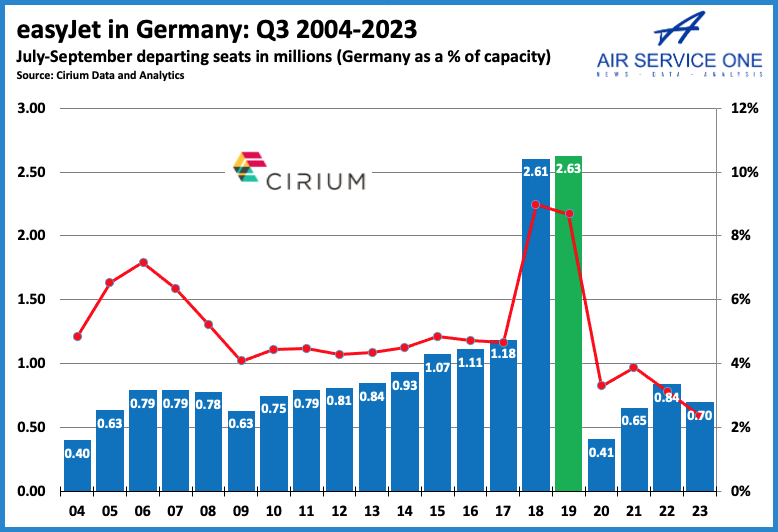 Germany: now easyJet's ninth-largest market
Analysis of Cirium data tells that easyJet serves 33 countries in Q3 2023. Germany ranks ninth and is the only nation of its top 10 to have less capacity year-on-year. Germany now has just 2.4% of easyJet's network-wide capacity, its lowest proportion in many years and about half as much as 19 years ago. Now it only serves three airports in the country, against 14 for Ryanair and 10 for Wizz Air.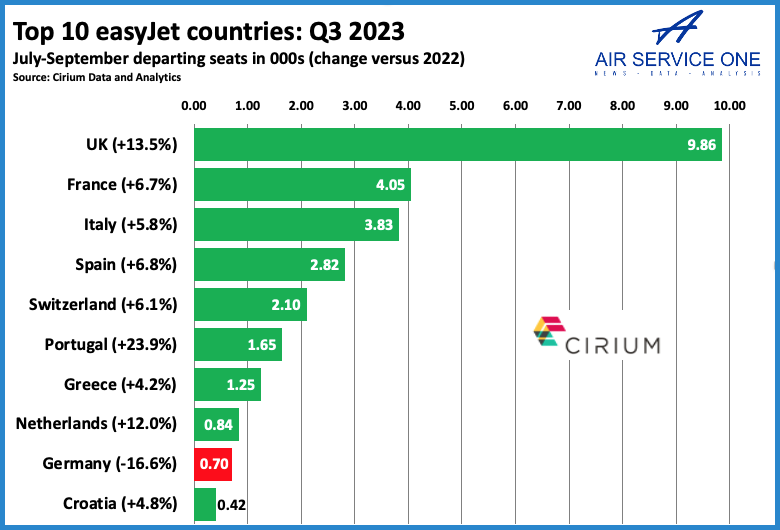 Just three German airports and 64 routes in Q3
easyJet serves Berlin, Hamburg and Munich, of which only Berlin is a base. Hamburg was a base, but this ended in 2018. (Note: it has winter-seasonal flights to Friedrichshafen.) Cirium indicates that Berlin is the LCC's 14th-busiest airport in Q3 2023 (out of 147 system-wide), while Hamburg is 96thand Munich is 97th. easyJet's YOY capacity reduction is because of Berlin (-16.9%) and not Hamburg (+25.2%) or Munich (+6.2%).
easyJet has 64 Germany routes: 55 from Berlin (down from 67 YOY), five from Munich and four from Hamburg. Only one route is brand-new this summer: Munich-Naples, which began on 28 June (2- to 3-weekly). Berlin to London LGW is its leading route by seats and flights. When easyJet's 6-weekly Berlin-London LTN service is added, the carrier has just over a quarter of the city market. British Airways is first with 50-weekly (to LHR and LCY), while Ryanair is last with 21-weekly flights to STN.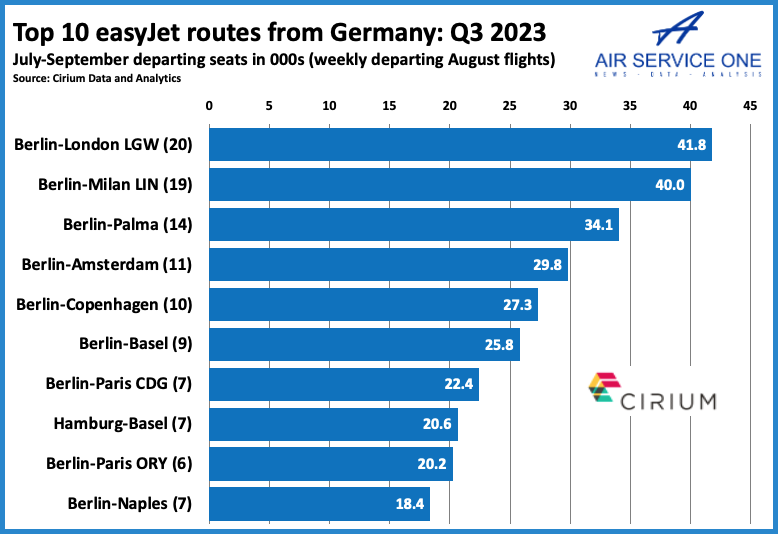 10 other German airports served since 2004
While easyJet only serves three German airports, the following have all exited its network in the past 19 years. These include Dortmund, previously a base. It had 16 routes from Dortmund since 2004, including up to 2-daily services to Paris CDG and London LTN.
Berlin SXF: served for many years until 2020 (was a base; airport has closed)
Berlin TXL: 2018-2020 (coincided with domestic flights; was a base; airport has closed)
Bremen: 2005-2007
Cologne: served for many years until 2022
Dresden: 2010-2020
Dortmund: served for many years until 2020 (its base closed in 2012)

Düsseldorf

 

: 2009-2020
Frankfurt: 2018-2020 (only domestic flights)
Stuttgart: 2015-2021
Sylt: 2019-2021 (only domestic flights)