Germany lagging other major European air travel markets; passengers still down 25% in August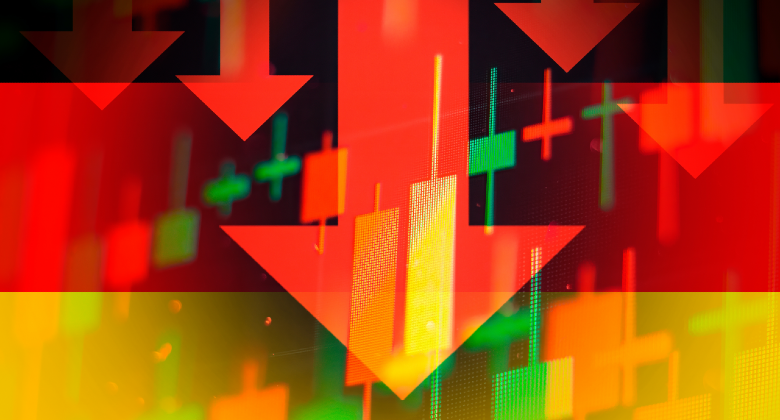 Latest airport traffic data from Germany confirms that in August the recovery rate versus 2019 stood at just 75%. Although the airports handled more than 18.4 million passengers (up 56% compared with August 2021), that was still 25% fewer than in August 2019. What was particularly significant was that domestic air traffic was down 55% from 3.6 million passengers to just 1.6 million. European traffic was down 18% to 13.6 million, while intercontinental traffic was down 25% to 3.2 million.
Slowest recovery of top 15 European countries
Analysis of Cirium schedule data for all European countries in September, shows that Germany still has the lowest capacity recovery rate among Europe's top 15 countries for air travel. At just 72.3%, Germany is just below Sweden at 72.4%. However, all the other leading country markets are now at 85% recovery (or better) apart from Switzerland at 81.4%. Portugal and Greece are the only countries among the top 15 showing capacity growth versus September 2019.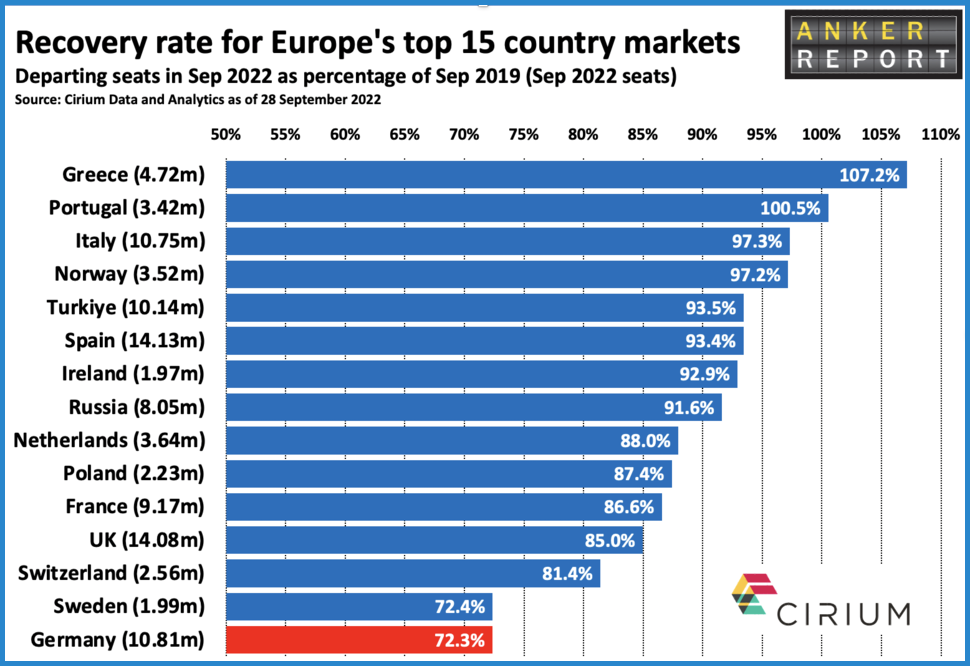 Airports dominated by ULCCs reporting capacity growth
Looking at Germany's top 15 airports reveals a wide range of recovery rates. Germany's two busiest airports (shown in red) at Frankfurt (74%) and Munich (73%) are both close to the average, which is not surprising given that the two airports account for almost half of all seat capacity in Germany. Despite all air services in Berlin now being concentrated at the new Berlin airport, this has not helped the city's recovery rate. It lags at just 63%, the fourth worst among the country's top 15 airports, beaten only by Leipzig (56%), Hannover (60%) and Stuttgart (62%).
There is better news among some of Germany's smaller regional airports, with four of the top 15 reporting capacity growth in September compared with 2019. Memmingen leads the way with 132% seat growth, followed by Dortmund (16%) and Frankfurt HHN (15%). Ryanair and Wizz Air are the drivers of growth at these airports.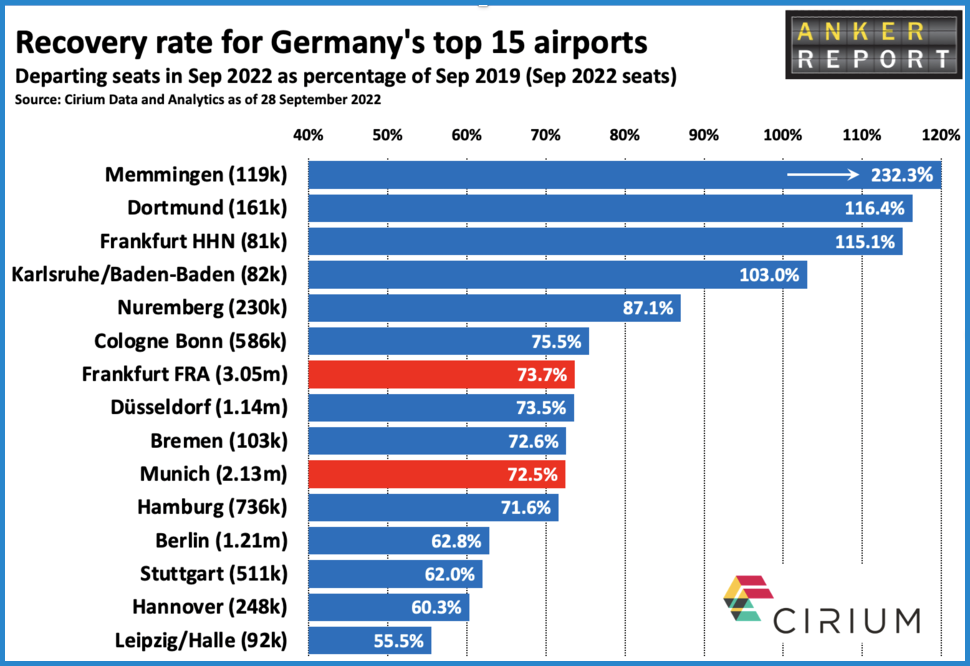 easyJet capacity down by two-thirds since 2019
Not surprisingly, as the dominant carriers in the German market, Lufthansa and its lower-cost subsidiary Eurowings (both shown in red) both have recovery rates around the national average. What is unusual in Germany is that the recovery rates for Europe's two biggest (U)LCCs, Ryanair (67%) and easyJet (just 34%), are below that of the national average. Even fast-growing Wizz Air is only offering the same capacity in Germany as it did three years ago.
For airlines in the top 15 that are growing in Germany you have to look for carriers with a Turkish link. Turkish Airlines itself (+17%), SunExpress (+22%), Pegasus Airlines (+25%) and above all Corendon Airlines (+91%) have found ways to grow their presence in Germany. However, German leisure carriers are not seeing such robust growth with Condor (-14%) and TUI fly Deutschland (-39%) not yet matching their 2019 capacities.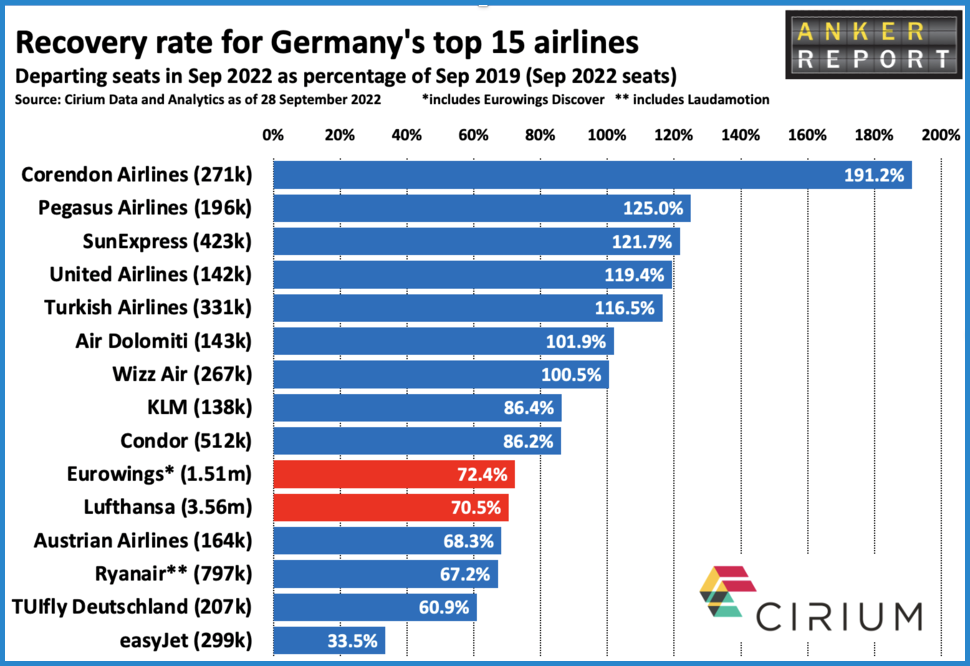 Domestic market recovery only just over 45% in September
Analysis of the top 15 leading country markets from Germany reveals that it is the domestic market that is recovering most slowly, with capacity at only 45% of the 2019 level in September. All other top 15 country markets are at over 60% apart from Switzerland (58%). Lufthansa has reduced domestic capacity by 43% and Eurowings by 65%. easyJet's last domestic route in Germany, between Berlin and Cologne Bonn, operated for the last time on 4 September 2022.
The two biggest leisure markets of Spain and Turkiye (shown in red), are at 86% and 106% respectively, confirming Turkiye as a popular holiday destination. This autumn that is helped by the economic situation in Turkiye, where the devaluation of the local currency means that foreign visitors are finding the country excellent value for money.
However, the stand out market is Greece, where capacity is up 17% compared with September 2019. Aegean Airlines, Condor, Corendon, Eurowings, Lufthansa and SundAir have all grown their Greek capacity in September. Some 60% of the extra 101,000 monthly seats which have generated the 17% growth, have come at Corfu, Heraklion and Rhodes. However, in terms of percentage growth the winners in Greece this September are Santorini (+155%), Chania (+80%), Samos (+74%), Kalamata (63%) and Zakynthos (+43%).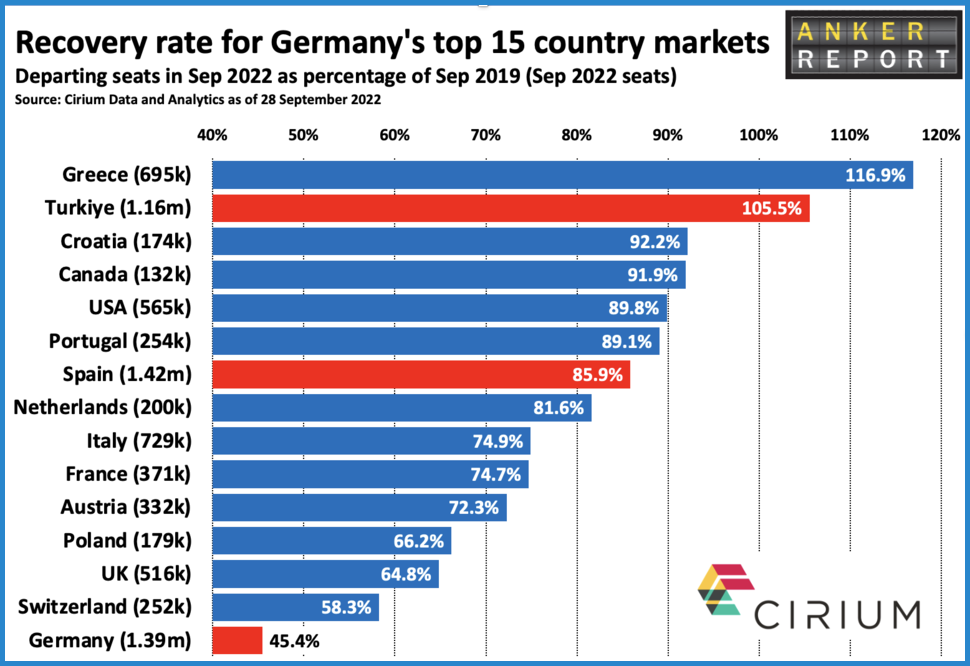 While the 17% growth in the Germany-Greece market may seem impressive, other European countries are also seeing significant growth in Greek capacity. For comparison, the UK-Greece market is up 20% in September, Italy-Greece is up 23% and France-Greece is up 26%.