Global capacity recovery in full swing this summer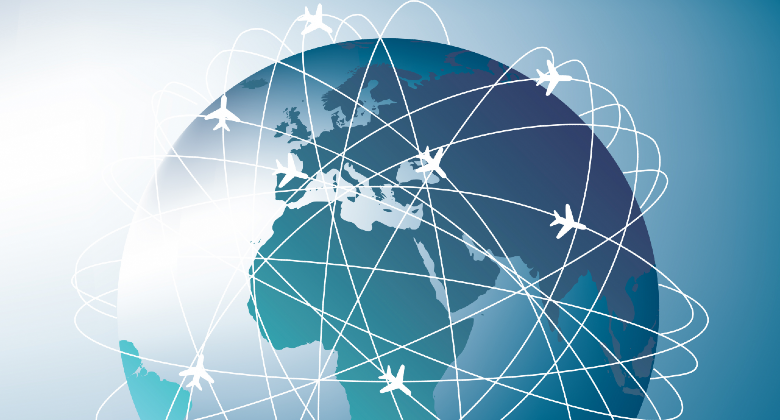 As the 150th IATA Slot Conference gets under way in Seattle, we are almost half-way through 2022. Thanks to the roll out of various vaccinations across the world, the number of people dying as a result of COVID continues to fall, despite the fact that authorities across the world are still recording a total of up to half a million new cases each day. The confidence in the vaccines has had a profound impact on reducing restrictions on air travel, especially between countries. There is plenty of evidence that the leisure market is once again booming this summer with holidaymakers looking to make up for lost opportunities since March 2020. However, this has led to some chaotic scenes, especially at airports in Europe, as resourcing issues have meant that airlines have not always been able to operate the flights they had planned, leaving thousands of passengers frustrated and angry.
Europe and the Americas outperforming Asia
In this analysis we compare capacity data for May 2022 with that of pre-pandemic May 2019. As of the beginning of June, when this research was undertaken, Cirium schedule data for June and especially July was still considered too speculative (especially in Asia) and so we have focussed on May. We have split the world into two regions; Europe and the Americas, and Asia and the rest of the world.
In the first category, the top 15 countries from May 2019 have all seen capacity recover to at least 70% of its pre-pandemic levels. In fact, only Germany (at 72%) and Russia (at 77%) were below 80%. Impressively, Mexico capacity was up 10% compared with three years earlier, while seats offered from Colombian airports were up 27%. In Europe, Greece (at 98%) was closest to full recovery, with Turkey, Norway, Spain and Italy not far behind.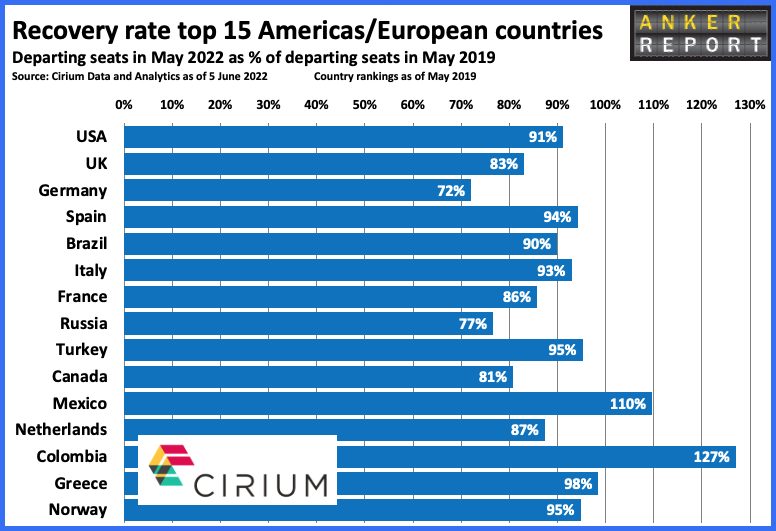 Asian recovery still lagging behind
Across Asia and the rest of the world, the top 15 country markets as of 2019 have seen a much wider range of recoveries. While India and Vietnam were already back to pre-pandemic levels in May, China and Japan were both only at around 70%. Apart from Hong and Taiwan, which have both suffered because of the major travel restrictions on international flights, Malaysia (57%), South Korea (53%) and Thailand (45%) were also a long way from getting back to anything like normal.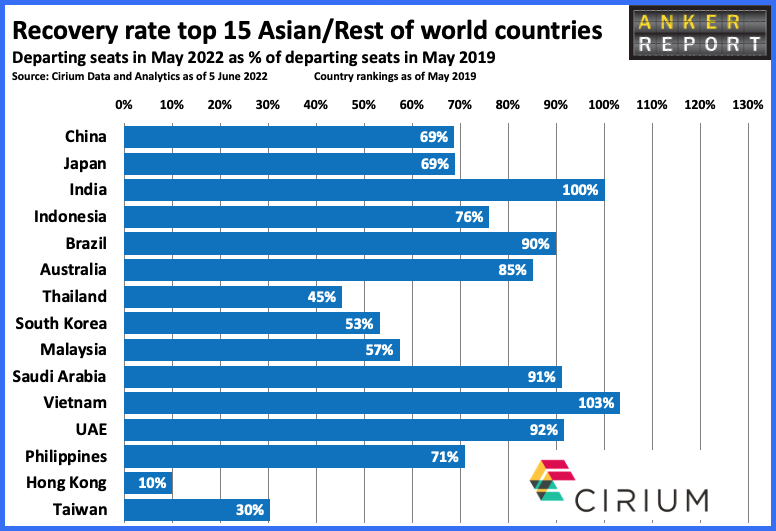 Ryanair and IndiGo lead growth charge among biggest airlines
Looking at what were the top 20 airlines (by seat capacity) in May 2019, also shows a wider range of recovery rates. While the five US carriers in the top 20 were all back at between 86% and 94% of capacity, the situation among Europe's biggest carriers was more varied. While Ryanair was reporting almost 20% capacity growth, British Airways and Lufthansa were both only on 76% in May. Two of China's big three carriers, China Eastern and Air China were at between 50% and 55%, while China Southern was at 80%.