GMR to capitalise on India's huge aviation potential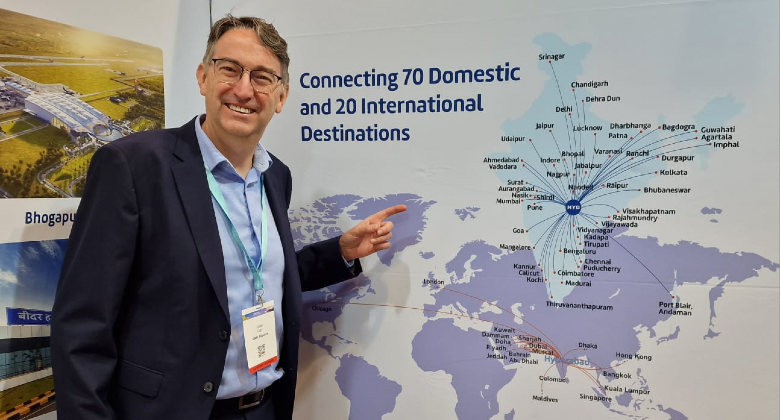 The GMR Group, which manages four airports in India and has another under development, is well positioned to benefit from the country's fast-expanding aviation sector with start-ups such as Akasa Air, new aspirations of Air India and the growth ambitions of IndiGo to play with. Being India's leading airport operator, GMR's portfolio includes Delhi, Hyderabad, Bidar, the new airport in Goa, as well as the development in Visakhapatnam.
GMR's largest operation is in Delhi which became the nineth busiest airport in the world last year. Julian Carr, Chief Marketing Officer for Airlines and Route Development at GMR, said: "Ultimately, our main focus is a combination of growing Delhi but in a capacity headroom manner. We are doing this with our fourth runway, which should be opening in mid-July of this year for departures and then arrivals soon after, complemented by our extended Terminal One later this year. Our Delhi capacity will go up to over 100 million passengers per year. Our goal then is to fill that capacity."
He added: "Everyone wants to fly into Delhi, so we don't have to sell it. Strategically we will be working with the likes of Air India, Indigo and Akasa but the headroom potential in India is huge."
GMR's other airports also have exciting developments lined up. Hyderabad, India's southern gateway, will welcome its first service to continental Europe next January with Lufthansa to launch operations from Frankfurt. "We are confident there is more to come", Carr noted.
Goa is home to a brand-new airport as of this January, developed by GMR we are seeing a real momentum to achieve a significant number of international operations move to our new airport.  Located some 50 kilometres from the old airport, the new facility is expected to fully open for international traffic by the end of June or early July. "Our new airport is better located for the tourism sector. We have already surpassed around 1.4 million passengers since we opened in January", Carr explained.
Outside of India, GMR also operates the airport in Medan in Indonesia, where it is focusing on growing Middle Eastern connectivity, as well as Cebu in the Philippines. In Europe, GMR is developing a new airport in Crete to replace Heraklion in some three to four years, where it has already begun interacting with airlines to give them a flavour of what is to come.