Go Europe! airports celebrate over 200 new airline routes in last 4 weeks
While getting aviation traffic flows restarted does not appear to have been a major topic of conversation for the leaders of the G7 nations during their meeting in the somewhat unlikely setting of Cornwall in the south-west of the UK, airlines have been showing some signs of recovery during the last four weeks. Not only have several major airlines (notably easyJet, Ryanair and Wizz Air) seen considerable growth in their operations according to the latest Eurocontrol data, but they have also been surprisingly busy launching new routes.
209 new routes noted in last four weeks
The ANKER Report has identified just over 200 new services launched by airlines involving European airports during the last four weeks (15 May to 11 June) since our last issue. That is more than twice as many as the 80 new routes we reported on in the last issue. At the beginning of the analysis period over 550 routes were in the database as possibly starting during this period. However, after detailed checks, well over half of these routes have either been delayed until after 11 June, or have now been withdrawn from sale.
Wizz Air (41 new routes) and Ryanair (30) alone accounted for over one-third of all these new routes. Other (U)LCCs celebrating multiple route launches included SkyUp (14), Blue Air (12), Volotea (12), easyJet (eight) and Eurowings (eight). Among flag-carries, Aegean Airlines and Lufthansa both added six new routes, LOT Polish Airlines and Luxair both added four new routes, while TAP Portugal added three new destinations from Lisbon. Turkish Airlines launched a new US service to New York EWR and used its subsidiary AnadoluJet to launch several new international routes from Turkish airports other than Istanbul IST.
Honourable mention should also be made of American Airlines and Delta Air Lines, both adding new transatlantic services despite the fact that Europeans are still basically barred from entering the US.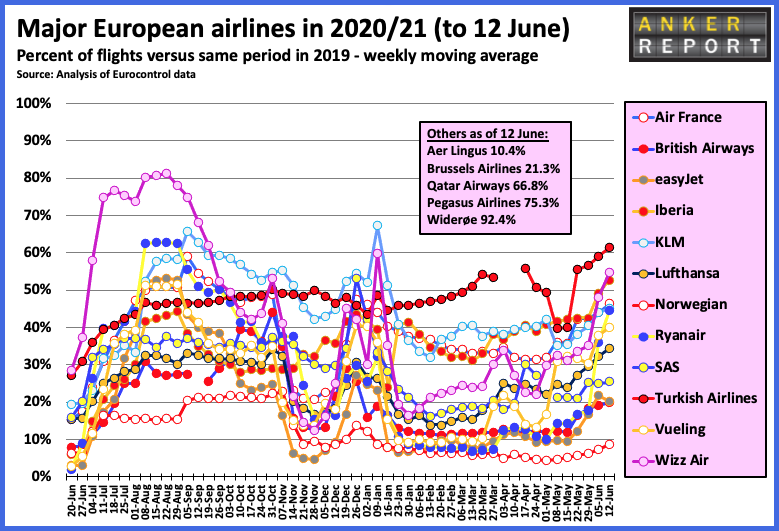 900 more new routes by end of July?
Between now and the next issue of The ANKER Report (in six weeks' time on Monday 26 July), the New European Route Database (NERD) is currently showing almost 900 (!) possible new routes. Again, many will likely be delayed further (possibly into next year) or may be abandoned completely, but there is clear evidence that Europe's airlines, especially those at the low-cost end of the market, are seizing opportunities to move into new markets with both hands.
Eurocontrol data looking better
When The ANKER Report last published in mid-May, Eurocontrol was showing flight movements as being down around 63% compared with May 2019. Four weeks on and the deficit has been reduced to minus 53%. Nearly all major airlines have seen a gradual ramp up in operations, but it has been particularly noticeable among the region's (U)LCCs.
Both Ryanair and Wizz Air have seen rapid growth in their flight numbers in recent weeks. It is worth noting that Wizz Air's reported load factor for May was 66% (with 832,538 passengers carried), up from 59% in April (when it carried 564k passengers), while Ryanair carried 1.8 million passengers in May at a load factor of 79%, which is up from 67% in April 2021 (and 1m passengers)
Albania and Russia show seat growth versus 2019
Though airlines continue to tweak their schedules as travel restrictions are eased (or not), schedule data for June as a whole should now be fairly accurate, with almost half the month having already operated. Analysis of Cirium Data and Analytics schedule information for June 2021 and June 2019, reveals how quickly each of Europe's country markets are recovering in terms of seat capacity.
Two countries (one small and one large) are already showing capacity growth relative to 2019. Albanian seat capacity is up 29% in June, while airports in European Russia are showing a net seat gain of just over 4%. Passenger numbers at Russia's airports certainly support this robust recovery, while Tirana's April traffic performance confirms the market as doing much better than most.
UK near the bottom of recovery in June
Despite the success of its vaccination programme, the UK is languishing sixth from bottom among countries for capacity recovery in June. Only the Czech Republic, Slovakia, Ireland, Finland and Slovenia are currently seeing a slower recovery in their air travel markets.
With no new countries added to the 'green list' (and Portugal removed from it), the UK appears to be prioritising a return to 'normal' life within the UK, rather than worrying about the UK's airline, airport and travel industry. Certainly many people are planning 'staycations' in the UK, rather than endure the risks and hassles of international travel, which even now, are not making any concessions to the increasing proportion of the population who have had both of their vaccination jabs.