Gothenburg gains NYC route after 40 years; Ryanair has overtaken SAS as the airport's #1 carrier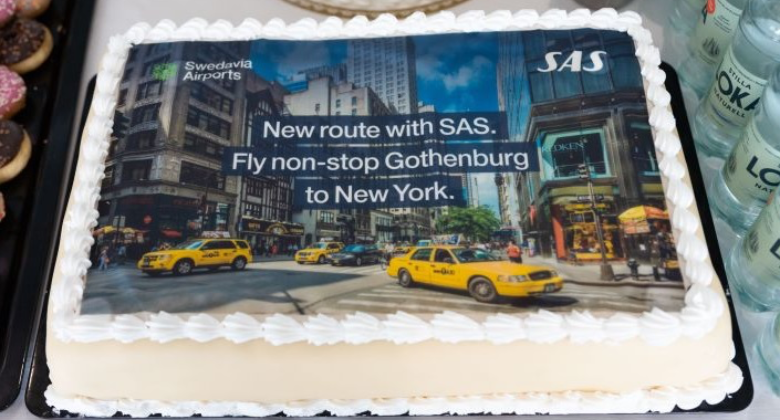 Gothenburg is Sweden's second most populous city and has about 1.1 million people in its metro area. According to Cirium information, Gothenburg Landvetter has 900,000 one-way seats this July-September (Q3), as shown below. With capacity about a fifth below Q3 2019 and, surprisingly, less than 10% above 2022, Gothenburg is the fifth-largest airport in Sweden, Norway, and Denmark.
On 12 May 2023, it welcomed back PLAY from Keflavik for the summer, while Air Serbia returns from Belgrade on 18 May. Transavia France – a brand-new carrier at the airport – starts Bastia in July. Yet Gothenburg's biggest development is that it again has US flights after many decades.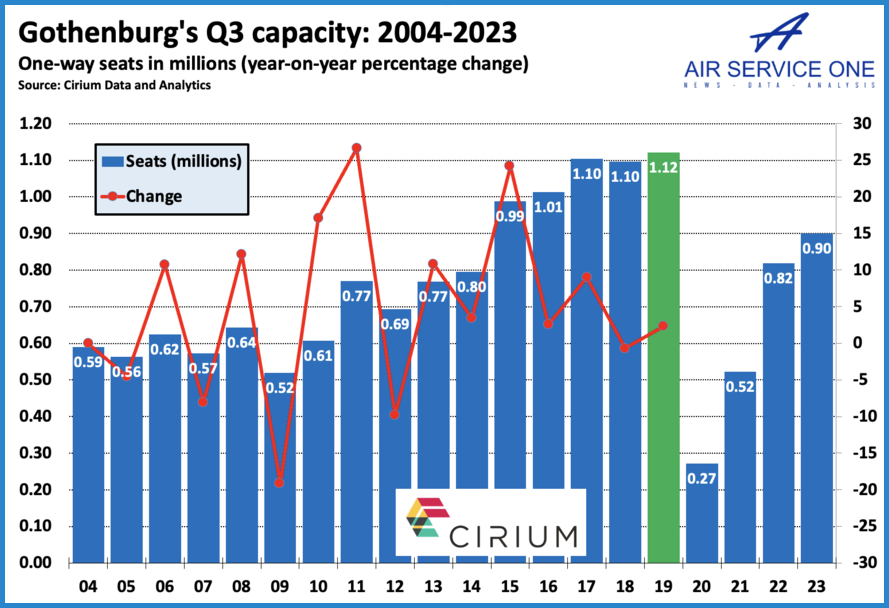 Gothenburg is reconnected to the US
SAS inaugurated Gothenburg-Newark on 28 April (3-weekly) using the 157-seat A321LR. It serves Newark as that is SAS' primary gateway to NYC because of Star Alliance. Operating summer-seasonally, Gothenburg has not had NYC flights since SAS served JFK 40 years ago in 1983. It is Gothenburg's only long-haul route in Q3 and its only scheduled long-haul service (it has winter charters to Thailand).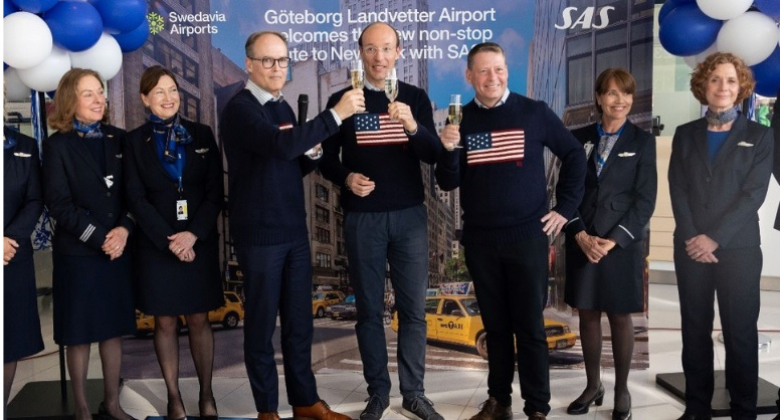 Stockholm ARN remains the #1 market; core hubs are key
Analysis of Cirium data tells that Gothenburg has non-stop flights to more than 60 destinations in Q3. Despite being the peak season, Germany is the leading country market. Five airports are served: Berlin, Düsseldorf, Frankfurt, Hamburg and Munich. It mainly ranks as number one due to Frankfurt and Munich, both mainly for connecting passengers; they are Gothenburg's second and fourth most-served destinations. The first sun market is Alicante in sixth.
With 90,000 one-way seats in Q3, Stockholm ARN is Gothenburg's leading destination. There are 42-weekly flights in mid-August: 31 with SAS and 11 with Ryanair. Despite the fastest trains between the two cities taking about three hours, Ryanair launched the 395-kilometre route on 28 October 2021. It was motivated by the gap following Norwegian's exit in early 2020, although capacity remains down by 35.3%. When Stockholm BMA – much closer to the capital's downtown area – is added, Stockholm accounts for about one in eight Gothenburg seats.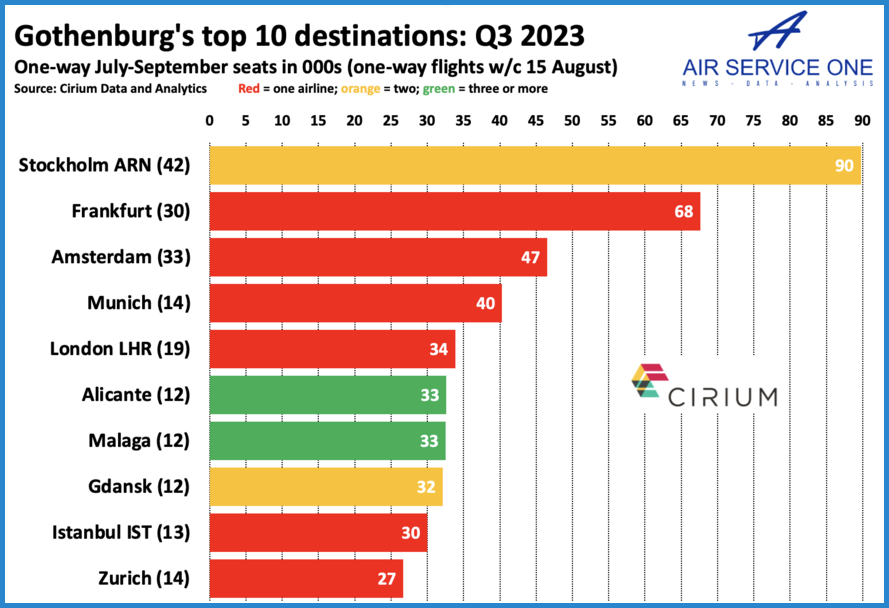 Seven additional routes
The following have all been introduced since March or will be soon. Half replace other carriers, while Air Serbia and Norwegian relaunch two routes that were last served in early 2020. In comparison, Gothenburg has not had flights to the Sardinian destination of Cagliari in the past 20 years, if ever.
26 March 2023: Eurowings, Berlin (4-weekly) – replaced easyJet (ended 2022)
28 March 2023: Ryanair, Cagliari (2-weekly)
18 May 2023: Air Serbia, Belgrade (3-weekly)
4 April 2023: Wizz Air, Rome FCO – replaced Norwegian to FCO (ended 2018), Ryanair to CIA (ended 2020)
28 April 2023: SAS, Newark (3-weekly)
22 June 2023: Norwegian, Barcelona (3-weekly)
8 July 2023: Transavia France, Bastia (weekly) – replaces Air Corsica (ended 2022)
Ryanair is the top carrier; (U)LCCs have 36.7% of capacity
With more than a fifth of available seats, Ryanair is Gothenburg's leading airline. One of only two carriers in the top 10 to have grown versus 2019, Ryanair has overtaken SAS. Ryanair's Q3 network has risen from 17 to 22 routes in this period. Banja Luka, Budapest, Cagliari, Gdansk, Kaunas, Riga, Stockholm ARN, Vienna and Zagreb are now served, while Barcelona, Malta, Rome CIA or Thessaloniki have all exited Ryanair's Gothenburg network.
Despite Ryanair's top spot and Wizz Air in fourth, all (U)LCCs have just 36.7% of Gothenburg's capacity. While is this marginally more than in Sweden as a whole, it is lower than all of Europe (41.2%).
In July-September 2019, Norwegian was Gothenburg's third-largest carrier. Its strategic refocus has seen capacity reduce by 60.6%, and it is now the seventh-largest. While it then had 11 routes, it now has just three: Alicante, Barcelona and Malaga.