Greece airport traffic at 99% of 2019 levels in June; Santorini leads the way with passengers up 21%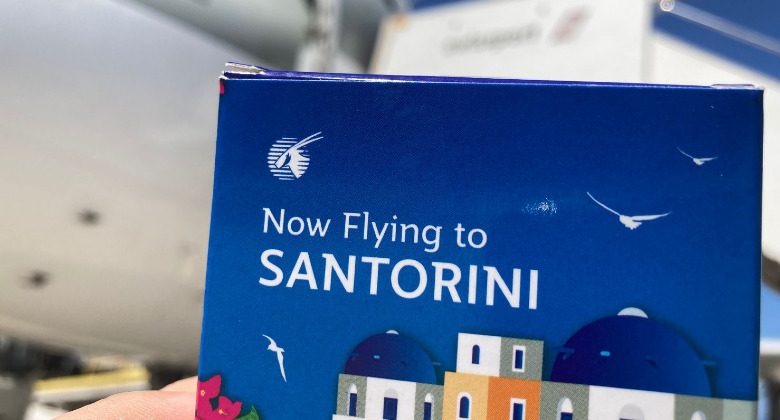 The Greek air travel market is performing very well this summer. Latest data from the Hellenic Civil Aviation Authority shows that the country's airports welcomed 8.4 million passengers in June. That is down just 1% compared with June 2019. The country's busiest airport, which serves the capital Athens, reported traffic down 7% in June. Domestic demand at Athens Airport was down just 0.6% compared with three years earlier, while international traffic was 9.6% below pre-pandemic levels.
Santorini leads way with 22% growth
Many of the country's airports serving popular holiday destinations are reporting traffic above the level of June 2019. Leading the way with 22% growth is Santorini Airport, which is one of several Greek airports currently operated by Fraport Greece. Its 417k passengers were split between 151k on domestic routes and 266k on international routes. According to the airport, the leading international country markets at Santorini in June were UK (71k passengers), Italy (56k), France (34k) and Germany (24k).
New routes launched at the airport this summer include:
Aegean Airlines to Tel Aviv
Air France from Marseille
Blue Air from Bucharest
British Airways from London LGW
Cyprus Airways from Larnaca
easyJet from Naples
Eurowings Discover from Munich
Jet2.com from Bristol, Edinburgh and London STN
Qatar Airways from Doha
SAS from Copenhagen
SmartWings from Prague and Warsaw WAW
Volotea from Turin
Wizz Air from Venice VCE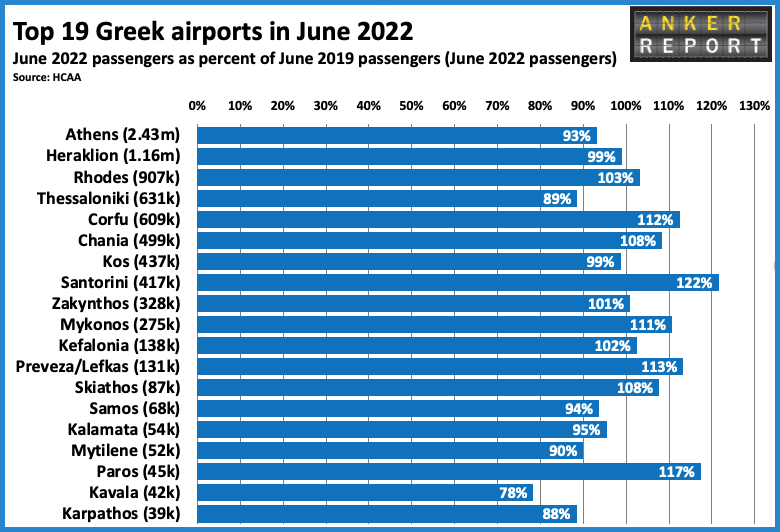 Given the apparent popularity of Greece as a summer holiday destination this summer, it will be interesting to see what the passenger figures for July and August will reveal.