Greece and Turkey dominate rankings of European country-pairs with biggest capacity increases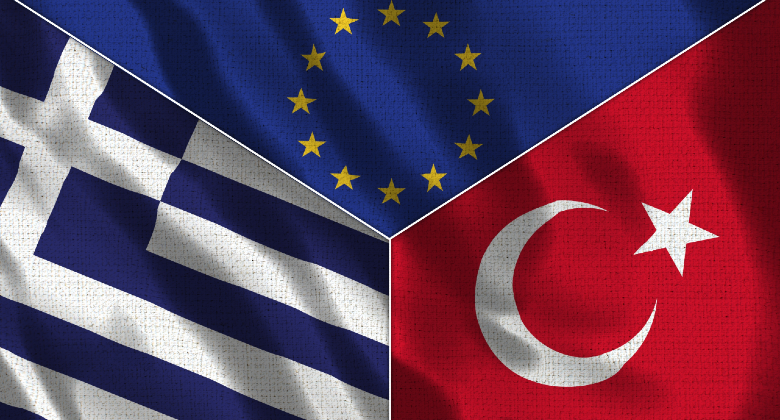 Last week we examined the recovery rates of the leading domestic air travel markets in Europe. These ranged from just 50% in Germany to 117% in Italy. An obvious follow-up is to look at the recovery rates for the leading international country-pairs involving European nations. Again, the analysis is done on the basis of looking at scheduled seat capacity for August 2022 and August 2019 as provided to Cirium by airlines.
UK-Spain still #1
By far the biggest international country-pair market in Europe this summer is UK-Spain. There are some 2.5 million seats each way between these two countries this month. That is over one million more than its nearest rival, Germany-Spain. Both of these markets have seen a recovery rate of between 85% and 90%. The top 15 country-pair markets have recovery rates that range between 73% (for Germany-Italy) and 131% (for UK-Turkey).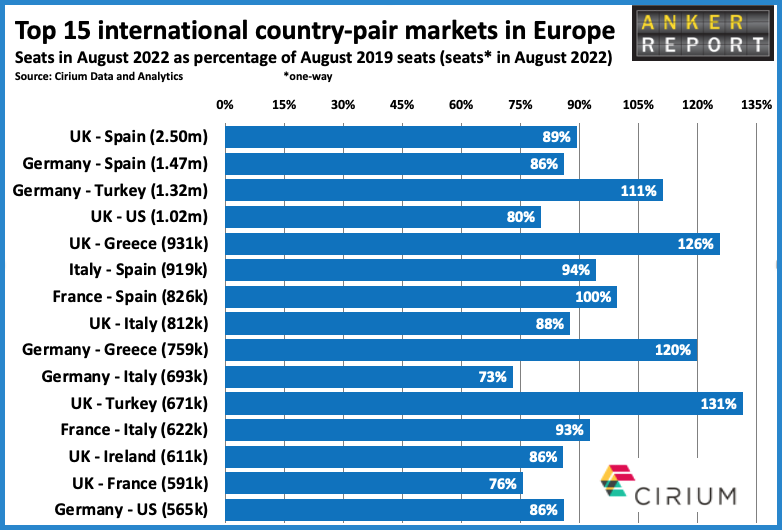 Four of the top 15 markets are experiencing capacity growth. In addition to UK-Turkey, UK-Greece (+26%), Germany-Greece (+20%) and Germany-Turkey (+11%) have all seen double-digit seat growth since August 2019.
Greece and Turkey dominate seat growth rankings
Looking at the country-pairs which have seen the biggest incremental increase in monthly seat capacity (versus August 2019), the top 11 all involve either Greece (six markets shown in pale blue) or Turkey (five markets shown in red). Leading the way with an additional 190,000 one-way seats is the UK-Greece market. This represents growth of 26% compared with three years ago.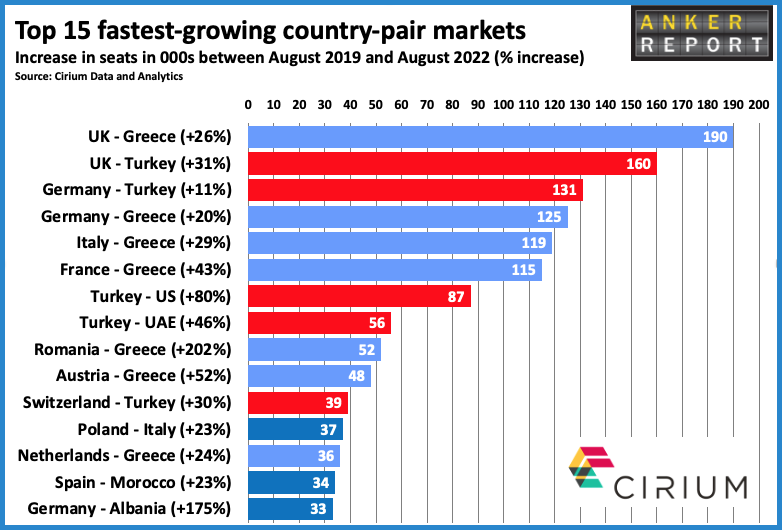 The airlines with the biggest increase in UK-Greece seat capacity are Jet2.com (+121k seats), easyJet (+93k), TUI Airways (+34k), British Airways (+28k) and Wizz Air (+16k). It should be noted, however, that the market lost 106k seats provided by now defunct Thomas Cook Airlines.
In the UK-Turkey market (up 31%), the loss of 139k Thomas Cook Airlines seats, was again more than compensated for by Jet2.com, Turkish Airlines/Anadolujet, easyJet, TUI Airways, Corendon, SunExpress, Pegasus Airlines, British Airways, Freebird Airlines and Wizz Air.
Among the top 15 country-pairs for additional capacity, the highest percentage growth rates were achieved by Romania-Greece (+202%), Germany-Albania (+175%) and Turkey-US (+80%). The Romania-Greece market has seen major capacity increases from Blue Air and Wizz Air, as well as, to a lesser extent, by Anima Wings and Ryanair. Germany-Albania growth has been driven by increased offerings from Wizz Air and Lufthansa. The Turkey-US market is currently a Turkish Airlines monopoly. Since August 2019 it has increased capacity on all existing routes and also added new links to Dallas/Fort Worth, New York EWR and Seattle-Tacoma.
France-Cyprus is biggest new country market
Looking at the largest country-pair markets that were not served back in August 2019, reveals that Albania is involved in four of the top seven biggest new markets. However, the biggest new country-pair market is between France and Cyprus. Details of the top seven new markets are shown below:
France-Cyprus: 13,560 seats – easyJet (CDG-LCA), Ryanair (BVA-PFO, MRS-PFO), Transavia (ORY-LCA), TUS Airways (CDG-LCA, CDG-PFO), Wizz Air (BVA-LCA)
Turkey-Mongolia: 8,791 seats – MIAT Mongolian (IST-UBN), Turkish Airlines (IST-UBN)
Poland-India: 8,568 seats – LOT Polish Airlines (WAW-BOM, WAW-DEL)
Switzerland-Albania: 7,074 seats – Air Albania (BSL-KFZ, ZRH-KFZ), easyJet (GVA-TIA), SWISS (ZRH-TIA)
Albania-Saudi Arabia: 6,800 seats – flynas (TIA-JED, TIA-RUH)
Albania-UAE: 6,520 seats – flydubai (TIA-DXB), Wizz Air Abu Dhabi (TIA-AUH)
Albania-Spain: 5,814 seats – Wizz Air (TIA-BCN, TIA-MAD)