Greenville-Spartanburg welcomes Avelo, but the US3 and hub flights remain vital to the airport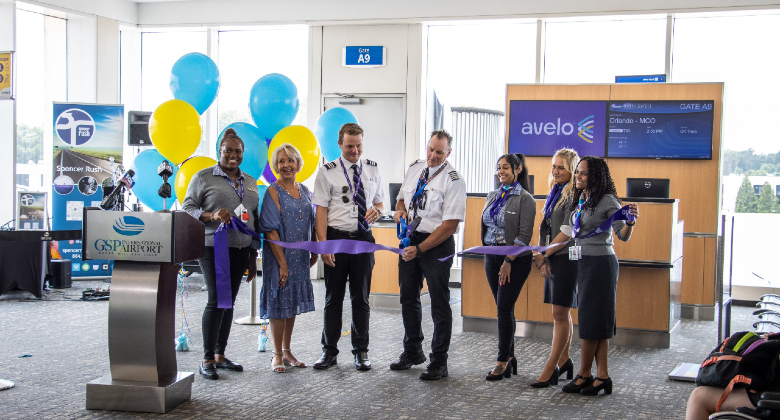 Greenville-Spartanburg (GSP) is one of six airports in South Carolina to have commercial passenger flights. According to GSP's own statistics, it welcomed 2.19 million two-way passengers in 2022, 16.1% lower than in 2019. Yet it was still its third best year to date. And in summer 2023, it benefits from the arrival of Avelo, a brand-new carrier at the airport.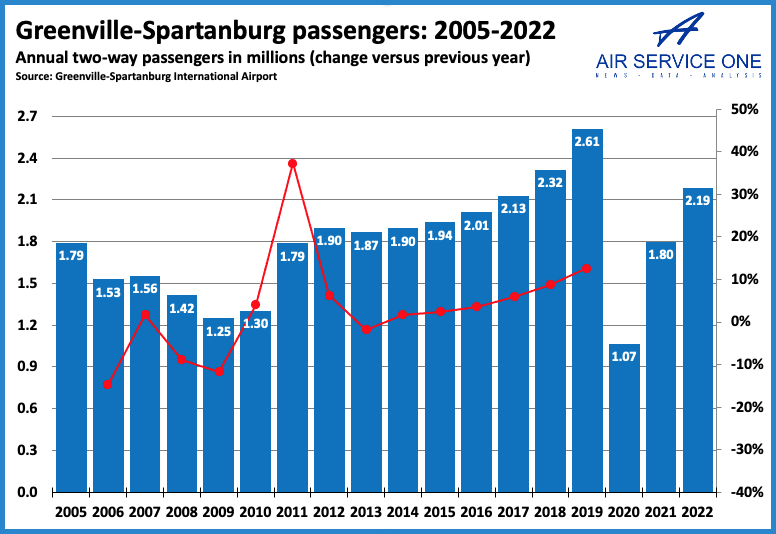 GSP welcomes Avelo
Avelo's first GSP flight left on 7 June 2023, linking the airport to Orlando MCO. Served on Mondays and Fridays, the Boeing 737 carrier competes directly with ATR-operating Silver Airways' flights on Tuesdays, Thursdays and Sundays. The difference in equipment means that Avelo's block time is 1h 25m against up to 2h 10m for Silver.
The 720-kilometre route has seen multiple other carriers, including AirTran between 1995 and 1998, Independence Air 2004-2005, Delta 2004-2008, Allegiant 2010-2011, Southwest 2011-2013, and Frontier between 2018-2020. Silver entered in 2021.
Avelo's MCO route will be joined by two others: Tweed New Haven on 22 June (2-weekly) and Wilmington DE also on 22 June (2-weekly). Not surprisingly, neither route has been served in the past 35 years, if ever.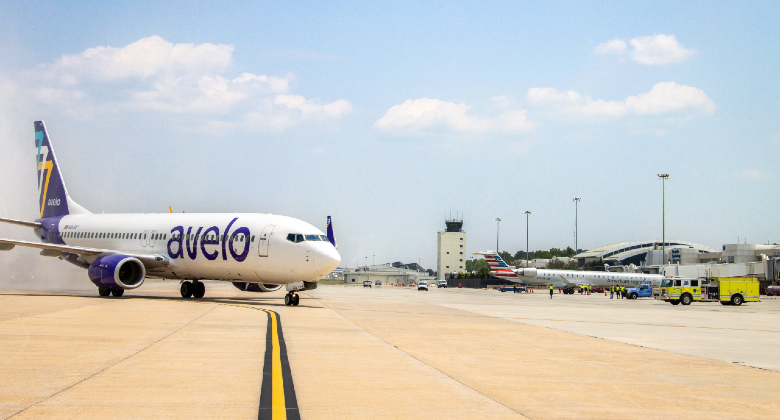 American is still GSP's leading operator
According to Cirium schedules information, GSP has 947,000 one-way seats this April-October, just 3.7% lower than in 2019. Then as now, American is the airport's leading carrier. It has more than a third (35.7%) of the capacity, increased marginally versus 2019 thanks to its virtual recovery (-0.20%). It has seven routes, more than any other carrier. These now include New York LGA, introduced on 5 May 2023 (13-weekly).
The arrival of Avelo (June 2023) and Silver (March 2021) helped to offset the loss of Frontier. The ULCC served GSP between September 2018 and May 2020 and had four routes: Denver, Las Vegas, Orlando MCO and Tampa.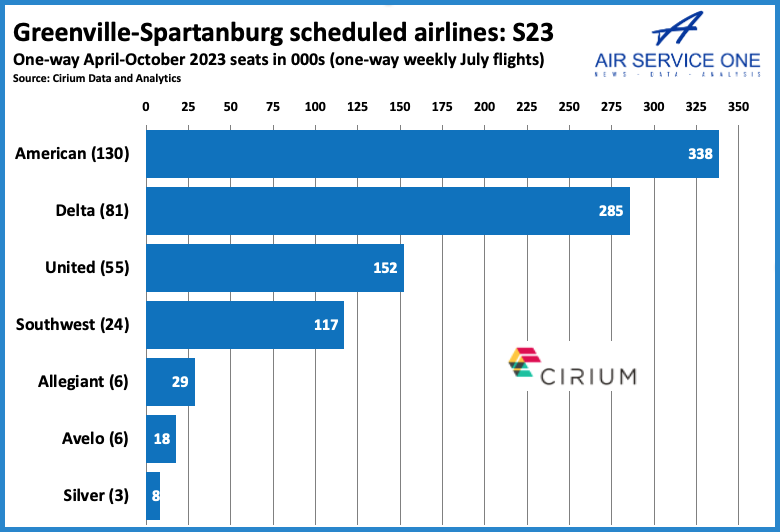 22 destinations, but hub flights remain vital
GSP's network comprises 22 destinations this April-October. Thanks to such a large presence by American, Delta and United, hub service remains crucial. More than three-quarters of capacity is to the trio's hubs alone.
Inevitably, nearby Atlanta (245 kilometres away) and Charlotte (120 kilometres) are GSP's leading routes; nearly one in two seats is to them. Delta has 49-weekly Atlanta flights in July, alongside 15-weekly by Southwest. American has 48-weekly to its Charlotte, North Carolina hub. Interestingly, American's big use of regional jets to Charlotte means seats per flight average 96. In contrast, Delta's has 143 to Atlanta, driven by mainline service – mainly the 737-900 this April-October.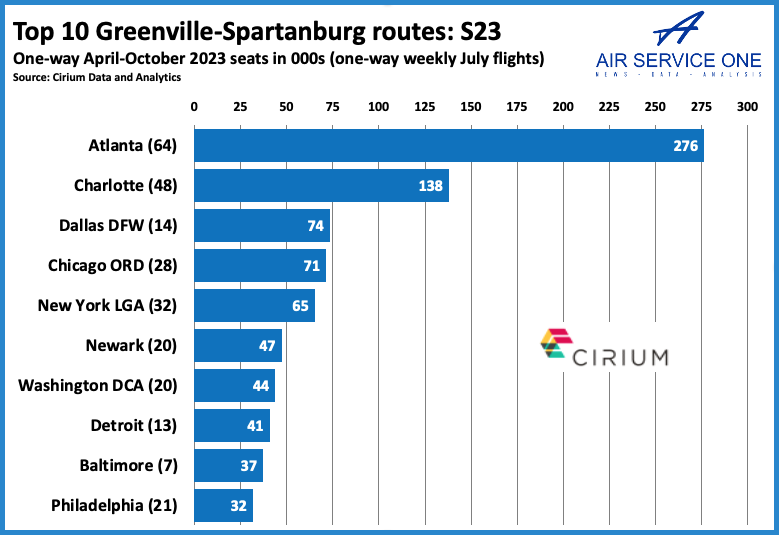 It has lost eight destinations in the past decade
Using Cirium to examine GSP's network changes since 2013 tells that it no longer has flights to these destinations:
Nashville: last served by Contour in January 2023
Washington IAD: United until March 2022
Jacksonville: Silver until January 2022
Las Vegas: Frontier until November 2019
Chicago MDW: Southwest until April 2016
Punta Gorda: Allegiant until January 2018
Cleveland: United until June 2014
Cincinnati: Delta until June 2013