Gulf Air has the largest European capacity in 17 years; launched four new destinations in the past year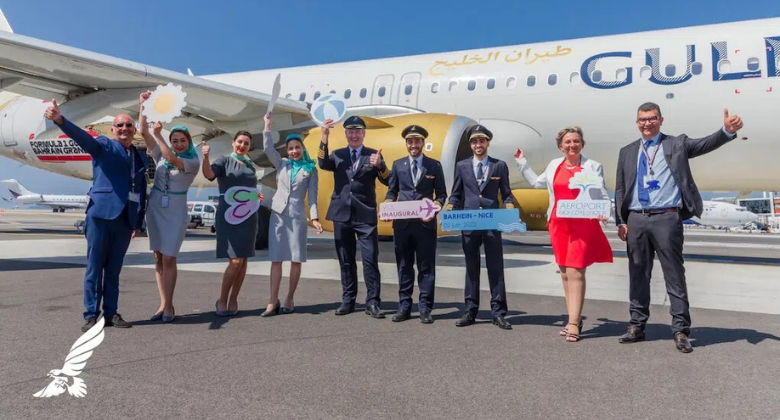 Gulf Air has a very long history of serving Europe, including when it was the flag carrier of other Middle East nations. Now focused on Bahrain, the carrier's share of the Middle East-Europe market is tiny. In the all-important July-September (Q3), it has 202,000 one-way seats, according to Cirium schedules information. While that is its highest capacity in 17 years, the overall market's huge expansion – a lot of which revolves around transfer passengers – has reduced Gulf Air's share to just 1.3%.
Europe capacity far exceeds pre-pandemic level
Gulf Air's share of the market hides that its Europe seats have risen by a more than half (+53.8%) since Q3 2019. In comparison, much larger Middle East operators have yet to recover: Etihad (-31.8%), Qatar Airways (-22.7%) and Emirates (-11.4%).
Nonetheless, the trio continue to dwarf Gulf Air: Emirates has nearly a fifth of the total market's available seats (18.6%) and Qatar Airways (11.4%). Only Etihad – no longer really part of the so-called 'Middle East Big Three' – comes close (3.9%), but even then is three times larger.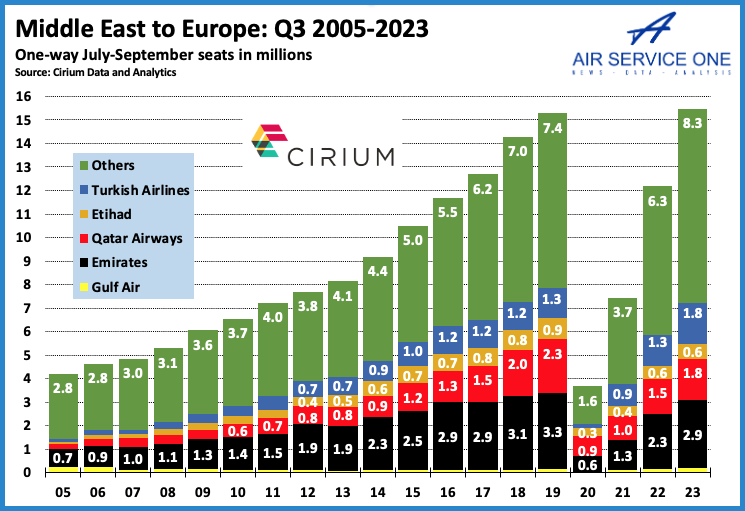 Gulf Air has added four European markets in 12 months
In the examined Q3, Gulf Air serves 14 European airports. While not a fair comparison, Emirates serves 39 (69 when partner flydubai is added), Qatar Airways 46 and Etihad 23.
Gulf Air's European network has risen from just eight destinations in Q3 2019. The Turkish tourist resort of Bodrum launched on 15 June 2023. In addition, Mykonos commenced on 2 July 2020, Manchester, Milan MXP and Rome FCO on 1 June 2022 and Nice on 2 June 2022. Some operate on a one-stop basis.
The Bahraini flag carrier revolves around London LHR and Istanbul IST, both of which are served 14-weekly in August. Yet because it only uses Boeing 787-9s to LHR, that market has by far the available seats. It is one of three airports – alongside Manchester and Malaga – to exclusively see Gulf Air's widebodies. In comparison, even Paris CDG is by the A321LR.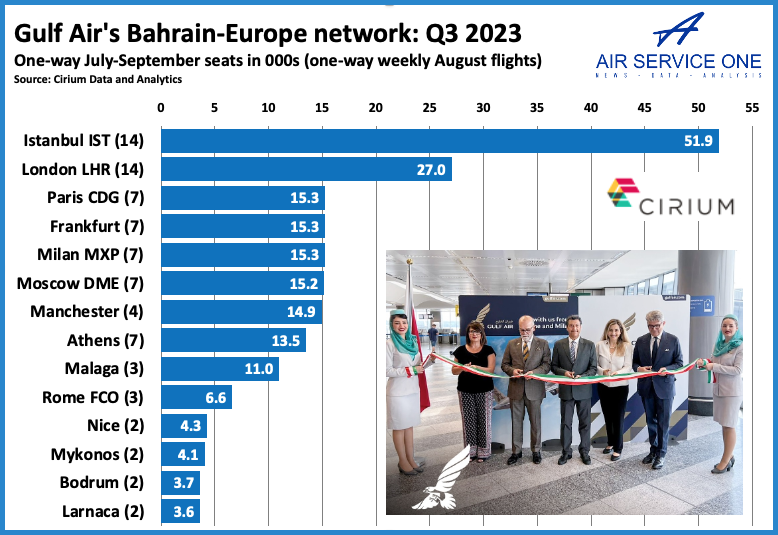 Four Europe routes have been axed
Using Cirium to analyse how Gulf Air's Bahrain-Europe network has changed in the past 20 years tells that it no longer serves four destinations. Dublin operated between October 2005 and June 2007; Geneva March 2011-February 2012; Copenhagen July 2011-February 2013; and, much more recently, Santorini between June 2021 and September 2022.