Halifax has added 10 new routes and two airlines since 2022; Porter passes WestJet to become the airport's #2 carrier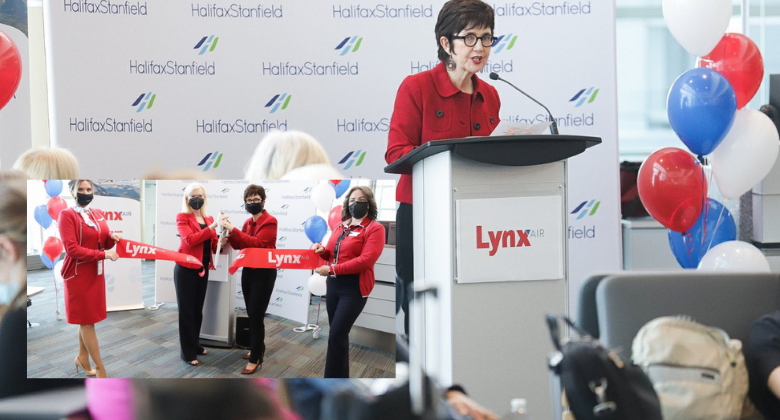 The capital and largest city in Nova Scotia, Halifax welcomed 3.10 passengers in 2022. As shown below, the airport's traffic in 2022 versus 2019 was, of course, dragged down by the domestic market, mainly because of reductions by Air Canada and WestJet. The transborder US market was the least recovered percentagewise (-78.1%), not helped by the exit of United and Delta. In contrast, other international traffic (excluding the US) was the best recovered. Indeed, in January-March 2023, this traffic source exceeded the pre-pandemic 2019 level by 9.5%.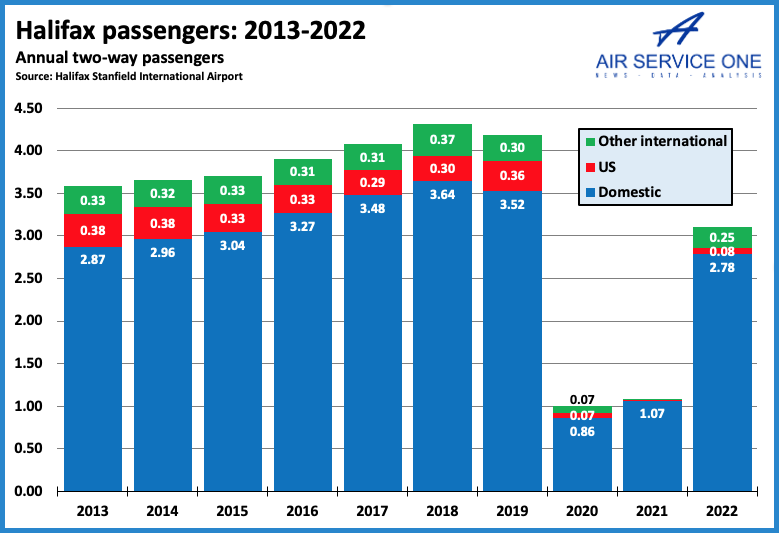 10 new routes and two new airlines
Halifax has seen many developments recently, including the launch of Lynx Air (June 2022) and Eurowings Discover (June 2022); the latter offers a second non-stop service to Frankfurt. Some 10 new routes have been introduced in 2022/2023. All of these have started and remain:
1 May 2022: Air Canada, Vancouver
4 June 2022: American, Boston
4 June 2022: American, Washington DCA
13 June 2022: Eurowings Discover, Frankfurt
30 June 2022: Lynx Air, Toronto YYZ
8 July 2022: Flair, Windsor
16 December 2022: Air Canada, Newark (replaced United)
24 February 2023: Porter, Toronto YYZ
8 June 2023: Flair, Quebec City
8 June 2023: Flair, London (Ontario)
According to Cirium schedules information data, Windsor has not been served from Halifax before, at least not in the past 20 years. Washington DCA was last served in 2014 by US Airways. London, 1,430 kilometres away in Ontario, had WestJet (2009) and its lower-cost subsidiary, Swoop (2019). Now it is back.
Porter overtakes WestJet for the second spot
Halifax has 1.47 million one-way seats in S23, 15.6% below S19. Much has changed. While Air Canada and WestJet were Halifax's leading two airlines for many years, Porter is now second, as shown below – although extremely marginally. The regional carrier's capacity has risen by 72.2%, from introducing Toronto YYZ (February 2023) and reintroducing Toronto YTZ (served briefly in 2019, and returned later). Flair's growth, albeit from a very low base, has seen it jump six places to fourth, overtaking Swoop.
Porter's rise was partly because of WestJet's decline, whose Halifax operation has reduced by nearly two-thirds. It has six routes in S23, down from 17 in S19. Then, even Dublin, Glasgow, London LGW and Paris CDG were served.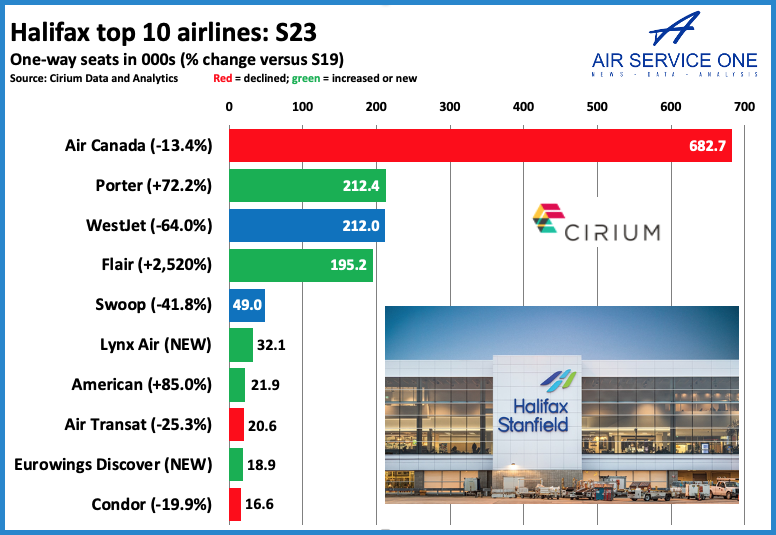 Europe routes enter Halifax's top 10
Analysis of Cirium data shows that Halifax has 35 non-stop destinations in S23. Some 17 are in Canada, along with seven in the US, four in Cuba, two in the Dominican Republic and one each in Germany, Jamaica, Mexico, Saint-Pierre and Miquelon (a French overseas collectivity) and the UK.
Naturally, Toronto YYZ remains overwhelmingly Halifax's leading market, as shown below. It has a third of the airport's capacity. In the first week of August, there are 97 one-way flights with Air Canada (55-weekly), Flair (14), Porter (14), WestJet (7) and Lynx Air (7). In the same week in 2019, only three carriers operated: Air Canada (74-weekly), WestJet (48) and Flair (2). Like many thicker Canadian markets, it has seen much new entry recently. This has helped seats per flight to rise from just 143 to 163, so the expansion by seat capacity.
Toronto is one of seven of Halifax's top 10 routes to have increased capacity versus S19. Notice Calgary, which has risen by a third. It is because of WestJet, whose reorientation towards its Alberta stronghold means that city, rather than Toronto YYZ, is now the airline's leading Halifax route.