Hamburg is Germany's fifth largest airport; Eurowings #1; airport has 30+ new routes this year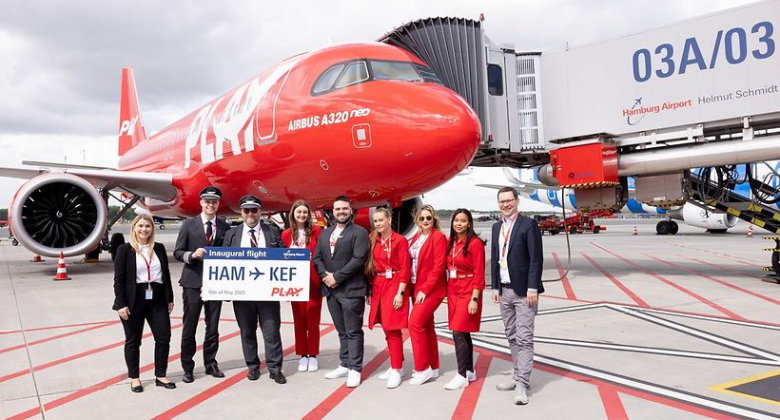 With a metro population of over five million people, Hamburg has non-stop flights to 120 destinations this summer. The airport has various new carriers this year: Iberia Regional (charters for cruise ships), Marabu, PLAY and Volotea. It also sees the return of Air Serbia and Norway's Widerøe.
11.1 million passengers in 2022
According to Air Service One's European Air Traffic Statistics, Hamburg welcomed 11.1 million passengers in 2022, down by more than a third (-35.9%) versus 2019. Its recovery was slower than Germany as a whole (-33.5%). Hamburg is still Germany's fifth-busiest airport, and only two larger facilities performed better: Frankfurt (-30.7%) and Munich (-34.0%). In the first three months of 2023, Hamburg had 2.4 million passengers, just under a third lower than in 2019.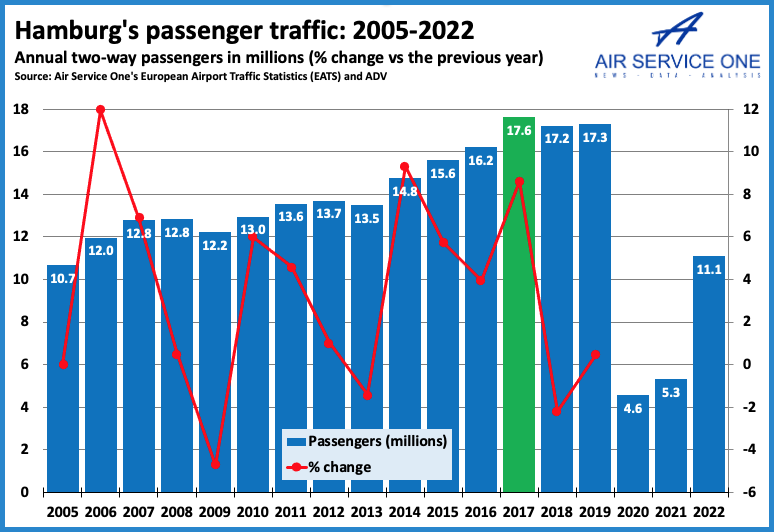 Eurowings is #1; has 30% of capacity
The crucial peak summer will see further improvement in Hamburg's recovery. According to Cirium schedules information data, airlines have planned 2.5 million one-way seats in July-September (Q3), 17.7% lower than in 2019.
Eurowings remains the largest carrier. It provides 30.0% of Hamburg's capacity, about three times more than Ryanair/Wizz Air; Ryanair has reduced considerably, as it has across Germany generally. When combined, all (U)LCCs account for nearly one in two of Hamburg's seats (46.7%) this Q3, nearly 18 percentage points higher than the country's (U)LCC rate.
Hamburg is Eurowings' fourth-largest airport. It has 59 routes this peak summer, four of which are domestic. Its international network comprises key outbound leisure destinations, along with big city (London, Paris, Amsterdam, Rome, Milan, and so on) and ethnic-driven markets (Kosovo, Morocco, Türkiye, Tunisia). In comparison, Lufthansa, which ranks second, has only its core Frankfurt and Munich services, the rest divested to Eurowings.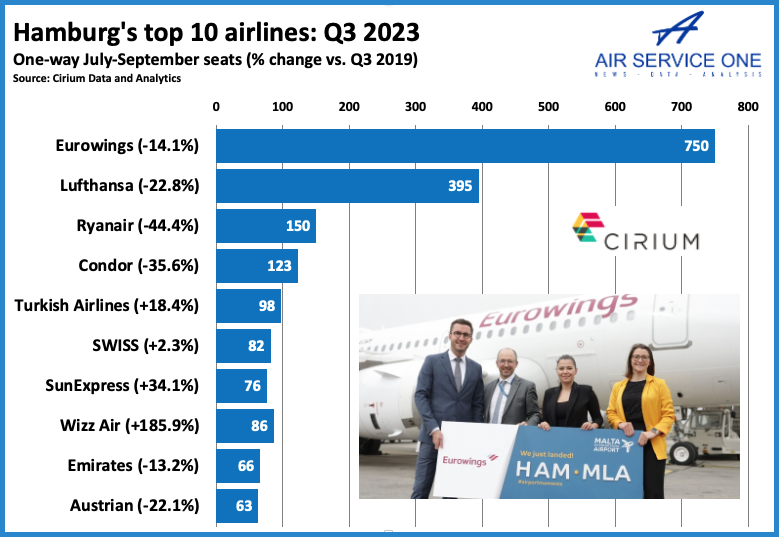 Frankfurt is the leading destination for capacity
With about 215,000 one-way seats in Q3, the short 410-kilometre service to Frankfurt is Hamburg's largest airport pair. Served by Lufthansa, it has 82-weekly flights in early August, with most passengers connecting onwards. Frankfurt is one of seven domestic destinations. Despite 40% fewer available seats than in the pre-pandemic period, the domestic market is Hamburg's biggest – even beating Spain. More than one in five seats is domestic.
Hamburg's only long-haul route – Dubai – is its 10th most served. Emirates has 66,000 departing seats and a 2-daily 777-300ER service. The last US operation was by United Airlines from Newark until October 2018. Before that, Emirates served JFK – routing Dubai-Hamburg-JFK – from October 2006 to March 2008. Hamburg remains NYC's largest unserved European market.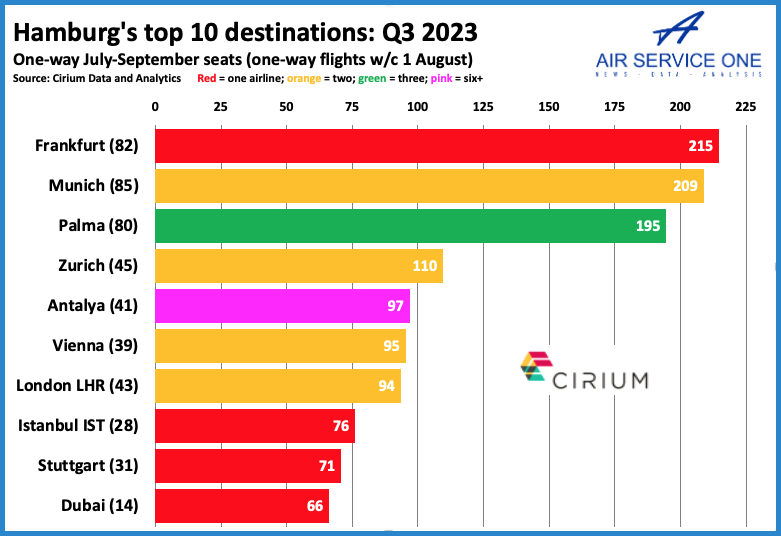 32 new and returning routes this year
Hamburg benefits from new non-stop service from various new places, including Graz, Nador and Kutaisi. It also sees the return of multiple other destinations, such as Florence (last served in October 2013), Lyon (July 2016), Tunis (October 2017), Tallinn (October 2018), Bordeaux (October 2019), Geneva (March 2020, Bergen (May 2020), and Malta (November 2020) – now with different operators. They are part of many new, or returning, routes this year, which – as of 21 May – comprise these
26 March 2023: SWISS, Geneva (4-weekly)
1 April 2023: Condor, Malaga (2-weekly)
5 May 2023: Eurowings, Graz (4-weekly)
7 May 2023: Eurowings, Keflavik (2-weekly); last served in September 2021
13 May 2023: Marabu, Chania (3-weekly)
13 May 2023: Marabu, Faro (3-weekly)
13 May 2023: Marabu, Hurghada (2-weekly)
13 May 2023: Marabu, Malaga (3-weekly)
13 May 2023: Marabu, Preveza (weekly)
14 May 2023: Eurowings, Malta (weekly)
14 May 2023: Marabu, Heraklion (6-weekly)
14 May: Marabu, Kos (2-weekly)
14 May: Marabu, Rhodes (2-weekly)
14 May: Marabu, Zakynthos (2-weekly)
15 May 2023: Air Serbia, Belgrade (3-weekly); last served in October 2019
15 May 2023: Marabu, Corfu (2-weekly)
16 May 2023: PLAY, Keflavik (3-weekly)
19 May 2023: Marabu, Gran Canaria (3-weekly)
22 May 2023: Marabu, Heraklion (6-weekly)
27 May: Marabu, Rome FCO (4-weekly)
27 June 2023: SunExpress, Ankara (weekly); last served in August 2018
3 July 2023: Vueling, Bilbao (weekly)
4 July 2023: Eurowings, Tunis (weekly)
5 July 2023: Eurowings, Nador (weekly)
7 July: Marabu, Tallinn (2-weekly)
8 July 2023: Eurowings, Adana (weekly); last served in August 2019
10 October 2023: Volotea, Bordeaux (2-weekly)
10 October 2023: Volotea, Florence (2-weekly)
10 October 2023: Volotea, Lyon (2-weekly)
30 October 2023: Condor, Agadir (2-weekly); last served in October 2019
10 December 2023: Eurowings, Tromsø (up to 2-weekly)
18 December 2023: Wizz Air, Catania (3-weekly)