Hannover is Germany's eighth busiest airport; easyJet, Ryanair and Wizz Air all absent as Antalya is #1 route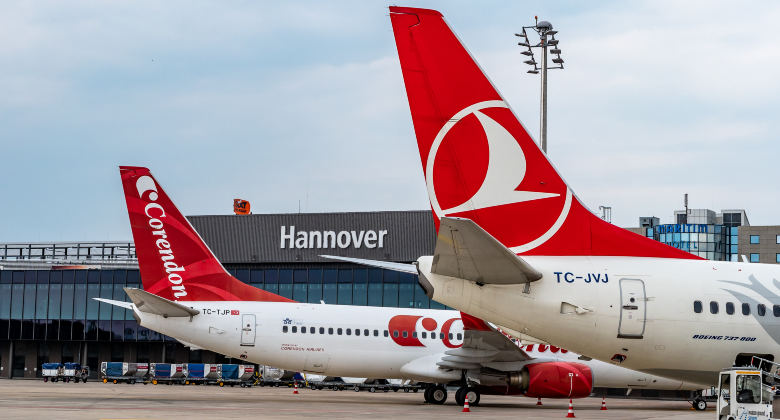 Last year, Hannover welcomed almost four million passengers, making it Germany's eighth busiest airport. Pre-pandemic, in both 2018 and 2019, the airport handled 6.3 million passengers, so last year's demand is still 37% lower than in 2019. With little stimulation from (U)LCCs, Hannover's share of the total German air travel market has fallen significantly from 3.8% in 1999 to just 2.4% in 2022. The spike in traffic in 2000 can be explained by the city hosting EXPO 2000, which attracted almost 20 million visitors. However, it was forecast to attract over double that number and was a financial disaster for the city.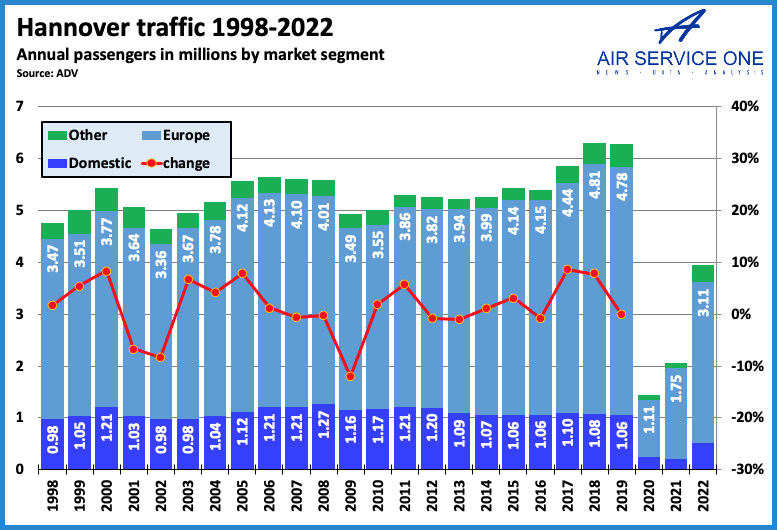 Any growth the airport has seen in recent years has come from international traffic rather than domestic. Traffic to and from other airports in Germany in 2019 was at virtually the same level as in 1999, whereas international traffic had increased by 35% during the same period.
The significant growth between 2016 and 2018 was driven by the growth of germanwings/Eurowings, Condor and the arrival of Wizz Air. However, since then, Condor and Wizz Air have withdrawn all their services from the airport and Eurowings has closed its base. Back in the summer of 2019, Eurowings was offering non-stop flights to 20 destinations from Hannover. Since opening a base in 2010 it had connected the airport to over 40 destinations across Europe.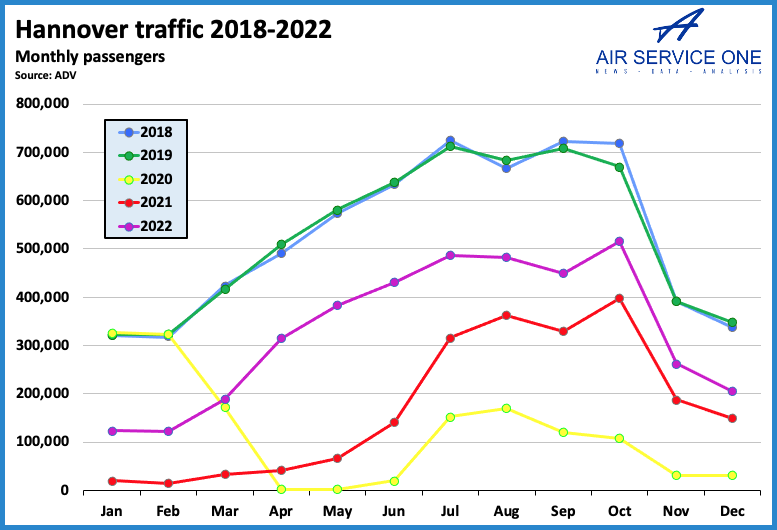 Still no sign of easyJet or Ryanair, Condor and Wizz Air have left
Hannover has so far never welcomed any services from either easyJet or Ryanair. Having also lost its Wizz Air services and seen Eurowings cut its presence this summer to just three routes (Palma de Mallorca, Pristina and Thessaloniki) the airport's only remaining services from LCCs are Volotea to Toulouse and Vueling to Barcelona. Leisure demand from the airport is catered for by a mix of Corendon Airlines, SunExpress and TUI fly Deutschland.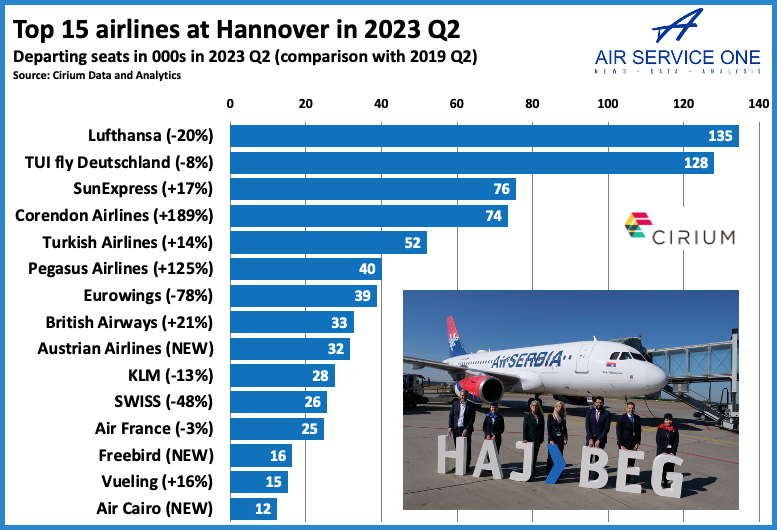 While Lufthansa only offers multiple-daily, non-stop service to its two hubs in Frankfurt and Munich, TUI fly Deutschland is flying to 21 destinations in July according to Cirium data. They are (weekly frequency in brackets):
Cape Verde: Boa Vista Island (1)
Cyprus: Larnaca (2)
Egypt: Hurghada (1)
Greece: Corfu (2), Heraklion (7), Kos (4), Patras (1), Rhodes (5)
Italy: Trieste (1)
Portugal: Faro (2), Funchal (2)
Spain: Fuerteventura (4), Gran Canaria (3), Ibiza (2), Jerez (2), Lanzarote (1), Menorca (1), Palma de Mallorca (10), Tenerife TFS (2)
Tunisia: Djerba (1)
Turkiye: Dalaman (2)
It is worth noting that TUI fly Deutschland has its corporate headquarters in Hannover. In July it will be operating from five German airports; Düsseldorf (65-weekly departures), Frankfurt and Hannover (both 56), and Munich and Stuttgart (both 41).
Air Serbia and Volotea new in 2022
Hannover welcomed two new airlines in 2022. Air Serbia began Belgrade service in June while Volotea operated a handful of flights from Cagliari and Venice VCE. SAS resumed service from Copenhagen in May 2022 for the first time since the pandemic started, while Aegean Airlines resumed flights from Athens and Thessaloniki which had last been offered in September 2020 and October 2019 respectively.
Looking ahead, a highlight for 2023 is likely to be the start on 15 April of a new 2-weekly service to Riga operated by airBaltic with its A220-300s. The carrier previously operated this route between December 2008 and September 2010. Another new route, launching on 21 April is Toulouse. Volotea will operate this route weekly, every Friday until 7 July, and then again from 1 September to 3 November. This will be Volotea's only route from the airport this summer.
Antalya is #1 route in summer
A look at the leading destinations from Hannover in July 2023 shows the importance of routes to Turkiye (shown in red) with four of the top 10 routes. Lufthansa's hub-feeding services to Frankfurt and Munich are second and third. Apart from those two German hubs, Hannover also has at least daily flights to Amsterdam, London LHR, Paris CDG, Vienna and Zurich, as well as Istanbul IST and Istanbul SAW in Turkiye.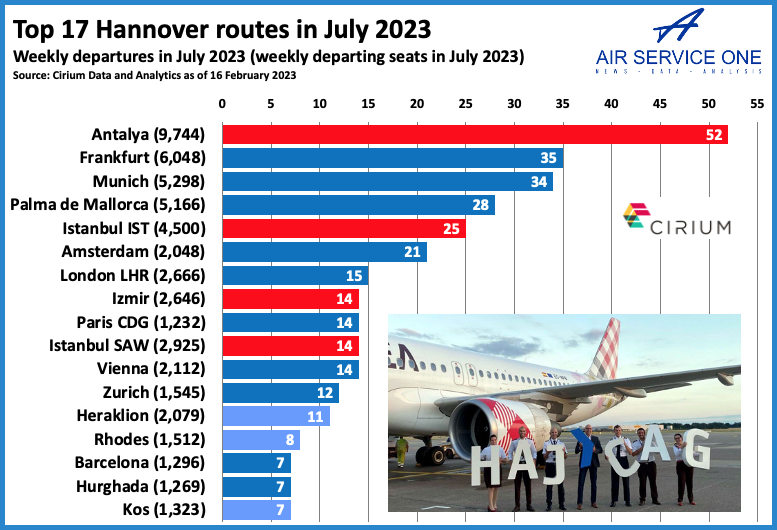 Notable gaps in the airport's network this summer are Brussels, Madrid, Milan, Oslo, Rome, Stockholm and any destinations in Poland. The nearest thing to a long-haul service is TUI's weekly service to Cape Verde in Africa.