Has European airline flight recovery peaked in the second week of August?
Analysis of Eurocontrol flight data for the second week of August, shows that there has been no overall improvement in flight recovery compared with the previous week. The number of aircraft movements has remained stable at 70.5% of the 2019 figure for a second week in a row. Does this suggest that this is as good as it is going to get for now? Among our basket of 12 airlines in the analysis, only three (easyJet, Ryanair and Turkish Airlines) improved their recovery percentage compared with the previous week, while the other nine airlines all showed a small decline.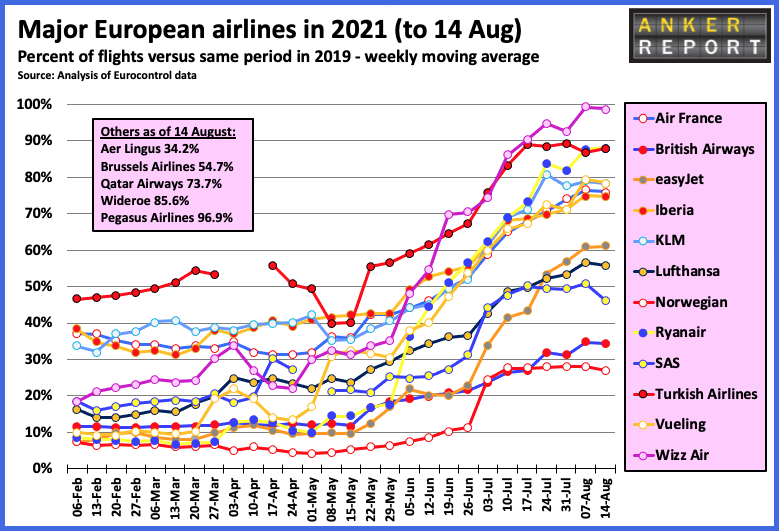 Top 10 airlines remain unchanged
As measured by actual flights operated, Eurocontrol data shows that Ryanair was again by far the busiest airline in terms of flights operated on Monday 16 August. The carrier had 2,362 flights, well ahead of Turkish Airlines (1,347), easyJet (1,212), Air France (904) and Lufthansa (823). Rounding out the top 10 airlines for flights, just as they did in the two previous weeks, were KLM, Wizz Air, Vueling, Pegasus Airlines and SAS. As last week, British Airways still ranked just 12th (with 355 flights) behind Aegean Airlines.
Amsterdam is busiest airport for flights
Looking at airports, Amsterdam with 1,054 movements on Monday 16 August, was just ahead of Istanbul IST (1,030), Paris CDG (937) and Frankfurt (936). Some way behind in fifth place is Madrid (762) just beating its Spanish rival Barcelona (751). Rounding out the top 10 are Palma de Mallorca (692), Athens (689), Istanbul SAW (642) and London LHR (621).