Heathrow climbs back to #5 among European airports in November; Istanbul's new airport still #1
For the fifth straight month, Istanbul's main airport was Europe's busiest in November, handling 3.84 million passengers. However, that is still 30% down compared with the same month in 2019. Its nearest rival last month was Paris CDG with 3.35 million passengers, 41% fewer than it handled two years earlier. In October, the French airport had ranked only sixth in Europe, thus also making it the (joint) biggest climber within the top 15.
Antalya, which ranked second in October with over 3.8 million passengers, has fallen all the way to 19th in November with just 1.23 million passengers. Another popular holiday destination, Palma de Mallorca, has also dropped out of the top 15. The Spanish airport, which ranked 12th in October has fallen outside the top 30. Replacing Antalya and Palma de Mallorca in the top 15 are Oslo (up from 21st to 14th) and Dublin (up from 24th to 15th).
Madrid and Paris ORY also up four places
After ranking seventh in September and October, Madrid has climbed four places to third in November. However, the battle for third place was extremely tight with only 42,000 passengers separating Madrid in third and London LHR in fifth, with Amsterdam squeezed in between. Heathrow, which had fallen as low as 17th in June, continues its steady climb back up the rankings, from eighth to fifth. Also making progress last month was Paris ORY, which climbed from 14th to 10th in a good month for French airports.
For the first time since the pandemic started there were no Russian airports in the top five, with Moscow SVO falling from fifth to seventh. Moscow DME maintained its position in 11th. Two other Russian airports, St. Petersburg and Moscow VKO, ranked just outside the top 15 in 16th and 17th.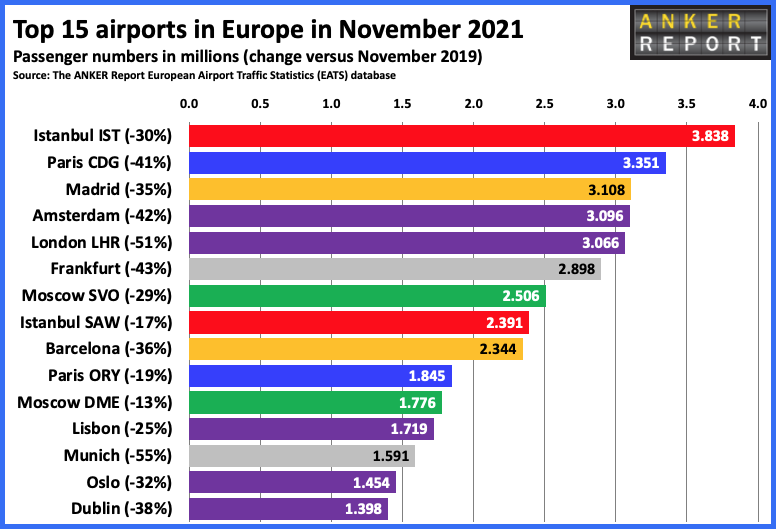 Among the top 15 airports last month, there were two each located in France, Germany, Russia, Spain and Turkey. The remaining five airports were in Ireland (Dublin), the Netherlands (Amsterdam), Norway (Oslo), Portugal (Lisbon) and the UK (London LHR). Just outside the top 17 are Copenhagen in 18th place (1.32m), just ahead of Antalya and Athens. In October, the 15th busiest airport handled 1.86 million passengers. For November this has fallen to 1.40 million, which is to be expected given the seasonality of demand in Europe.
Spain closing on Turkey for recovery rate in November
Tracking the recovery of traffic across Europe's six biggest travel markets shows that Turkey's recovery appears to have stalled in recent months at around 80% of pre-pandemic traffic. While Turkey's recovery faltered in November compared with October, France and Spain both reported data that showed an improvement in the rate of recovery. However, German airport data for November shows that traffic is still down almost 50% compared with November 2019. Although many Italian airports have reported November traffic, Rome's two airports have not (according to Assaeroporti), resulting in no overall recovery figure being available. There is also insufficient data to make an accurate estimate for UK airports in November, though its seems likely that the UK will be around the 50% mark as well.
November passenger data has currently been collected for over 330 airports across Europe. To see this, and traffic data on over 400 European airports for previous months in 2021, check out the European Airport Traffic Statistics (EATS) file which can be accessed via this website's home page.