Heathrow was Europe's top airport in 2022 Q4; JFK, Dubai, Dublin top routes; Cincinnati, Knock coming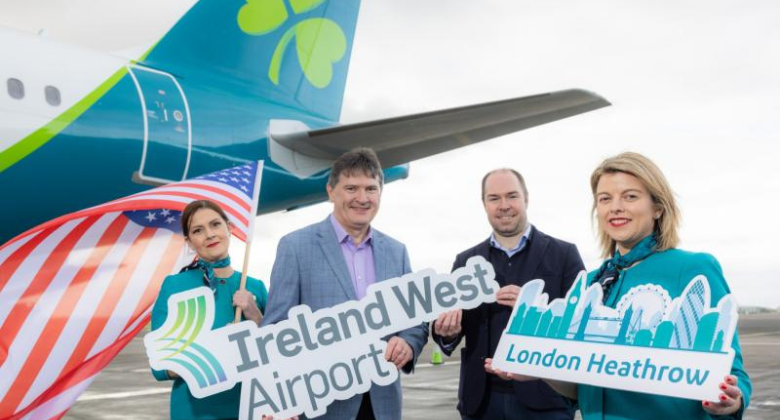 In 2019 London's Heathrow Airport was Europe's busiest, welcoming 80.9m passengers. This was almost five million more than Paris CDG (76.2m) and nine million more than third ranked Amsterdam (71.7m). However, UK air travel was more severely impacted than other European countries when the pandemic struck in 2020 and Heathrow slipped to third that year with 22.1m passengers, behind Istanbul IST (23.3m) and Paris CDG (22.3m). In 2021 Heathrow fell all the way back to 10th place with 19.4m passengers, well behind Istanbul IST (37.0m), two other Turkish airports as well as two Moscow airports.
Fortunately, things returned to a more normal situation last year with Heathrow back up to second place with 61.6m passengers, only beaten by Istanbul IST (64.3m). During the last quarter of 2022, Heathrow (17.4m) was actually busier than Istanbul IST (16.9m). It will be interesting to see who comes out on top in 2023. In January, Istanbul (5.65m) was once again busier than Heathrow (5.48m).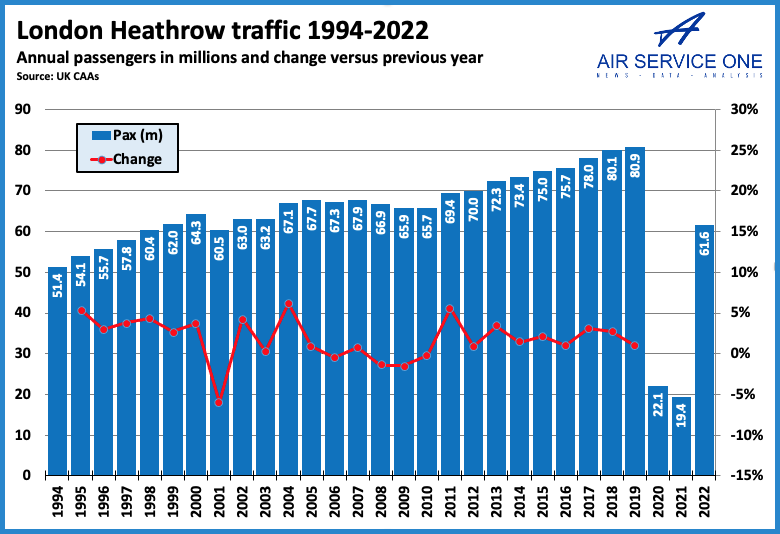 Despite taking 14 years to go from 60 million annual passengers (in 1998) to 70 million (in 2012), it only took a further six years to reach the 80 million passenger mark. Whether Heathrow ever reaches 100 million annual passengers may depend on whether the proposed third runway ever gets built and how aviation is viewed in the coming years with regard to climate change issues.
Heathrow versus Istanbul IST
For most of 2022, Istanbul's new airport was Europe's busiest in terms of monthly passengers. However, Heathrow, traditionally Europe's busiest airport managed to outperform the Turkish airport in April, November and December.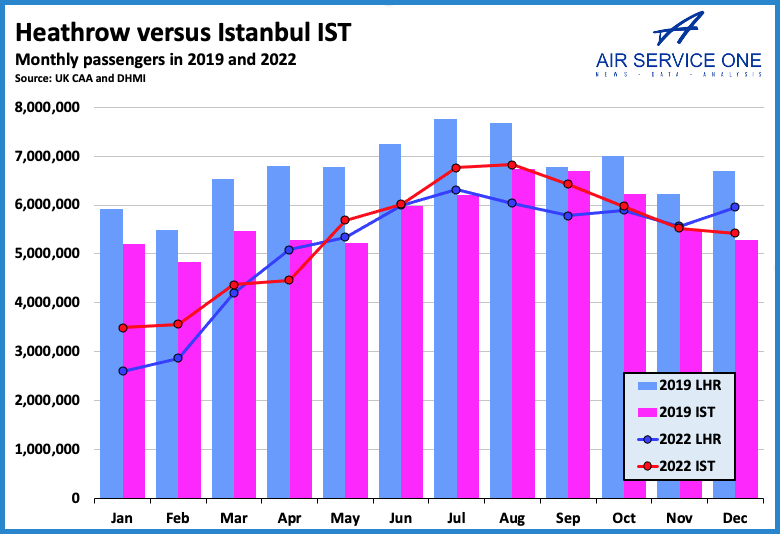 Heathrow's demand typically peaks in July, while Istanbul's peak is slightly later in August. Compared to many airports across Europe, both have fairly stable levels of demand across the whole year (based on 2019 data).
JFK and Dubai are leading routes
One thing that hasn't changed at Heathrow since 2019 is the top three routes; New York JFK, Dubai and Dublin. However, while New York and Dublin capacity was still down around 20% across all of 2022, Dubai capacity was up 2% versus 2019. Doha has moved up from eighth to fourth during the same period.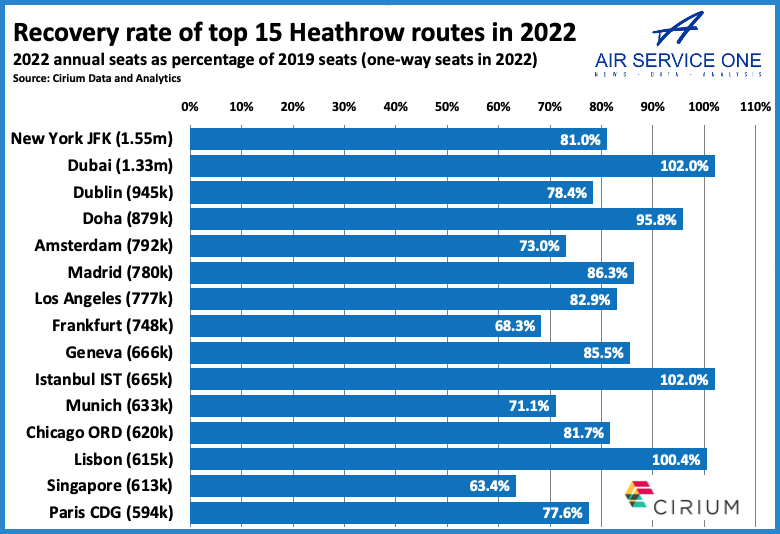 Apart from Dubai, other airports in the top 15 showing capacity growth are Istanbul IST (+2.0%) and Lisbon (+0.4%). Just outside the top 15, Delhi (+5%) and Athens (+10%) had more impressive capacity growth. Across all routes capacity was down 21%, flights were down 22% and ASKs (Available Seat Kilometres) were down 24%, primarily as a result of the slow recovery in long-haul routes to Asia.
Multiple new destinations now served
With the upheaval caused by the pandemic, airlines launched a number of new routes which also included new destinations. Analysis of Cirium data reveals that among the cities served non-stop from Heathrow last year which were not served non-stop in 2019 are Bergen, Bermuda, Catania, Dalaman, Darwin, Dubrovnik, Funchal, Jersey, Naples, Nuremberg, Orlando MCO, Porto, Thessaloniki and Tirana.
This year will see the addition of flights to Cincinnati (starting in June with British Airways), Florence (starting 16 April with British Airways) and Knock (starting at the end of March with Aer Lingus).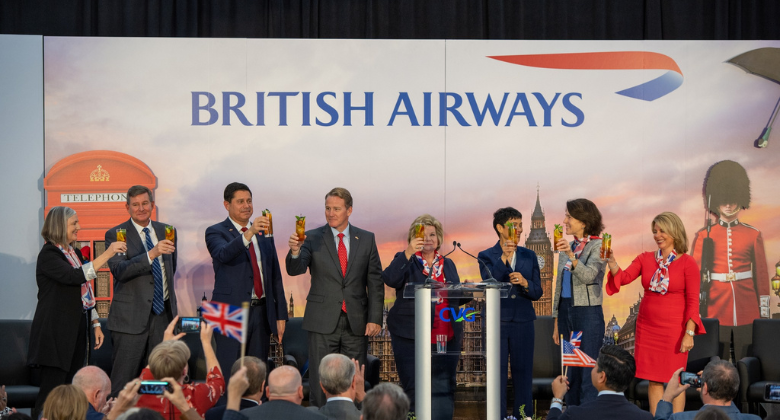 British Airways share of seats below 50%
Clearly, British Airways is the dominant carrier at Heathrow, although its share of seat capacity has fallen slightly from 46.7% in 2019 to 45.6% in 2022. Virgin Atlantic remains second, but has increased its share of capacity from 4.6% to 6.3% after closing its Gatwick operations and moving all flights to Heathrow after the pandemic struck.
Rounding out the top 10 carriers in 2022 were American, United, Aer Lingus, Emirates, Lufthansa, Qatar Airways, SAS and Air Canada. Of these carriers, only Emirates increased capacity (by 6%) versus 2019. Other airlines to increase capacity at Heathrow between 2019 and 2022 include Air India, Iberia and SAUDIA.
Vistara leads 'new' airlines
According to Cirium data, several airlines that were not present at Heathrow in 2019 were offering flights at the London hub in 2022. Measured by annual seats they were led by India's Vistara, followed by Romanian-based Blue Air (which has now ceased all operations), US carrier JetBlue, Canadian carrier WestJet, Greek carrier Sky Express and Norwegian regional airline Widerøe.
Conversely, several airlines operating at the airport in 2019 were not present for various reasons in 2022. These included Air New Zealand, Jet Airways, Shenzhen Airlines, South African Airways, Tianjin Airlines and Vueling. As a result, over 80 airlines served Heathrow in 2022. Looking at current data for 2023, Shenzhen Airlines looks set to return with flights from Shenzhen. Otherwise, there are currently no 'new' airlines expected in 2023.