Here we go again. British Airways reveals plans to take on easyJet at Gatwick next summer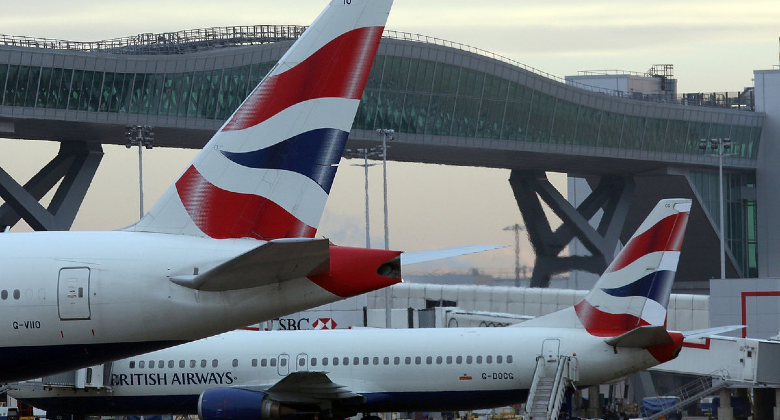 Having basically abandoned its second London hub at Gatwick at the start of the pandemic, British Airways (BA) has announced that it will be resuming short-haul services from the airport next summer, but only after negotiating new deals with unions to drive down costs. This will, hopefully, make the UK flag-carrier more competitive with easyJet, which has been the leading carrier at the airport since 2008.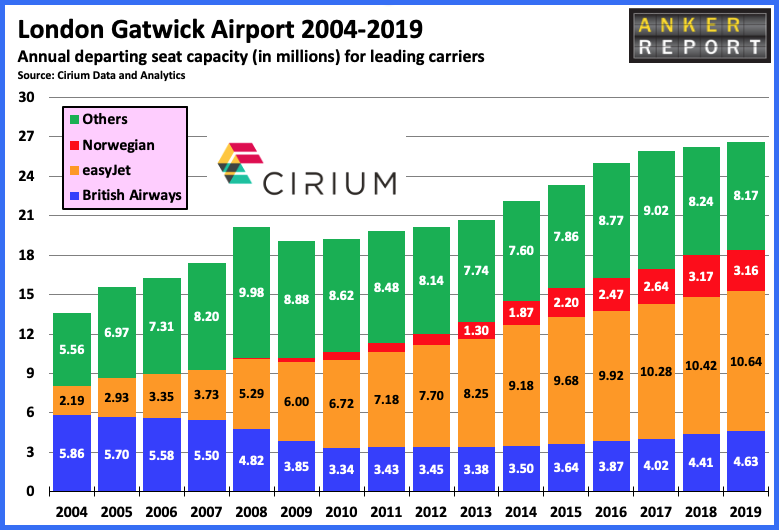 Last summer, BA transferred some of its Gatwick routes to Heathrow, leaving just a handful of long-haul services operating from the airport. These were mostly to destinations in the Caribbean, Mauritius and Mexico. This winter has seen the further resumption of long-haul routes to Barbados, Costa Rica (San Jose), the Dominican Republic (Punta Cana) and the US (Orlando from 19 November and Tampa from 15 November), as well as taking over the Doha route from fellow oneworld carrier Qatar Airways on 9 December, and resuming daily domestic flights to Glasgow on 24 September.
Long-haul routes dominated ASK rankings in S19
BA has always offered a range of long-haul services from Gatwick and figures for August 2019 show that in terms of ASKs (Available Seat Kilometres), 13 of the airline's top 15 routes at the airport were long-haul services. These included five US routes (shown in blue), five to the Caribbean (shown in green) as well as Cancun (Mexico), Lima (Peru) and Mauritius. The only two European routes to make the top 15 were Faro and Malaga.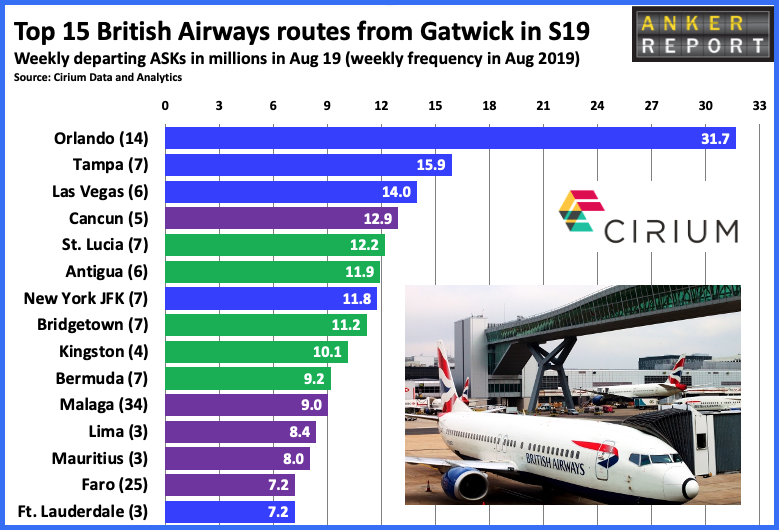 35 short-haul routes announced
BA has so far announced 35 European (and North African) international routes that will operate from Gatwick next summer. All routes are set to launch between 29 March and 4 May 2022. They are spread across 12 countries.
Croatia: Dubrovnik
Cyprus: Larnaca, Paphos
France: Bordeaux, Nice
Germany: Berlin
Greece: Athens, Heraklion, Kos, Rhodes, Santorini, Thessaloniki
Italy: Bari, Cagliari, Catania, Milan MXP, Turin, Venice VCE, Verona
Malta: Malta
Morocco: Marrakech
Netherlands: Amsterdam
Portugal: Faro
Spain: Alicante, Gran Canaria, Ibiza, Lanzarote, Madrid, Malaga, Menorca, Palma de Mallorca, Seville, Tenerife TFS
Turkey: Antalya and Dalaman
The only destinations not previously served by BA from Gatwick (in S19) are Berlin, Milan MXP and Santorini. BA had launched daily flights to Milan BGY in September 2019, but seems to have decided to redirect the Milan service to Malpensa for next summer. Compared with August 2019, the following destinations have not been reintroduced from Gatwick:
Albania: Tirana
Algeria: Algiers
Austria: Salzburg
France: Limoges
Gibraltar: Gibraltar
Italy: Genoa, Naples, Rome FCO
Portugal: Funchal, Porto
Spain: Almeria, Bilbao
However, of these, Gibraltar was served by BA from London LCY and London LHR this summer, while Funchal, Naples, Rome FCO and Tirana were served from Heathrow. Of the remaining destinations, Algiers, Bilbao, Porto and Salzburg are being served by BA from Heathrow this winter. Limoges is set to be a new route for BA from Southampton starting next May, which just leaves Almeria and Genoa as currently unserved by BA, either now or next summer. Almeria is served by easyJet from Gatwick, while Genoa is served by Ryanair from Stansted.
easyJet likely to compete on all 35 routes
Of the 35 routes announced, easyJet was operating 33 of them in August 2021. The airline's Seville service resumed in September, while Dalaman flights, which did operate in S20 but not S21, are set to resume at the start of S22. As a result, it seems that BA will be competing with easyJet on all of its European routes next summer. As if that were not enough, TUI Airways is also likely to be offering flights to many of the same destinations, while Ryanair serves Alicante and Malaga, and Wizz Air serves Athens, Lanzarote, Malaga, Malta and Tenerife TFS. Additional carriers may also be competing on one or more routes.
Having abandoned short-haul flying from Gatwick for two years it will be interesting to see how BA attempts to entice back its previous customers or attract new ones.