Houston Airports Experiences Significant Expansion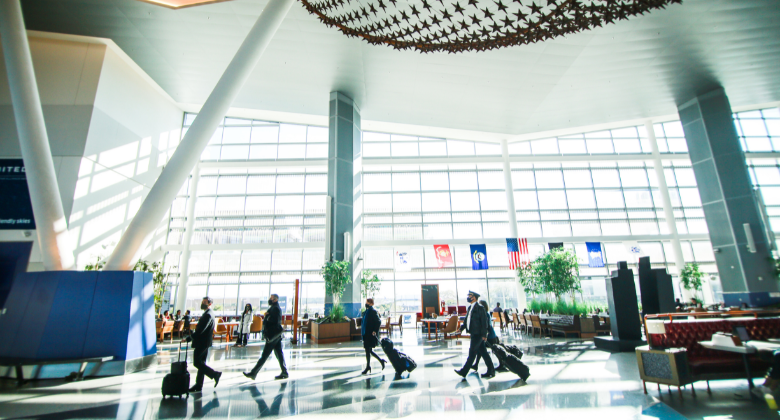 Change is coming to Houston Airports in the form of the most significant expansion in the history of George Bush Intercontinental Airport (IAH).
The 4-Star Skytrax-rated airport is preparing to welcome guests into a substantial section of its new Mickey Leland International Terminal (MLIT) that has been constructed through the IAH Terminal Redevelopment Program (ITRP). Not only is the program the most significant expansion in the history of Bush Airport, it is the largest capital improvement project for Houston Airports with the inclusion of four significant developments: a brand new International Central Processor; a replacement of the international baggage screening facility; a renovation of the Terminal D concourse; and the addition of a new concourse in Terminal D, called the D-West Pier. Renovations to Terminal D and the construction of the Terminal D-West Pier are projected to be completed in late 2023.
With an array of world-class shops, bars and restaurants, the additional space in the new D-West Pier will make way for 10 narrow-body aircraft and include the airport's ability to accommodate 6 wide-body aircraft simultaneously to significantly expand the airport's global reach. Thoughtful design and furniture will make Terminal D inviting, comfortable and inclusive for more passengers.
Beyond the new Terminal D-West Pier, Houston Airports is making additional investments to help broaden its reach. In 2022, Houston Airports received $43.6 million in federal funding to upgrade its domestic terminals. This grant money will fund projects to modernize curbside access and loading bridges, and improve energy efficiencies, ticketing, security screening, checkpoints, baggage systems and gates.
Houston's 5-Star Skytrax-rated William P. Hobby International Airport (HOU) is also working on expanding its West Concourse with the addition of seven new gates. In addition to offering more flights and more destinations at Houston's second busiest airport, Hobby Airport is seizing the opportunity to incorporate unique and exciting dining and retail options while also offering more artists a chance to showcase their talents in the terminal. The gate expansion, complemented with supporting roadway, utility, and airfield infrastructure, will provide the increased capacity required to respond to growing demands.