IATA panel discussion: Another brick in the wall – the role of destination marketing and incentives in restoring demand for air travel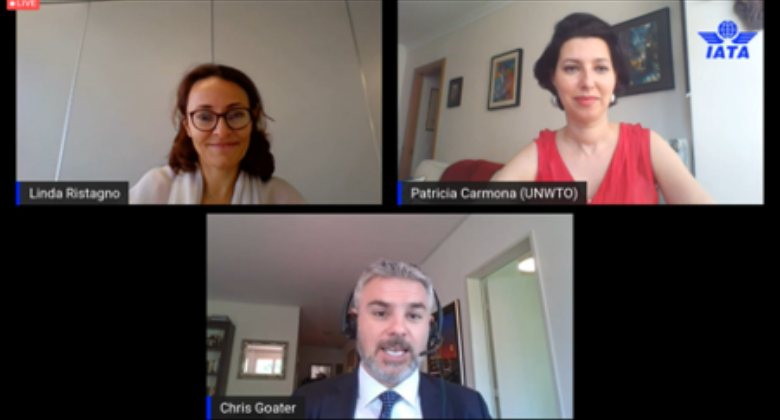 While the news on vaccines suggests that there is some light in ending the COVID-19 pandemic, aviation is not expected to recover to 2019 levels until 2024. IATA forecasts that less than 50% of 2019 traffic levels will be recovered by mid-2021, and it is this scenario which makes it essential for aviation and tourism industries to align and make the most of the opportunities as they present themselves, with the reopening of markets and health protocols helping to re-stimulate demand and allow consumer confidence to return.
During the panel discussion 'Another brick in the wall – The role of destination marketing and incentives in restoring demand for air travel' which was chaired by Chris Goater, Head, Corporate Communications at IATA, Linda Ristagno, Assistant Director External Affairs, IATA, and Patricia Carmona, Senior Specialist, Market Intelligence & Competitiveness, United Nations World Tourism Organization (UNWTO) discussed how both organisations are working with stakeholders to provide a reliable source of destination status and what governments, tourism authorities and destination marketing organisations can do to stimulate air travel demand and reduce commercial risk during the restart.
The COVID-19 crisis has highlighted the global importance of the travel and tourism industry economically, as well as its interconnectedness with other industries. Border restrictions, lockdowns, and social distancing have impacted everyone in the industry, from major airlines to tour operators to multinational hotel chains. "To put into context the effects of the pandemic, the number of international tourist arrivals in 2021 in Q1 saw an 88% decrease versus 2019. It gives a clear picture of how the pandemic has damaged the tourism sector," commented Carmona. What was highlighted by Carmona was that we do not know yet if the short lived trends around travel are here to stay, but it is clear tourism will not be the same after the pandemic. "Changes seen are here to stay, or will be here but in a lesser degree than present," adds Carmona.
IATA has worked closely with UNWTO to create a destination tracker tool that profiles states with information on what country is open, what is available for tourists and what services are up and running. The scope of the tool is to support the restart of the national economies by helping boosting tourism demand in those countries that are ready to open to travel and tourism. "A UNWTO and IATA partnership outcome, we update the tracker daily with information from different sources, some of which are from IATA," confirms Carmona. Information shown on the tracker includes heath indicators by country (vaccination and infection rates), air travel (including current traveller restrictions, latest changes and current regulations), destination information and what rules are in place, the latest regulations and further analysis on other measures.
"IATA's involvement is the result of a long collaboration which we started a year ago about what data we could provide to members, states and travellers," informs Ristagno.
UNWTO is sourcing the tool from various sources including direct inputs from focus points in states for what concerns the regulatory perspective. This means it is fundamental that states update the system systematically, mostly now that the requirements are in constant change.
"The important component for us is that information is fed by real-time data on the latest information which helps IATA's members know the situations in different countries. IATA is focused on opening borders, but once they're open, we want passengers to go to these destinations. As we see business travel launching later than tourism, we need to work with these organisations to help get travellers flying again. We need the countries to upload the data into the tool to allow this to happen," implied Ristagno. "We think it will be extremely important that airlines make use of this tool, which they can promote on their websites. We have this information everywhere, available on multiple sources, but we are able to bring all this global data together to one place."