IATA panel discussion: The challenge of reopening borders and the role of digital health passes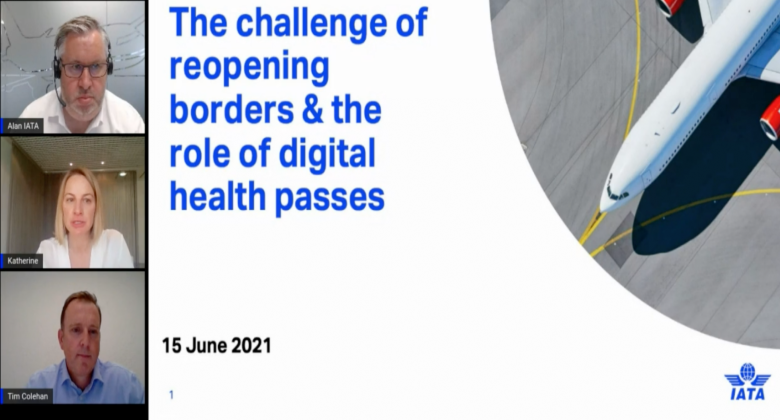 "Latest international traffic figures from April show that traffic remains down almost 90% versus the same period before the pandemic in 2019. While some countries are racing ahead with vaccines, others won't get them for some time," comments Katherine Kaczynska, Assistant Director Corporate Communications, IATA during the opening remarks to the fireside chat about the challenge of reopening borders and the role of digital health passes. "We continue to see the terrible impact of new waves of COVID-19 and new more transmissible variants, and border restrictions remain in place in many countries," she adds. Joining Kaczynska for the discussion were IATA's Head of Airline, Airport & Security, Alan Murray Hayden and Assistant Director Government & Industry Affairs, Tim Colehan. Colehan is coordinating IATA's global advocacy on reopening borders and Murray Hayden is leading the work on development of the IATA Travel Pass. The session had two main objectives, to firstly present a clearer picture about IATA's advocacy approach, how it is prioritising its efforts, how it's doing and where it thinks the industry will be by the end of 2021. Secondly, develop a deeper understanding that by verifying the COVID-19 status of travellers by using tools such as a digital passes, like the IATA Travel Pass, are critical not only because they give governments confidence that they are mitigating the importation of the virus, but how they help to avoid airport terminal capacity issues which would otherwise hold back the restart of aviation. "The issue for the industry is that it wants to restore international connectivity, but governments are focused on reducing domestic spread, which means tight restrictions or border closures," informs Colehan. "We have a group of countries that have the vaccine rollout underway and are planning the reopening process, so you also have the risk of different situations in different nations." Commenting further on how IATA is working with governments to try and establish international connectivity again, Colehan highlighted that: "Wherever a country is in the vaccine rollout, what we do know is that they will all want to reconnect with the world eventually. Our advocacy approach is focused on 33 key states which represent >80% of global traffic, with an aspirational target of having 60% open without restriction including quarantine by the end of 2021." Of the 33 large markets observed by IATA that together represent >80% of global traffic, 7.93% (weighted by market size) at present are fully open to visitors without the need to quarantine.
The process needs to change quickly
"Passenger processing and waiting times have increased by 100% versus 2019, yet volumes are only at 30% of pre-pandemic levels," informed Murray Hayden. "Without urgent improvement, processing delays could reach 5.5 hours per trip at 75% of pre-COVID-19 traffic levels, and 8.0 hours per trip at 100% pre pandemic levels." It was highlighted that one way to improves this is by processing passengers before they arrive at the airport and allow them to go through the airport like they did pre-COVID, which can be done with the IATA Travel Pass. "Travel Pass is based on the concept of the digital passport, and it involves a passenger uploading a digital version of their passport, but they take that with them to get tested, and the test result is uploaded direct from the lab, meaning that the passenger cannot interfere with the result," comments Murray Hayden as he discusses how the app allows and eradicates the need for constant documentation checks and procedures currently in place at airports, while it also further reduces customer contact points. "It has been in trial mode since February, and we're now in a situation that we can include vaccine information which will be going live in the next day or two." Murray Hayden also commented that a number of airlines that have been using the app in the trials and are ready to advance the technology across their network, having tested it on a few routes in the past few weeks and months.