IATA panel discussion: The forecasters panel – views of what a recovery could look like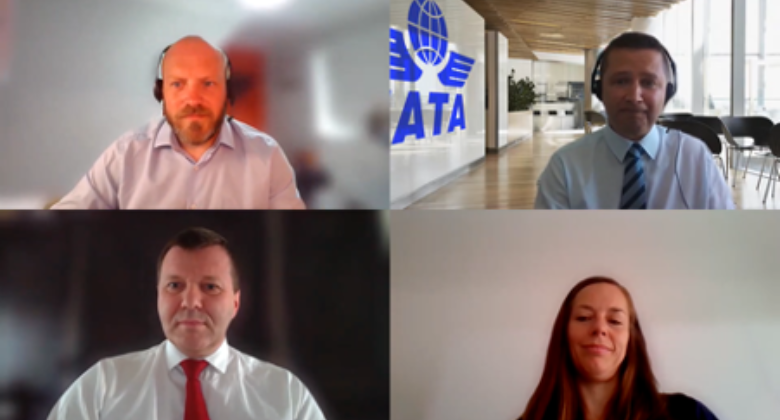 The Forecasters Panel featured presentations from David Goodger, MD Europe & Middle East, Tourism Economics, and Denis Huet, Head of Aviation Intelligence, Eurocontrol, and Viktoria Bognar, Senior Economist, IATA, who informed on their forecasts and outlook for the industry in the coming months and years. After the presentations, areas of discussion focused on included the latest outlook for 2021, how the outlook has changed in the last months and what's driving this, plus the feasibility of it being realistic to continue focusing on 2019 as the 'recovery' benchmark, or should the industry be focused on stability returning – demand stabilising, country restrictions levelling off etc. The session was chaired by Philip Ireland, Manager, Worldwide Airport Slots, IATA.
"Throughout this year, we have been revising our GDP upwards," comments Goodger. "It is a very positive recovery for economic activity from what data we have seen." He added that there has been huge accumulated savings of household cash during lockdowns and as a result people have been unable to spend. "They have the money to spend. Once it is possible for people to travel, they will travel. We can see that in the data and the survey results we have seen," he informs.
What was a theme across the presentations, along with previous panel discussions this week at the 148th IATA Slot Conference, is that vaccines are integral to the recovery for aviation. "Vaccines are key to getting back to normality, and that's something we are building into our forecasting," informs Goodger. "International restrictions will not all be gone by the end of the year, but it is looking much better than last year. The US and Chinese domestic markets will be back to normal from what we see by H2 2021." It was also mentioned that the Middle East and Europe, at the moment, look likely to be the slowest to recover, compared to other areas of the world, such as Latin America and Asia.
"The May 2021 forecast is a four-year forecast that covers the horizon from 2021-2024," commented Huet, as he started to present Eurocontrol's forecast. "There were 65% fewer flights in January-April 2021 than in the same period of 2019, but we see growth, with low-cost carriers putting in lots of additional flights into the system. During the presentation, he stated that the new GDP baseline forecast for the Eurozone in 2021 has been revised downward following weakness in the early part of the year, against a backdrop of a slow start in the vaccination rollout and the extension of public health restrictions. "But the downward shift has been put back into 2022 which now has a greater GDP growth forecast," informs Huet.
Three scenarios
Eurocontrol has three scenarios for the recovery to 2019 levels of traffic. The first is the most optimistic, which states that if easing of travel restrictions comes into effect in S21, recovery is likely to be there by 2024. In scenario two, which sees the easing of travel constraints by Q1 2022, the recovery to 2019 levels of traffic is delayed to 2025. In the third and the most pessimistic scenario, the scenario is based on lingering infections and low passenger confidence, with this pushing the growth to 2019 traffic levels back to 2029. "This emphasises that we need a coordinated approach to the restart," Huet adds. With the third scenario, it would mean that by 2024, flight movements would only be at 74% of pre-pandemic levels. "We have spoken with a lot of airline CEOs to get their views and feedback, and we're nearer to scenario one which is encouraging." 
Regional difference in travel recovery
"Some regions are more reliant on international traffic, therefore are more exposed to travel restrictions," highlighted Bognar as she started to talk of IATA's forecast. She also highlighted that recovery in areas such as Europe are even greater impacted, as their reliability on domestic travel was impeded not only to small national geography, but tighter restrictions being enforced on domestic and short-haul flying. "You can expect airlines to be less reliant on domestic travel with the addition of these factors," she adds.
"We also have great regional disparity on vaccinations," Bognar informs, with the average total worldwide vaccination doses administered per 100 inhabitants being 28 at present, yet Asia, Oceania and Africa are still behind on 27 per 100, 15 per 100 and 3 per 100 respectively. "With North America having strong domestic markets and also leading in vaccinations, they look to be the regional recovery leader when it comes to travel." Along with vaccination levels, Bognar also highlighted that pent-up demand is there, but short lived, and that although flying has restarted, airlines are flying at much lower loads than usual. "In April 2020, when COVID had the biggest impact on the industry, the load factors then were still above those we saw in April 2021," she adds.