Iberia Express has 25 Madrid routes, none served by Iberia; a huge 68% of flights are domestic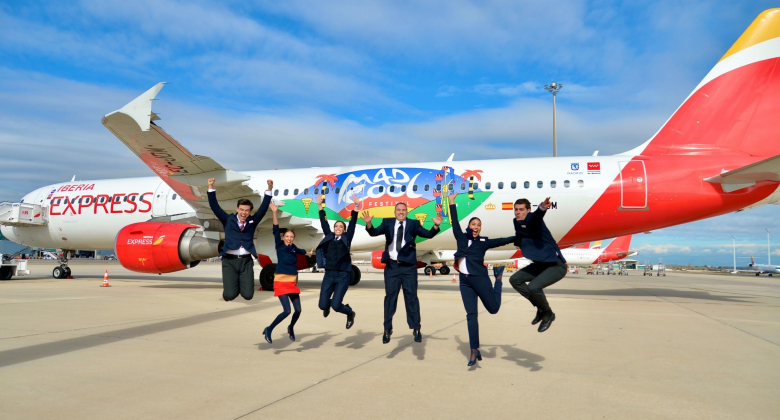 Iberia Express' first commercial flight was in 2012. Some 11 years later, the low-cost subsidiary (LCS) has 28 A320ceos, A321ceos and A321neos, according to Planespotters.net. Its network remains almost entirely from the Spanish capital, Madrid. The only exceptions this summer are seasonal services from Asturias and Vigo to the Canary Islands.
Iberia Express plays a distinct role for Iberia. With a lower-cost platform, it focuses on lower-yielding leisure markets, particularly domestic, often where there is big (U)LCC competition. It continues to feed its parent over its Madrid hub, although a good number of routes are more point-to-point.
Iberia remains three times larger than the offshoot in September
Examining Cirium schedules information shows that the Iberia itself remains firmly Madrid's dominant carrier. It has about 39% of the airport's weekly short-haul flights in September, defined here as within Europe, the near Middle East and North Africa. This includes flights by Iberia Regional.
Iberia Express – which has its own AOC and the IATA code I2 – is Madrid's third-largest operator, behind Air Europa. Still, it has around 14% of the short-haul market and it means the Iberia Group has about 53% of September flights. Notice how close Express is to Ryanair, firmly Madrid's fourth-largest carrier. Ryanair was the larger operator for many years but has been growing elsewhere recently.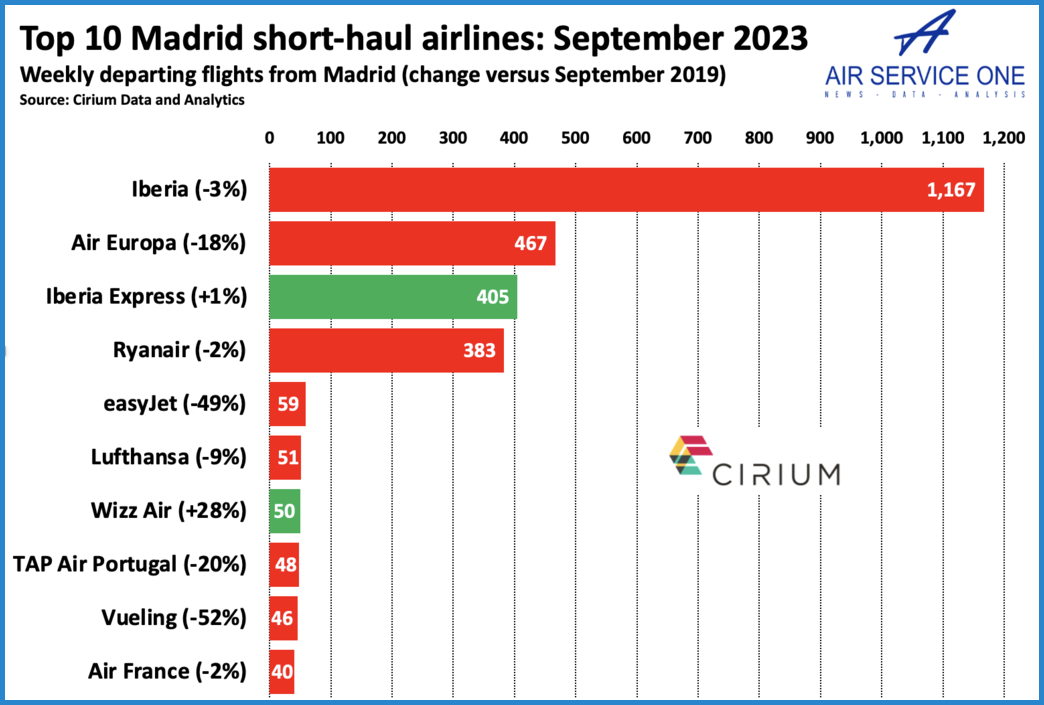 None of Iberia Express' 25 destinations from Madrid compete with the parent
Iberia Express' network is not extensive. This September, it serves 25 destinations in 11 countries, encompassing Spain, France, Germany, the UK, Netherlands, Israel, Italy, Denmark, Ireland, Iceland and Greece. Approximately 68% of its weekly flights are domestic, with 11 airports served. Except for Malaga and Seville, all are in the Canary Islands and Balearic Islands. To cut cannibalisation, none of the 25 routes see Iberia, but most previously were previously served by the parent.
As the figure below shows, eight of Iberia Express' top 10 Madrid routes are domestic, and Iberia previously operated many of them. This is part of the stereotypical role of an LCS: taking over routes important enough to be served, just with a lower-cost platform. Iberia Express is the largest carrier by flights on eight of the 10 routes. The exceptions are Malaga (second to Air Europa) and Palma (joint-first with Air Europa).
In contrast, Iberia itself serves 70 short-haul destinations in 18 countries, including in North Africa. Its geographic spread – partly by its Regional unit and to feed its long-haul services – means that the domestic market only accounts for 39% of its weekly services, a considerably smaller proportion than its offshoot. Intriguingly, despite greatly different sized networks, both have an average of 18 weekly flights per route in September.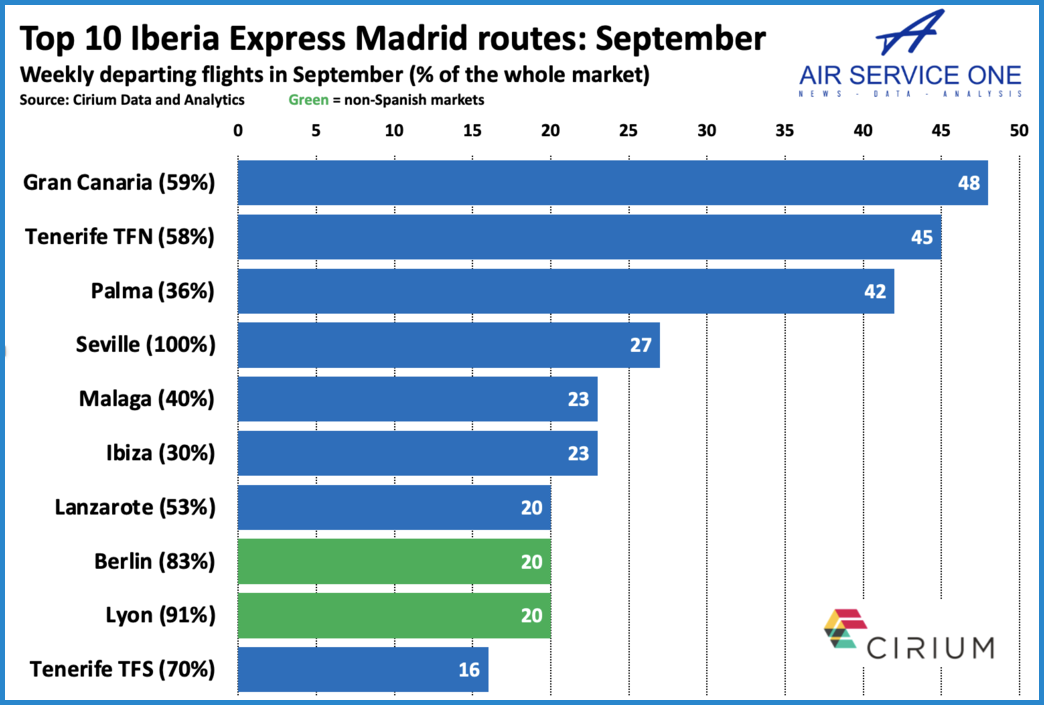 22 of Iberia Express' 25 routes have direct competition
A very high 88% of routes have at least one other carrier – none being Iberia – against 'only' 59% for Iberia's short-haul network. Iberia Express faces no other airline to Heraklion, La Palma or Seville, the latter too quick by train and exists as a hub-feeding service.
Of the 22 routes with competition, other carriers combined have around a fifth more flights than Iberia Express, with Air Europa and Ryanair accounting for 70% of them. The LCS and Ryanair compete to 15 destinations, including thin places like Bari. No wonder Iberia Express operates instead of Iberia.