Iberia leads major European flag-carriers for Europe capacity recovery; new and dropped routes revealed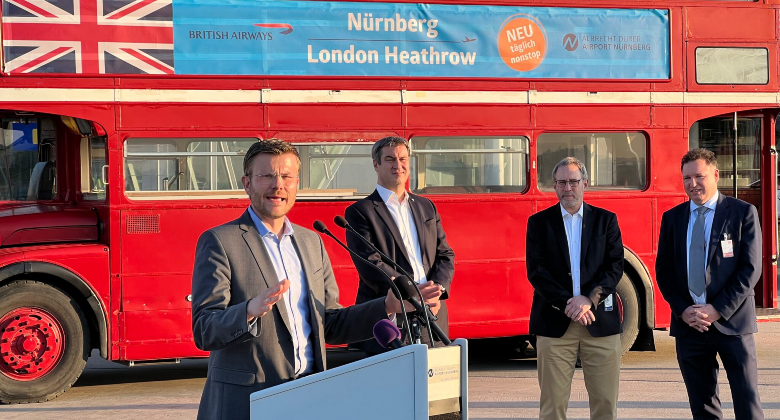 The winter period is always difficult for Europe's airlines. Profits are hard to come by and this winter the industry faces the additional challenges of Russia's war in Ukraine, rising energy costs and concerns about a possible recession. This week we take a closer look at which routes western Europe's major legacy carriers have added and dropped during the 'peak' winter period (December 2022 to February 2023) from their major hubs compared with three years ago, just before COVID struck.
Before that, it is worth revealing how quickly (or not) these carriers were able to recover their intra-European capacity. As we reach December 2022, Air France and SAS have both recovered just over 70% of their December 2019 capacities, KLM is at just under 80%, Lufthansa at just over 80%, British Airways at almost 90%, while Iberia is at 103%. It should be noted that KLM's capacity data for March and April 2020 is not consistent with what was actually flown.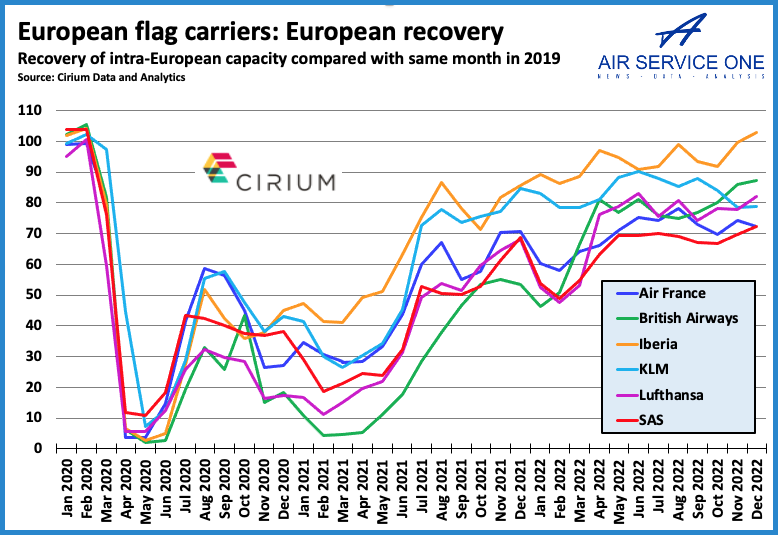 Air France's relatively poor showing can be explained by the fact that it has transferred a significant chunk of its Paris ORY operations to its lower-cost subsidiary Transavia. SAS has no such excuse. For most of 2021 it was British Airways that was showing the slowest signs of recovery, partly as a result of having completely closed its operations from London LGW. These have since been restarted. However, since the start of the summer 2022 season, SAS can now claim that dubious distinction among the flag-carriers examined here.
European network changes analysed
While there are plenty of routes to Asia that have not yet been re-started due to on-going travel restrictions, flights within Europe are now pretty much restriction free. As a result, it is revealing to analyse Cirium schedule data to see which European routes and destinations the major western European flag-carriers are no longer serving this winter compared with W19/20. These include several routes to destinations in Belarus, Russia and Ukraine which are no longer operated for obvious reasons.
Some of the routes airlines have added for winter in the table below were seasonal summer-only routes that are now operating year-round. Several are new winter-only, seasonal routes while others are new year-round routes launched since March 2020.
Air France (CDG)
Added (9): Helsinki, Innsbruck, Kittila, Malaga, Rovaniemi, Salzburg, Seville, Tromsø, Valencia
Dropped (7): Aberdeen, Belgrade, Bremen, Genoa, Lorient, St. Petersburg, Wroclaw
British Airways (LHR)
Added (6): Funchal, Jersey, Naples, Nuremberg, Porto, Tirana
Dropped (4): Helsinki, Leeds Bradford, Moscow DME, Moscow SVO
Iberia (MAD)
Added (3): Castellon, Funchal, La Seu d'Urgell
Dropped (4): Basel, Ibiza, Paris XCR, Zagreb
KLM (AMS)
Added (9): Aarhus, Belgrade, Cork, Katowice, Nantes, Poznan, Rovaniemi, Southampton, Split
Dropped (3): Kiev KBP, St. Petersburg, Växjö
Lufthansa (FRA)
Added (9): Bergen, Bristol, La Palma, Liverpool, Nantes, Newcastle, Sarajevo, Stavanger, Trieste,
Dropped (13): Bydgoszcz, Chisinau, Florence, Genoa, Kiev KBP, Linz, Minsk, Moscow DME, Paderborn/Lippstadt, Pamplona, Santiago de Compostela, St. Petersburg, Thessaloniki
Lufthansa (MUC)
Added (7): Alicante, Billund, Fuerteventura, Geneva, Paris ORY, Thessaloniki, Tirana
Dropped (14): Edinburgh, Katowice, Kiev KBP, Lviv, Moscow DME, Nantes, Newcastle, Nuremberg, Rostock, Rzeszow, Sarajevo, St. Petersburg, Strasbourg, Trieste
SAS (ARN/CPH/OSL combined, minimum of 10 flights in Dec 19-Feb 20 period)
Added (1): Lakselv
Dropped (12): Bucharest, Kiev KBP, London STN, Luxembourg, Malta, Ornskoldsvik, Oulu, St. Petersburg, Szczecin, Tampere, Vaasa, Wroclaw
Lufthansa has dropped most routes, but that is partly because it was most exposed to the Belarus, Russia and Ukraine market. It also indulged in some shifting of routes between airports, notably from Munich to Frankfurt.
Given the upheaval caused by COVID and the financial pressures on the flag-carriers, it may come as a surprise that these airlines have not dropped more routes this winter. However, dropping European routes also potentially reduces feed to financially important long-haul services, making the decision to axe such routes more complicated.