Iceland now leading Nordic/Baltic recovery; demand in Finland still more than 30% below 2019 levels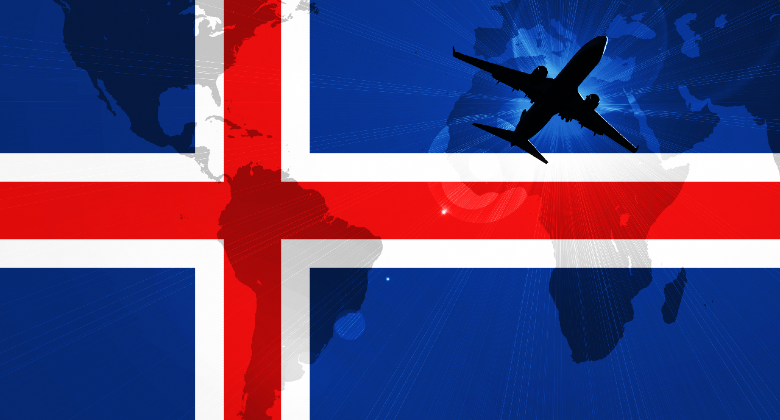 Analysis of airport passenger data across all the Baltic and Nordic nations (Denmark, Estonia, Finland, Iceland, Latvia, Lithuania, Norway and Sweden) reveals which have been the most (and least) successful at getting air traffic back to pre-pandemic levels. For much of the pandemic Norway was leading the way with its extensive domestic network and where air travel plays such a key role in keeping communities connected. Lithuania and Estonia also both had periods when they led the way for the highest recovery rate in the region.
However, in July, for the first time, Iceland tops the rankings. It also becomes the first Baltic/Nordic country to see demand exceed 2019 levels. While Icelandair has been ramping up its operations it has been joined by newcomer PLAY. The airline, which launched in June 2021, was offering non-stop service from Reykjavik KEF to 21 destinations in July 2022, including three in the US (Baltimore/Washington, Boston and New York SWF).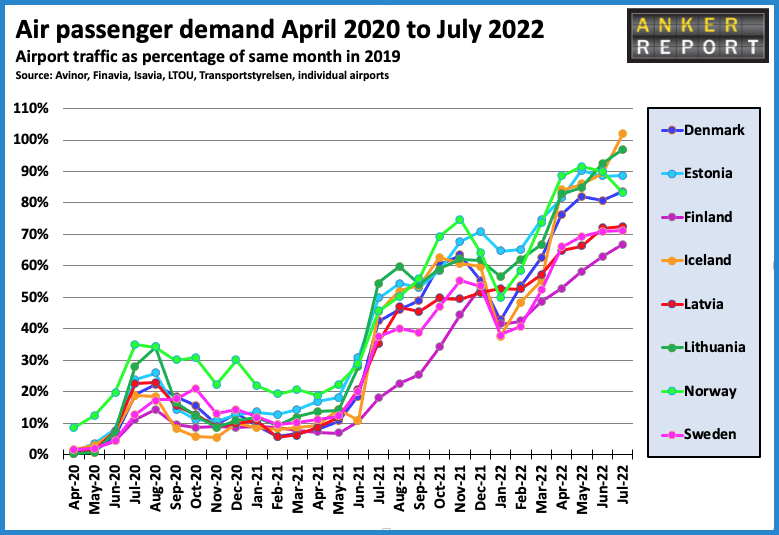 Lithuania is almost back to 100% of traffic, while Estonia was just below 90%. Denmark is in the low 80s, where it has been joined by Norway. Norway's recovery rate had been around 90% in previous months but suffered in July from a two week strike at SAS. Latvia and Sweden are at just over 70%, with both seeing little improvement versus June. Finally, Finland has seen steady progress during the summer, but the recovery rate is still only at 67% in July, amongst the worst of any country in Europe.
Ryanair capacity up 50% versus September 2019
Using Cirium schedule data to look at the leading airlines in the region in September 2022 reveals that while SAS is still number one, it is only 20% bigger than Norwegian. While SAS is offering 32% fewer seats in the region versus three years, Norwegian's capacity is down just 18%. Ryanair has now passed Finnair for third place. The Irish carrier has grown capacity by 50% thanks to new bases at Riga and Stockholm ARN (replacing Stockholm NYO), as well as significant expansion at Billund, Gothenburg and Helsinki.