iGA Istanbul Airport accelerates growth and global connectivity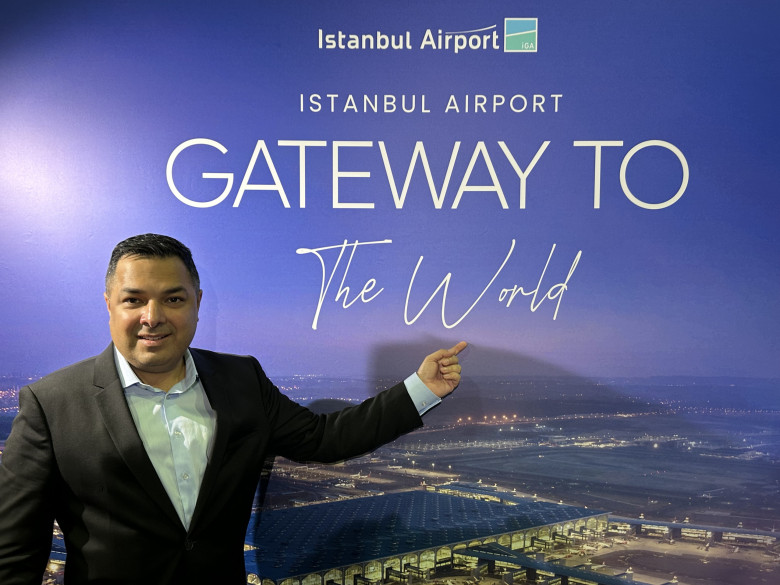 Few airports in Europe can boast of the performance and success achieved by iGA Istanbul in recent years, which is on course to retain its title as the continent's busiest in 2023. Growing from 61 carriers prior to the pandemic to 96 today, with a target to reach 100 by the end of the year, iGA Istanbul Airport is showing no signs of slowing down.
This year the airport is expected to handle +80 million passengers, representing an increase of 12% compared to the pre-pandemic 2019. Out of its total traffic, 42% is transfer and 25% is domestic, while 60% of passengers come from Europe.
Over the next four years, the airport anticipates welcoming an impressive 100 million travellers per annum. As many as 80 million are forecast to pass through Istanbul Airport's terminal next year
Since the pandemic, low-cost carriers, including easyJet and Wizz Air have shown confidence in Istanbul, seeing value in serving the airport and competing against legacy alternatives as all players operate under a level playing field on the market. However, they have been buoyed by the lack of state-imposed taxes on the aviation sector in Türkiye, as well as the city's growing popularity among holidaymakers and city-break visitors, keen to explore the metropolis that is Istanbul.
Despite being one of the best-connected airports in the world, iGA Istanbul sees further room for growth. The airport is seeking flights to Australia, which will likely materialise next year. Furthermore, it is eyeing North American carriers to enter the market.
Speaking to Air Service One at the 153rd IATA Slot Conference, Majid Khan, Vice President Aviation Development at İGA İstanbul Airport, said: "Despite being the largest airport in Europe and the largest Star Alliance hub, we are still lacking some major carriers from the group including Air Canada, Air China, Avianca and ANA. Previously, due to the capacity constraints at Istanbul's old airport, many network planning teams didn't consider operations to the city, however, since moving to the new facility four years ago, it is now a matter of letting them know that we are able to accommodate them."
Thai Airways, a major Star Alliance member, is set to launch operations from Bangkok to Istanbul on 1 December.
Increasing point-to-point connectivity to Europe is also a priority. Khan explained: "Foreign carriers are not cannibalising each other, they are stimulating the market. Istanbul is not just a hub it is a destination as well."
Despite opening a state-of-the-art terminal facility just four years ago, it represents only the first phase of iGA Istanbul Airport's massive development plan. The second phase is set to begin once the 90 million capacity of the existing terminal is reached. The ultimate goal is for the airport to feature two terminals, as well as a satellite terminal, five parallel runways and one cross runway for a total of six, enabling it to handle up to 200 million passengers. With its current strong growth and booming popularity, iGA Istanbul Airport is not far off from realising its long-term vision.